A few days after Gov. Doug Ducey allowed stores to reopen their doors for business, Nogales' downtown commercial area was still eerily quiet.
Sidewalks on Morley Avenue – one of the few streets in town that attracts pedestrian shoppers, many of whom cross the border from Mexico through a temporarily closed gate at the end of the street – were almost empty on Wednesday.
A handful of shoppers darted into the few open businesses, but more than half of the storefronts on the street remained shuttered.
At Amigo's clothing store, Jocelin De La Cruz helped a woman find a pair of heavy socks. De La Cruz said there had been hardly any customers at the store and the managers had mainly sent them in to clean and update the displays for the summer season.
De La Cruz said she was concerned for her job, with business struggling. As for worries about the coronavirus, she pointed to a face mask – in her pocket.
Ducey said the goal of letting non-essential businesses open is to reactivate the state's economy, which shed thousands of jobs in March and April. In Santa Cruz County, nearly 700 people filed unemployment claims between the week ending March 21 and the week ending April 4. An updated jobs report with county data is set to be released May 21.
But there was hardly an explosion of economic activity in downtown Nogales on Wednesday.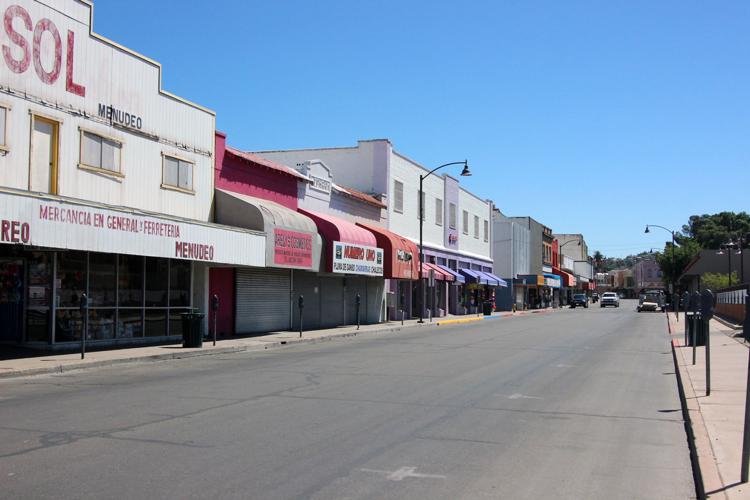 Some retailers, including Nogales Tactical and Melrose Fashions, had their doors open. Other mainstays like La Cinderella, La Familia and Victoria, were still closed.
The extended closures are likely due to the fact that downtown stores depend on shoppers who cross the border to make purchases in Arizona.
Many of the stores that were closed on Wednesday haven't been operating since before the stay-at-home order took effect. They shut their doors on or soon after March 20, when the federal government announced travel restrictions along the U.S.-Mexico border.
Those restrictions are set to expire after May 20, but could be extended.
On Wednesday, barely 20 cars were parked on the first two blocks of Morley Avenue – and nearly all carried Arizona license plates.
Slightly farther from the border, the Food City plaza had more activity, with customers arriving in cars and buses to shop at the grocery store.
Rancho Grande restaurant and clothes retailer Stage were among the stores still closed, though Stage had a sign on the door indicating it would open on Friday, May 15.
Next door to Stage, Sally Beauty Supply was welcoming clients with signs in English and Spanish telling their customers to practice social distancing in the store.
Jorge Ordoñez, who wore a face mask and gloves as he manned the cash register, said that the cosmetics retailer had opened the previous Friday and business had been steady.
But on Morley, the few signs of life did more to underscore the crisis than point to a return to business as usual for the local businesses.
In front of Sofia's, a clothing store, a woman stood outside hawking face masks and sanitizing products.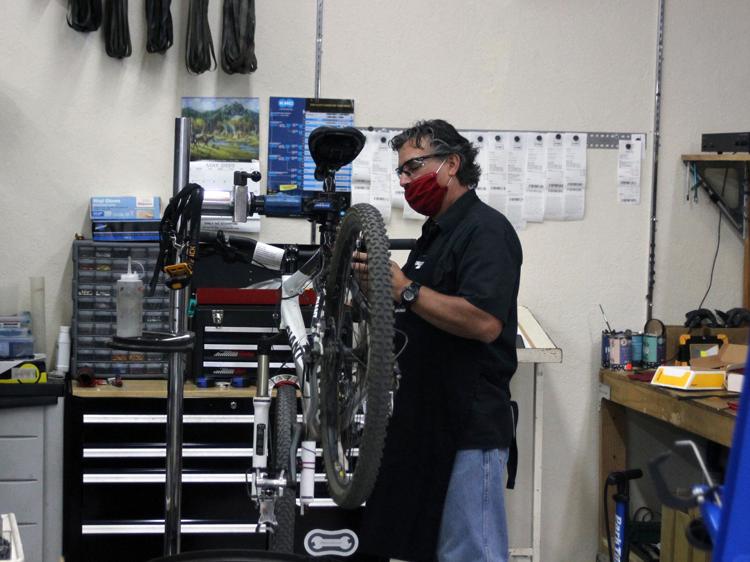 At Sahuarita Bikes, co-owner Tom Gonzalez was doing some repair work on a Giant brand mountain bike. He said he'd only seen one or two customers a day since he opened earlier in the week, so he was focusing on repair jobs. The shop's customers, he said, come from Patagonia, Tubac and Green Valley, not from across the border
A young couple, first names Krizsa and Andrew, walked down the street pushing a baby in a stroller. They were among the few people out and about in the once-bustling shopping district, but they weren't there to visit the shops – just taking a walk, they said.
Still, Andrew said he wasn't too concerned about the current situation surrounding the coronavirus. "People are overreacting," he said.