The number of new COVID-19 cases has slowed dramatically in Nogales, Sonora, where 36 new infections were confirmed in the seven days leading up to Wednesday – an average of a little more than five per day.
By comparison, in the week leading up to June 24, there were 334 new cases in the city – an average of more than 48 per day.
The Sonora Secretary of Health does not release testing data as part of its daily statistical reports, so it wasn't clear if the decline in cases corresponded with a decline in testing, or if the positive test rate had changed.
At the same time, the number of coronavirus-related deaths in Nogales, Sonora – a city with an official population of approximately 220,000 – has remained relatively high. There were 22 deaths recorded in the week leading up to Wednesday, or approximately three per day. The six-week average in the city has been 3.26 deaths per day.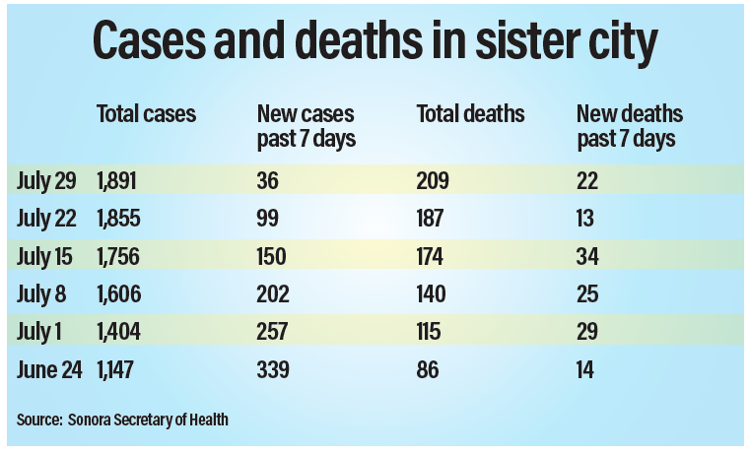 Speaking during a test blitz event last Saturday in Nogales, Ariz., Alvaro Valencia, northern district chief of the Sonora State Civil Protection agency, noted the decline in cases in Nogales, Sonora. And he said the number of new cases had also been declining in San Luis Rio Colorado, a border city near Yuma, Ariz., that had been a hotspot earlier in the pandemic.
But he added that the number of infections in the state capital of Hermosillo has been rising.
State data shows that Hermosillo, a city of more than 800,000 inhabitants, added 1,257 new COVID-19 cases in the week leading up to Wednesday – an average of 180 per day. On Wednesday alone, the city recorded 248 new cases and 21 deaths.
"Right now, we're still in the red light," Valencia said of the overall situation in Sonora, referring to a four-color stoplight system used by the Mexican government to gauge the COVID-19 outbreak in cities and states. Red is the most serious level.
"We're still working really hard at getting people to be more conscious and to be more careful with their regular habits," he said.
Insufficient testing has been an issue in Mexico, which tests an average of only three people per 100,000 inhabitants per day, according to data from the Johns Hopkins University Coronavirus Resource Center. By comparison, an average of 176 people per 100,000 are tested each day in the United States.
Valencia, who attended the test blitz events last Saturday and Sunday in Nogales, Ariz. with a team of colleagues, said they were there to observe the process for possible replication south of the border.
"All these ideas, we're going to take them down to the governor in Sonora and see if we can adopt them," he said.