People crossing into Mexico through the Nogales ports of entry this week encountered stepped-up sanitation measures immediately south of the border as the municipal government in Nogales, Sonora sought to better combat the spread of COVID-19 in the community.
Beginning on Wednesday, municipal police officers stopped southbound vehicles near the Mariposa Port of Entry and required that all passengers walk through an inflatable disinfecting tunnel set up on the side of the road.
"This tunnel contains a mechanism, managed by specialized personnel, that applies a solution of biodegradable and quaternary disinfectant water… to individuals crossing into Nogales, Sonora," the city's Public Health Director Jesús Alberto Dicochea Aguilar was quoted as saying in a news release.
According to the release, the solution sprayed onto people creates a protective layer against any viruses and bacteria, including COVID-19, for up to 24 hours.
While the news release only mentioned the installation of a disinfectant booth south of the Mariposa port, journalists in Nogales, Sonora reported that a similar tunnel had been set up south of the Dennis DeConcini Port of Entry by Wednesday night.
In another anti-coronavirus effort, city workers began disinfecting streets and sidewalks this week.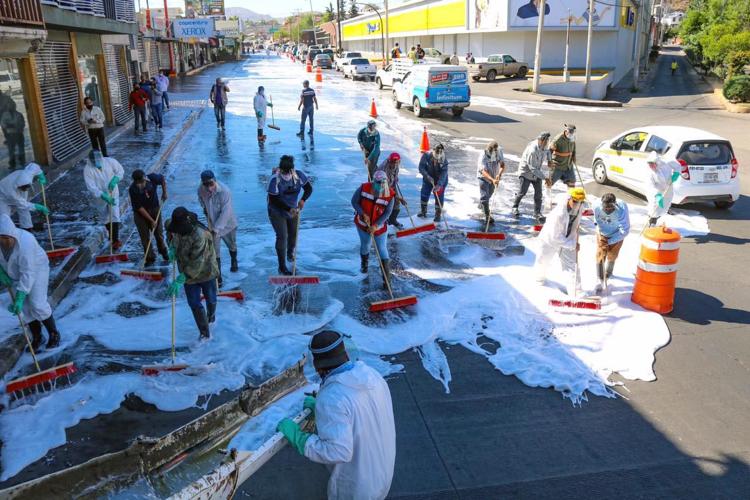 Another news release, this one dated May 5, explained that workers were scrubbing the streets with a solution that contained calcium hypochlorite – an active ingredient found in bleach products – combined with foam soap and a large amount of water.
Workers focused on disinfecting some of the city's main, highly trafficked streets and public spaces such as Avenida Obregón, Boulevard el Greco and Calle Plutarco Elias.
While city officials didn't say how long southbound travelers would be required to go through the disinfecting booths, they said the street sanitation efforts would continue for the next 40 days.
As of Wednesday, there had been 34 confirmed COVID-19 infections and three deaths among residents of Nogales, Sonora, according to a daily briefing from the state health secretary.