A day after Sonoran authorities announced the first case of COVID-19 in the state, triggering a series of restrictive measures, changes were beginning to roll out in Nogales, Sonora.
Following the announcement on Monday evening that a 72-year-old man had tested positive for the disease in the state capitol of Hermosillo, the state's top health official announced that Sonora had entered "Phase 1" of its coronavirus response plan, which included the immediate closure of schools and businesses such as bars, nightclubs, gyms and cinemas. All non-essential events involving 10 or more people were also forbidden.
In response, affected businesses in Nogales, Sonora turned to their social media pages to notify the public of their temporary closures.
"Your health and wellbeing is our priority" read a Facebook post by the Cyfit fitness center. "Due to what we're living through, and to prevent this pandemic from spreading, we will temporarily close our doors."
According to an official news release, the municipal government in Nogales, Sonora called for the cancellation of all sporting events, workshops at the IMFOCULTA cultural center, and any other activities at other institutions that consisted of a gathering of more than 10 people. In a separate news release, local officials urged public transportation entities to regularly clean and disinfect the city's buses and taxis to prevent further spread of the virus.
But members of one sector of the local economy – food establishments – kept up with business as usual.
"Gyms, bars, clubs are obligated to close statewide, but as for restaurants, they haven't mentioned anything about us closing down," said Erika Rubalcaba, manager of the La Roca restaurant.
A flyer published by the state government displaying the hashtag #QuedateEnCasa (#StayHome) listed the mandatory closures, adding that "it is recommended" that people order take-out food and avoid eating at restaurants.
Even so, people were seated in the dining room of the Fray Marcos bar and restaurant near the Dennis DeConcini Port of Entry at noon Tuesday, where signs outside informed passersby of the day's special promotion.
Making a living
Like Rubalcaba, other restauranteurs whose businesses remained open Tuesday expressed concern about the possibility that the growing pandemic might soon result in a forced closure for them as well – a fate that's befallen a growing number of restaurants around the world.
Jose Juan Robles, a 56-year-old employee at the Taqueria Los Compadres food truck, said there were many rumors circulating about new cases of coronavirus in Sonora. And while he tried to stay calm about the outbreak in the midst of false information, he still worried about what would happen to his family's finances if the food truck were to close down.
"This is how we make our living. This is how we support our families," he said. Beside him, coworker Fernando Sandoval added: "We're trying not to become too alarmed and keep calm. We still have to make a living."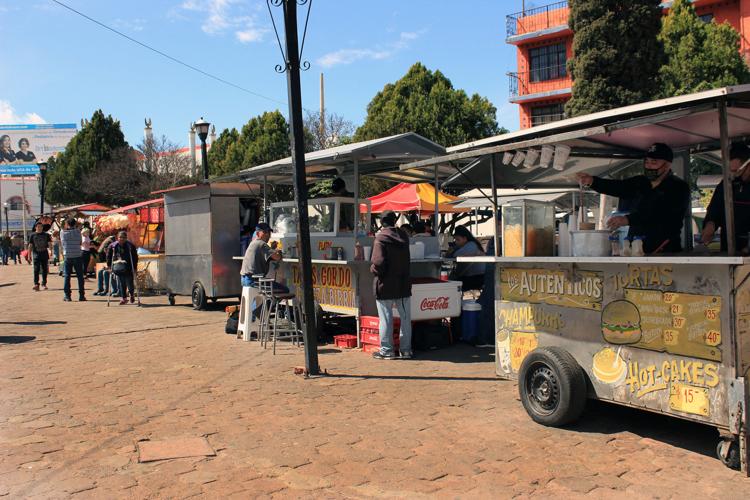 Giovanna Ostler, owner of Cafetería Leo's, said she was already thinking of ways she could minimize the impact on her employees.
Ostler remained hopeful that the situation would become clearer over the next several days, but whether she closed her restaurant or not, she had already noticed a decrease in customers from Monday to Tuesday morning.
Rubalcaba said she had also noticed a drop in customers at La Roca since the previous weekend, despite the measures staff have implemented to ensure a clean and safe environment for employees and customers.
For example, she said, employees had begun wearing face masks and spreading disinfectant spray on the hour, and had set out hand sanitizers throughout the building.
"We also modified the dining area. We've taken out tables and chairs, so that there's at least seven feet of distance between each table," Rubalcaba said, adding that the new measure limited their capacity from 100 to roughly 50 people at a time.
In addition, La Roca staff had canceled all events that they had scheduled for the next few weeks, in accordance with the government mandate.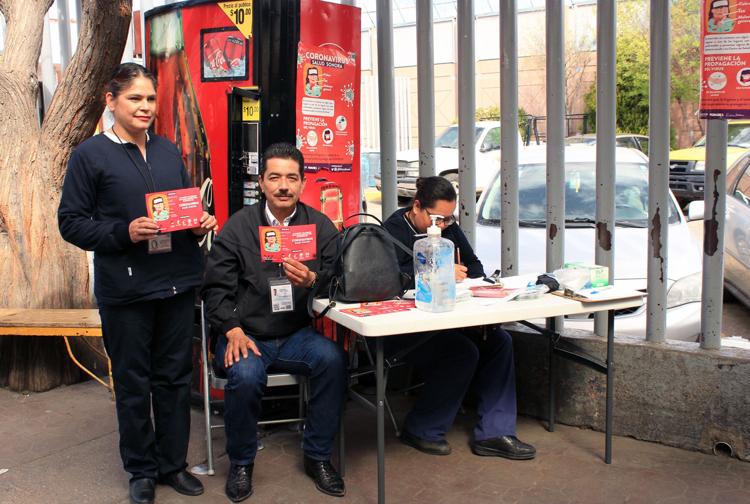 On Tuesday morning, representatives of the state Public Health Secretariat set up a table immediately south of the DeConcini port, offering information about symptoms and prevention of COVID-19 and part of an education and preventive effort they began on Saturday.
Representatives offered informational flyers, hand sanitizer, antibacterial wipes, gloves and an opportunity to check if pedestrians entering Mexico from the United States had a fever.
But as uncertainty continued to surround the day's activities, Rubalcaba said she was sure of one thing: "It's going to affect all of us."