Wednesday marked the first step in Santa Cruz County's pending transition to a full-on, walk-in vaccination effort, as authorities offered COVID-19 vaccines to anyone 18 and older at two different sites without prior appointments.
The Mariposa Community Health Center opened its clinic at the Nogales Recreation Center that day to anyone wanting a Moderna vaccine. At the same time, health professionals administered Johnson & Johnson vaccines from 11 a.m. to 1 p.m. at the Mexican Consulate in Nogales.
Jeff Terrell, the county's health services director, told the NI on Thursday that the walk-in format would be more common going forward.
"We may go ahead and have a schedule out there so they can make an appointment, but we'll also accept walk-ins," Terrell said of the Rec Center site. "It depends on what the demand will be because we're basically at 50 percent vaccinated right now in terms of at least one shot."
According to the state's coronavirus dashboard, about 49.9 percent of residents in Santa Cruz County had received at least one shot as of Thursday afternoon. That was based on a state estimate of 53,000 residents, though some of those who have been vaccinated are out-of-county residents who work in the local area.
(The 2019 U.S. Census estimate put the county's population at 46,498. Using that number, the number of people vaccinated here was equal to 57 percent of the county's population.)
Santa Cruz County, along with other jurisdictions around the country, had paused the administration of J&J vaccines earlier this month following a recommendation from the CDC as health officials studied rare blood clots in a small number of people nationwide. But the CDC and FDA recommended on April 23 that the shots resume, and by Wednesday, J&J vaccines were back in use at local clinics.
However, Terrell said county officials had been unable to release J&J doses in time for the Mexican Consulate's clinic, and so the University of Arizona stepped in and obtained the vaccines elsewhere.
"The U of A procured them and we're going to replenish them from where they got them," he said. "They brought down 200 (J&J) doses and they went through the 200 doses. They also sent some people over to the (Rec Center) to get the Moderna instead."
A second vaccine clinic at the consulate is tentatively planned for May 13.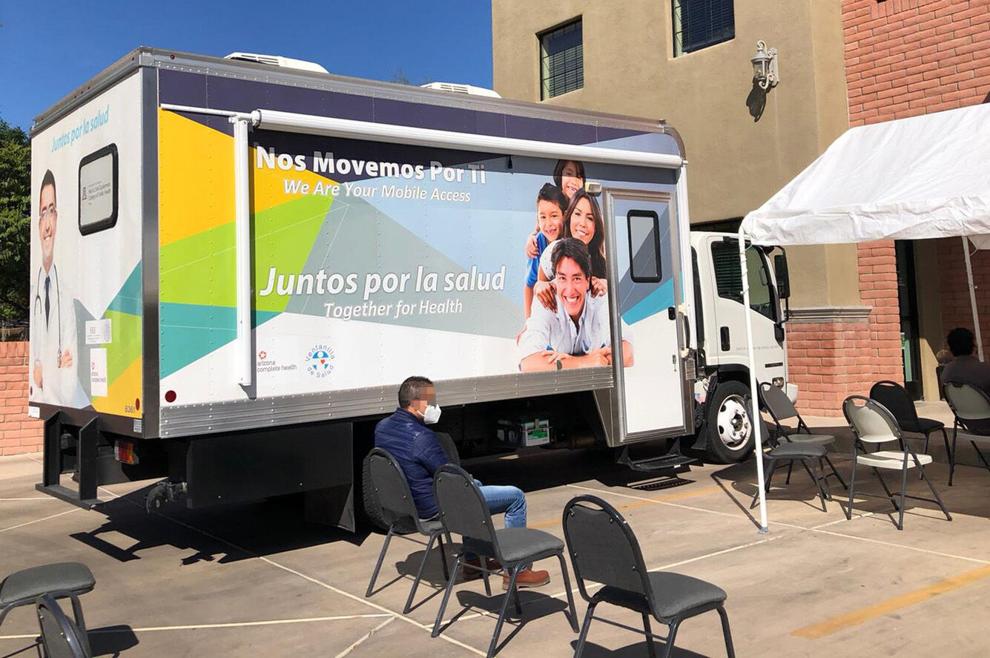 Dr. Eladio Pereira, MCHC's chief medical officer, said his team was able to administer about 270 Moderna vaccines for walk-in patients and another 50 vaccines for scheduled appointments on Wednesday. He said they had also begun administering the J&J vaccines since last week once the CDC deemed it safe.
MCHC opened up its first inoculation clinic for 16- and 17-year-olds after the clinic secured the first Pfizer allocation through a federal program last week. Pereira, at the time, had said they hoped to vaccinate 70 to 80 percent of the estimated 1,800 local individuals in that age group during vaccination clinics last Saturday and Monday.
But on Thursday, Terrell said they had only vaccinated about 500 people over the course of the two days, and that number included some adults older than 18.
With more vaccines still in stock, Pereira and Terrell said MCHC would hold additional Pfizer clinics for local residents ages 16 and older.
"We did allow them to start opening it and allow other people other than 16- and 17-year-olds," Terrell said.
The Pfizer clinics will be held on May 12 from 1-4 p.m. for people receiving their first doses, and on May 15 and 17 from 8 a.m. to 4 p.m. for both second and first doses.
Pereira said they expect to administer about 300 vaccines at the half-day clinic, and between 500 and 800 doses on the full days.
Moving forward, both Pereira and Terrell speculated that the mass vaccination efforts at the Nogales Recreation Center might start scaling down, or transition to a service offered at the permanent MCHC health centers around the county.
"I do know, for example, that plans may change if the Pfizer vaccine is authorized for the 12- to 15-year-old group. There are about 4,000 kids in that category, so if that's the case, we'll be at the Rec," Pereira said.
"I think we'll have to look at our demand for the vaccine."
For more information about vaccines in Santa Cruz County, click here or call (520) 375-7626.