Tension between Gov. Doug Ducey and some Arizona school districts over face mask requirements reached new heights this week, with Santa Cruz County's largest school district right in the thick of it.
The latest developments in the ongoing showdown began Monday, when a judge in Maricopa County ruled that a state law that Ducey signed in June prohibiting schools from requiring face masks can't legally take effect until Sept. 29.
In response, Superintendent Fernando Parra of the Nogales Unified School District announced that NUSD would once again require the use of face masks or coverings on schools grounds, effective Tuesday, Aug. 17, in an effort to stem the spread of COVID-19.
Other districts around the state enacted mask requirements of their own, but Ducey fired back, announcing on Tuesday that he would distribute $163 million in American Rescue Plan funding to schools that are not requiring masks as of Aug. 27. He also offered vouchers of up to $7,000 per student to families who want to take their children out of schools where masks are required.
Parra told the NI on Wednesday that Ducey's "incentives" would not affect NUSD's decision-making on the matter.
"This additional funding and political threats will not keep NUSD from doing what is safe and in the best interests and security of our students/families, staff and school communities," he wrote in an email. "The safety and health of our students and school communities is a priority over state funding or anything else."
The Santa Cruz Valley Unified School District was evaluating the latest developments regarding mask requirements and the administration planned to make a final decision on Friday, an SCVUSD spokeswoman said on Thursday. As for whether Ducey's financial incentives would play a role in the considerations, she said: "Money is never a consideration when it comes to the health and safety of our students."
Kenny Hayes, superintendent of Patagonia Public Schools, said in an email on Wednesday that "We are currently reviewing the need for a change to our mask regulations."
He added that the administration would reach out to parents, students, faculty/staff and other leaders to seek their opinion, and that if they decided to pursue a change, the plan would be presented at a special school board meeting.
There is currently no mask requirement at the Santa Cruz Elementary School District, which operates the K-8 Little Red School east of Nogales, according to Superintendent/Principal Kathy Romero. But she said Ducey's incentives wouldn't be a factor in determining school policy, writing in an email that "our number one priority is the safety and well being of everyone, regardless of what incentives could be out there."
Little Red, which typically has an enrollment of around 200 students, began the school year by "highly recommending" the use of face masks on campus, and that's worked well so far, Romero said. "All of our students, staff and parents have been using them without any complaints," she said.
NUSD, which has approximately 5,400 students and more than 600 employees at 10 campuses, also started the school year on Aug. 4 with a policy to "highly encourage" – but not require – mask use on campus after Ducey signed the law prohibiting Arizona schools from imposing mask mandates. Parra called the law "concerning" in an email sent to parents in July, but did not challenge it.
However, several districts around the state instituted mask mandates anyway, and the judge's ruling on Monday means that schools can legally require face coverings until the no-mandate law takes effect.
Parra cited the judge's decision in his announcement of the new requirements at NUSD, which came in the form of a letter, robocalls and an alert posted to the NUSD website late Monday afternoon.
According to the policy, anyone including students, staff, vendors, visitors and volunteers, "shall wear a cloth face covering while on any district property, in any district facility, at any district event, whether indoors or outdoors, and in any school vehicle, including district buses rented or leased by the district."
The mask requirement at NUSD does include some exceptions: Children under the age of 2, people who have trouble breathing, and anyone who is unable to remove a mask without assistance are exempt.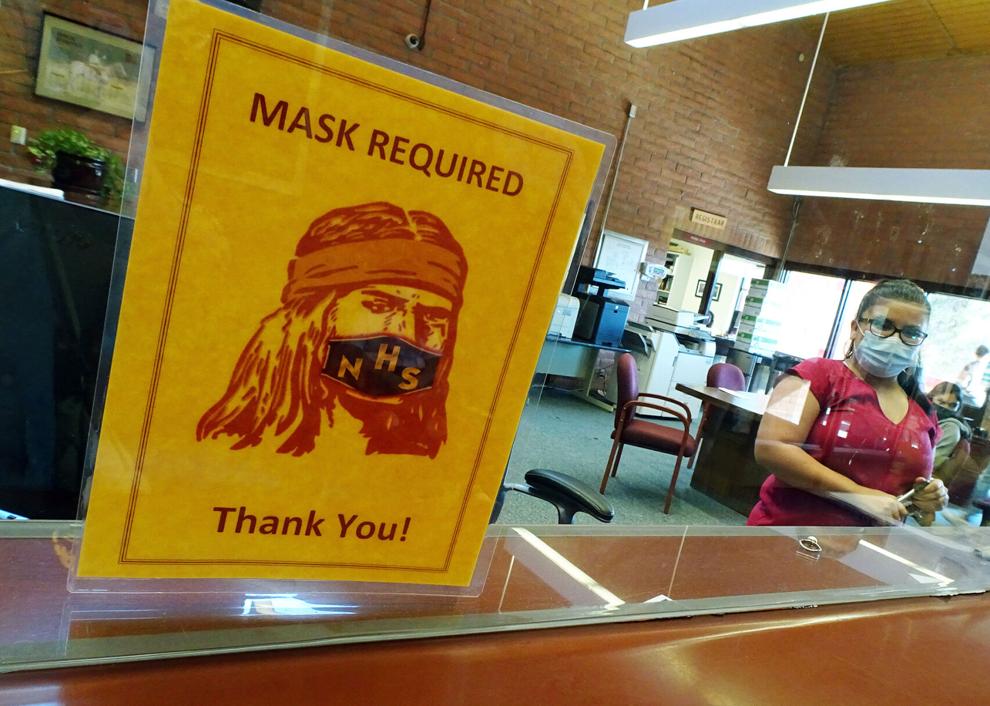 In his announcement, Parra said the district had sent out a survey last week regarding masks, and out of the 319 responses from teachers and staff, 90 percent were in favor of making them mandatory. Of the 558 responses from parents/families, 87.6 percent favored a mandatory mask rule, he said.
During the first two weeks of classes, NUSD had identified 13 total cases of COVID-19 at its campuses, according to numbers Parra provided to the NI on Wednesday.
Only two of the cases were at elementary schools, whose students are too young to receive COVID-19 vaccines. Nine were at middle schools, where the student population is a mix of youth older and younger than 12 – the minimum age for vaccination. Another two cases were at Nogales High School.
In his message sent to the NUSD community on Monday, Parra said the mask requirement at NUSD doesn't mean that there will be no COVID-19 cases at school.
"This is unavoidable since we are dealing with many people coming together and confronting a very contagious variant of the disease," he said. "However, we want to leverage all strategies, including masking, as these layered strategies have been shown to be effective in mitigation efforts."
The U.S. Centers for Disease Control and Prevention is currently recommending that students, staff and teachers wear masks at school, even if they are fully vaccinated.
In July 2020, Ducey ordered all Arizona schools to develop and implement policies requiring face masks or shields. Later that year, the Arizona Department of Health Services issued its own mandate requiring face coverings in schools.
But the state began to ease off on those requirements this spring as more and more Arizonans got vaccinated and the number of COVID-19 infections, hospitalizations and deaths began to drop. Ducey rescinded his and the ADHS requirements for schools in April 2021, though he allowed individual schools and districts to make and enforce their own rules.
Then in June, the governor signed a bill passed by the Republican-controlled Legislature barring schools from requiring masks or COVID-19 vaccinations. The legislation included a clause making it effective June 30, but the judge on Monday said that the law couldn't take effect until 90 days after the legislative session ended, which is Sept. 29.
In the meantime, the highly contagious delta variant of COVID-19 began to spread and infections in the state have begun approaching the daily highs seen during the surge of the summer of 2020. Hospitalizations related to COVID-19 have nearly tripled in Arizona since the end of May, The Associated Press reported.
In Santa Cruz County, the rate of new infections is still far below what it was at the start of the year. But it's been climbing steadily, from a seven-day average of 1.4 new cases per day in June, to around 10 per day of late.
In a prepared statement, a spokesman for Gov. Doug Ducey expressed disappointment with the judge's ruling on Monday.
"We believe kids need a stable learning environment," spokesman C.J. Karamargin said, according to the AP. "Temporary mandates and efforts to flout the law aren't going to help them. Kids should be in school learning, and their parents should be the ones making decisions."
Then, after Ducey announced his plan to grant federal funding only to schools that don't require face masks, President Biden on Wednesday said that his administration "is not going to sit by as governors try to block and intimidate educators protecting our children," and directed Education Secretary Michael Cardona to investigate and take action, if necessary.
A letter sent that same day from Cardona to Ducey, which was obtained by Capitol Media Services, reportedly cited a "shared priority" that students be able to safely return to in-person instruction. "Arizona's actions to block school districts from voluntarily adopting science-based strategies for preventing the spread of COVID-19 that are aligned with the guidance from the Centers for Disease Control and Prevention puts these goals at risk," it said.
According to Capitol Media Services, Karamargin, Ducey's spokesman, dismissed Cardona's letter, saying: "The last thing we need is a bureaucrat in Washington, D.C. telling Arizona parents what's best for them."
Biden complained that some elected leaders are trying to use public safety issues for political gain – a sentiment echoed by Parra in his comments to the NI.
"Politicizing this disease has created severe issues for the school districts to manage and operate as safely as possible," he wrote in his email, adding: "They want students back to in-person school, but they don't want safety regulations imposed."
Aside from the governor's funding incentives, the judge's decision on Monday only means that schools can legally impose mask mandates until the state ban takes effect on Sept. 29. Asked what NUSD will do about its mask requirement once that date arrives, Parra wrote in an email: "We will see where we are by then. This ever-changing virus continues to dominate our decisions every day."