The Santa Cruz County Health Services Department added more than 100 new cases of COVID-19 to its daily tallies for the fourth time in five days on Monday, reaching and exceeding figures that hadn't been seen here in a year.
Data posted to the department's dashboard on Monday showed 114 new confirmed infections among county residents. That followed one-day jumps of 109 new cases on Thursday, 153 on Friday, 156 on Saturday and 91 on Sunday.
Single-day totals of new cases in Santa Cruz County reached triple digits on multiple occasions in December 2020 and January 2021, according to a spreadsheet maintained by the NI that's based on county figures. However, the totals reached on Friday and Saturday appeared to establish single-day pandemic highs, and Health Services Director Jeff Terrell wrote in an email that he believes that those were indeed record daily numbers.
During the week that ended Monday, the county averaged 110.4 new confirmed cases per day. That was up from 34 cases per day during the week ending Monday, Jan. 3, and 12.3 cases per day during the week ending Monday, Dec. 27.
The rise in illness here and elsewhere has created a heightened demand for testing, which in turn has led to shortages of test kits and backlogs at the laboratories that process the swabs. So even as the positive results shoot up, they sometime lag the onset of symptoms by several days.
The NI is aware of at least one case of a symptomatic person who took the test at a Nogales clinic on Sunday, Jan. 2, but didn't receive her positive result until six days later, on Jan. 8. Others have complained of long waits for results as well.
On Monday, demand for testing at the Embry Health testing site at Kino Park in Nogales was so high, even people who had made appointments were told there was a two-and-a-half-hour wait. Staff there said they expected more help and shorter lines on Tuesday.
Meanwhile, signs posted at the Mariposa Community Health Center in Nogales on Monday said they were out of test kits.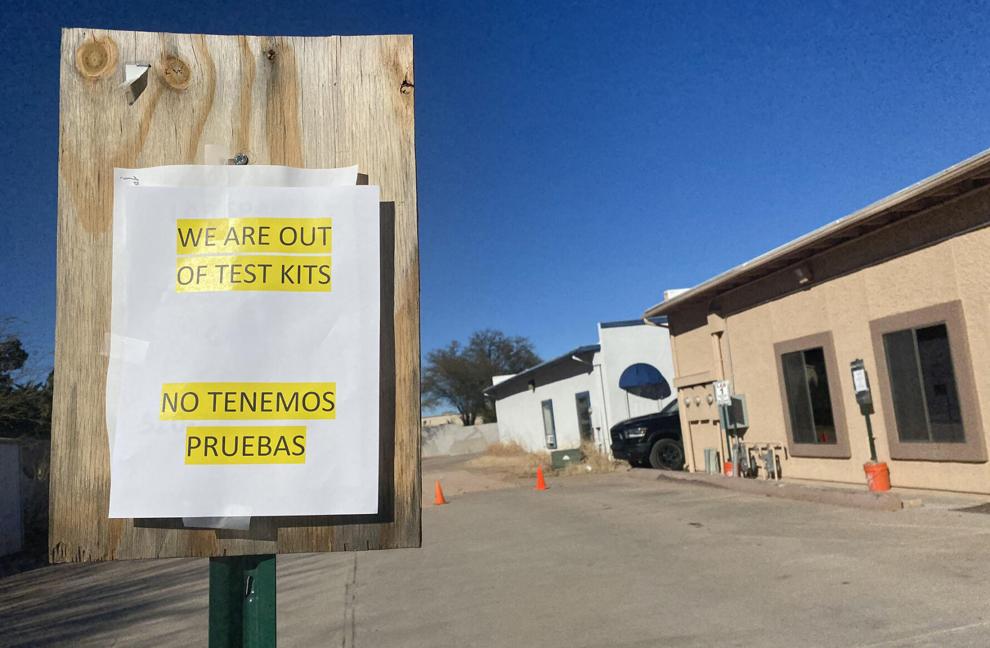 The sudden spike in local infections comes as the United States and many other countries around the world experience an explosion in COVID-19 cases driven by the fast-spreading omicron variant.
At the state level, the Arizona Department of Health Services reported 16,504 additional COVID-19 confirmed infections on Saturday – the most reported in one day in a year, according to The Associated Press. On Monday, there were 13,937 new cases reported around the state.
In addition to being more transmissible that other strains of the disease, omicron "more readily infects those who have been vaccinated or had previously been infected by prior versions of the virus," The AP reported. "However, early studies show omicron is less likely to cause severe illness than the previous delta variant, and vaccination and a booster still offer strong protection from serious illness, hospitalization and death."
In Santa Cruz County, which has a high rate of vaccination against COVID-19, the number of coronavirus-related deaths has not increased proportionally to the jump in cases – at least so far.
As of Monday, the County Health Services Department had added one death to its records since Dec. 28. Confirmed COVID-related hospitalizations of local residents have increased by nine since Dec. 28.
During the period of Dec. 28, 2020 to Jan. 10, 2021, when infections were also surging in the community, the County Health Services Department added 24 deaths and 77 hospitalizations to its local COVID-19 tallies.
Statewide in Arizona, where 57.5 percent of the population was fully vaccinated compared to 62.5 percent of the national population as of Saturday, the number of COVID-related hospitalizations rose for the seventh straight day on Friday to reach 2,597, then jumped again on Monday to 2,765.
There were also 88 new deaths from COVID-19 reported around the state on Saturday, though no additional deaths were added to the state tallies on Monday.
---
Options for vaccination and/or testing
• Santa Cruz County provides walk-in COVID-19 vaccinations and testing at its facility at 275 Rio Rico Dr., in partnership with the Ambulnz/DocGo Medical Group. Vaccinations are available 9 a.m. to 5 p.m. Monday-Friday. Testing is done 9 a.m.-noon and 1-4 p.m., Tuesday-Thursday. Call (520) 375-7900 for more information.
• Beginning Jan. 10, booster vaccine doses for people 12 and older will be available 9 a.m. to 3 p.m. Monday-Thursday at the Mexican Consulate in Nogales, 135 W. Cardwell St. The shots are being offered on a walk-in basis in partnership with Old Town Health. More information at (520) 287-2521.
• Santa Cruz County and the Mariposa Community Health Center are holding booster vaccine clinics for all eligible age groups from 9 a.m. to 3 p.m. on Jan. 10-12 at the Nogales Recreation Center, 1500 N. Hohokam Dr. Vaccinations are by appointment only at book.appointment-plus.com/ctx57nlk. Appointments for children ages 5 to 11 should be ma calling (520) 223-4337.
• The Mariposa Community Health Center offers COVID-19 vaccinations and testing. More information at (520) 281-1550. NOTE: Signs posted Monday at MCHC said they were out of test kits. Call ahead to determine availability.
• The NextCare Urgent Care clinic at 298 W. Mariposa Rd. provides testing. Phone: (520) 394-7388.
• Embry Health offers drive-up testing at Kino Park in Nogales on weekdays. Make an appointment at embryhealth.com. More information at (480) 376-2170.
• Local pharmacies also provide tests and/or vaccines.