After looking through the Villa's Market specials in the Wednesday newspaper, Carmina Riling Navarro of Rio Rico said her husband went grocery shopping to take advantage of the sales.
However, upon reviewing the store receipt when her husband returned, she said, the prices for several items didn't reflect the spending that she had planned for.
"I made a list for my husband to buy things that had a special promotion, but they didn't have any promotion. It was the regular price," Navarro said, explaining that her husband followed her grocery list without double-checking the prices at the store.
Maribel Rosario, whose husband also shopped for specific specials at Villa's Market this week, said she found herself in the same situation while looking at their receipt.
Cilantro, which was advertised at four bunches for 99 cents, turned up in Rosario's receipt at three for 99 cents. Brown onions were advertised at three pounds for 99 cents, but were sold at 67 cents per pound.
One local shopper also took to social media on Tuesday evening to complain about the inflated prices at the Nogales-based store, publishing in a Facebook post that fresh meat cuts were up to $8 per pound and the price of a case of water bottles had increased to $7.
"The whole community is upset because it's a local store and we usually try to help them, but how can we help them when they're not helping us?" Rosario said.
But while community members alleged on social media that locally owned supermarkets were taking advantage of their customers, Sergio Aurelio Villa, owner of Villa's Market, insisted that small business owners had no choice but to adjust their prices in response to the shifting market caused by the COVID-19 outbreak.
As public health officials and government leaders have responded to the growing outbreak by urging people to stay home and, in a growing number of cases, to "shelter in place" to help prevent further spread of the virus, people around the world have rushed to supermarkets to bulk-buy food and personal hygiene products. The sudden increase in demand has left stores with empty shelves, and independent grocers say they've faced special challenges in finding providers who will restock their stores.
"The warehouses only had enough supplies for a day-to-day basis without the pandemic. Now, our merchandise isn't being delivered as it should be," Villa said. "We place the order, but we don't know what we're going to get."
In recent days, Villa said, he ordered 500 cases of toilet paper and only received two. In addition, certain cuts of fresh meat that initially cost him $2.30 now cost $3.80.
Ongoing issues like these, he said, have made it difficult for locally owned supermarkets to honor advertised specials that were prepared days in advance of the drastic shifts in the market.
Rosario, the dissatisfied Villa's shopper, said the prices for fresh meat at Garrett's Supermarket were also inconsistent with those the store advertised. So she took her business to one of the big chain supermarkets in Nogales.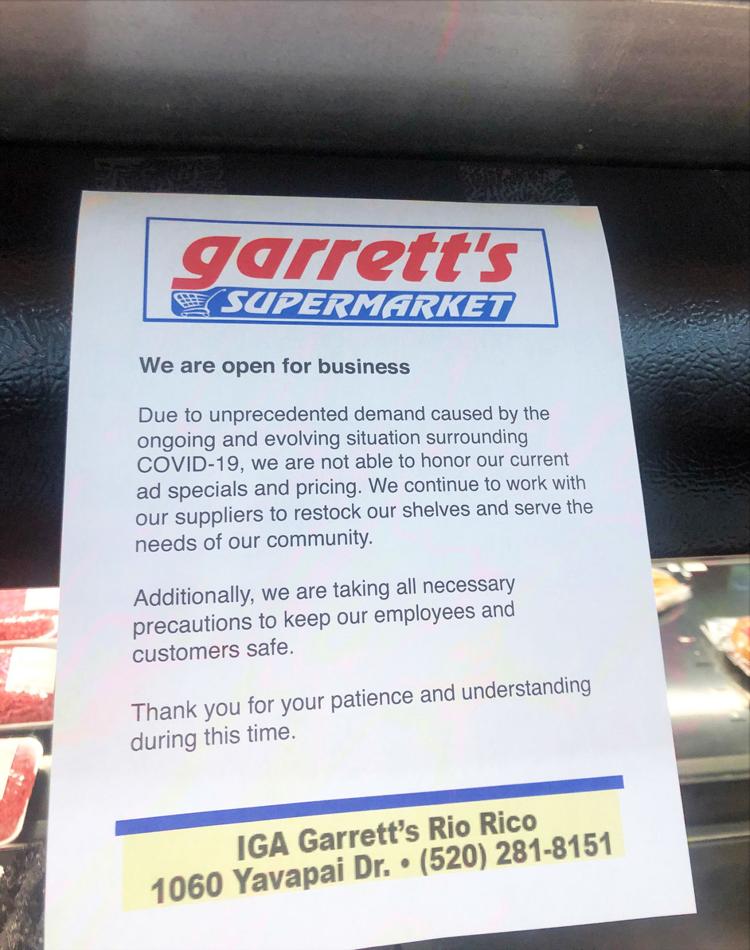 Ray Garrett, owner of the Rio Rico supermarket, said he honored all advertised specials this week – except for those in the meat department.
Like Villa, Garrett said his store's providers ran out of the products that had been promised. And in some cases, the costs of restocking the store's meat products have doubled.
"It's just that when people start buying two, three or four times as much from every grocery store than they normally buy, it creates a shortage," Garrett said, estimating that it would take a few more weeks for providers to catch up with high consumer demands. "People should just stop panic-buying."
In response to the problem, Gov. Doug Ducey on Thursday announced that he was mobilizing the National Guard to restock store shelves. Capitol Media Service reported that during a news conference on Friday, Maj. Gen. Michael McGuire of the Arizona National Guard said that the assignment would involve moving large quantities of food "that final mile" between warehouses and grocery stores.
But it wasn't clear if the Guard's assistance would address the unfair playing field that local grocers say they have to compete on.
"We're the smaller guys. The suppliers already have contracts with Walmart, Safeway, Sprouts, and it leaves the little guys out. They leave us hanging," Villa said. "We can go in there and buy one load of an item, but these big guys can go in there and buy 100 loads."
Navarro, who was only shopping for a few items at a time at Villa's, said she sees the situation as a matter of respecting the consumers who patronized the stores with their budgets already planned out.
"We're not asking them to give away their products for free, but to simply respect the prices they promised," Navarro said.
But as the supply-and-demand situation continues to unravel, Villa told the NI on Thursday, he will be pushed to continue adjusting his prices and operations accordingly.
On Friday morning, Villa's Market used its Facebook page to notify customers that its location in the Monte Carlo neighborhood would remain closed until further notice. And to ensure the public's safety, it said, the Valle Verde location is now limited to 10 shoppers at a time.
"We're probably going to start by reducing hours, but I just wish that everybody knew that it's not just us trying to take advantage of everybody," Villa said, adding that only one thing was sure: "The only way we will ever raise the price is if providers raise it on us."