The U.S.-Mexico border will close to "non-essential travel" on Saturday, federal officials said in a news conference Friday at the White House.
The move is the latest step in the Trump administration's escalating response to the coronavirus pandemic. It follows the announcement earlier this week of similar agreement to restrict travel along the U.S.-Canada border.
"Neither of these agreements with Canada or Mexico applies to lawful trade or commerce," Acting Secretary of Homeland Security Chad Wolf said at the conference. "Essential commercial activities will not be impacted. We will continue to maintain a strong and secure economic supply chain across our borders."
Wolf said that "examples of essential travel include but are not limited to" travel for medical purposes, to attend educational institutions, for emergency response or public health purposes, and for "lawful cross-border trade."
Mexico's Foreign Secretary Marcelo Ebrard also spoke about the restrictions Friday morning at a news conference in Mexico City, and multiple news outlets cited him as saying that people who live in Mexico and are authorized to work in the United States will still be able to cross the border.
Still, it wasn't clear whether people like Alma Ramirez Rosas, a 27-year-old U.S. citizen who lives in Nogales, Sonora, would still be able to make trips into Nogales, Ariz.
"I cross everyday to work at a produce warehouse," Ramirez said as she returned to Mexico on Friday.
She said she was feeling a bit nervous that the new restrictions might affect her travels, noting that she wouldn't be able to find a job in Sonora since she's not a Mexican national.
U.S. Customs and Border Protection declined to provide additional details about which workers will still be able to move back and forth across the border. 
But Lance Jungmeyer, president of the Fresh Produce Association of the Americas, which represents local produce importers, pointed to a March 19 memo from the federal director Cybersecurity and Infrastructure Security Agency defining the food and agriculture industry is part of the country's critical infrastructure workforce. Because of that definition, he said, "we anticipate that many employees will continue to cross the border, both ways."
The restrictions take effect at 12:01 a.m. Saturday and will remain in place "for a period of 30 days subject to extension upon review," the Department of Homeland Security said in a news release.
"Non-essential travel," DHS said, "includes travel that is considered tourism or recreational in nature."
Shopping trips and social visits appear to fall into the "non-essential" category. That could spell major disruptions for families spread across both sides of Ambos Nogales, as well as for business that depend on border-crossers.
"They say non-essential. My concerns are … are the shoppers non-essential? Or are they part of the economic side of it?" Nogales Mayor Arturo Garino said.
"I don't think it was mentioned specifically that they're going to allow shoppers to come across. It doesn't look like it, does it?" he said.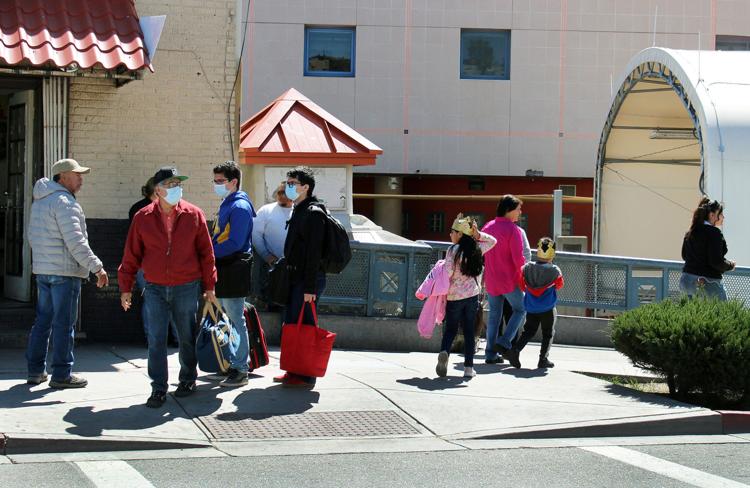 Garino said he was still waiting to see exactly how CBP will enforce the new rules. "But yes, you know very well it's going to hurt us if that's the case (that shoppers are prohibited from crossing)."
After crossing into Arizona through the DeConcini port on Friday morning, Mexican national Silvia Avechuco said she knew the border restrictions would affect her family, but felt confident in their ability to adapt to the situation.
She said she currently visits the United States on a daily basis to take her children to school, buy groceries and visit family.
"It might affect us a bit with our shopping because many things here are less expensive than in Mexico, even with the dollar so high. But one could still adapt and buy things (in Mexico)," Avechuco said.
"But if they don't let us cross the border for some time," she added, "it's really for our own health."
"It's going to have a really big effect on our economy," he said, adding that the impacts would have a "ripple effect" throughout the community.
"It's going to affect families, it's going to affect individuals," he said, adding: "God willing, this thing can blow over quickly."
Pam Park of Tucson said she saw a number of preventative measures in place when she went to the dentist in Nogales, Sonora on Friday. 
"They were wearing gowns, masks, taking our temperature when we came in. They're really trying to police it," she said of the dental office's staff, adding that she was concerned about how businesses in Mexico would be affected without the regular flow of U.S. consumers.
Ed Park, who accompanied her on the cross-border trip, said it was "a little disappointing" that the restrictions were going into place, but called them "a necessary evil."
"It has to be done to curtail the spread of the coronavirus," he said, after the pair returned to the United States through the Dennis DeConcini Port of Entry.
Sheriff Antonio Estrada said he was relieved that produce imports from Mexico do not appear to be impacted, and that people who cross the border for work might still be able to do so.
"But in terms of the people who come over and consume on a regular basis, the Mexican consumer who comes and shops here, it's going to be devastating for the economy here," he said, noting that in the past, even when the Mexican peso was devalued in 1994 and when the Great Recession hit in the late 2000s, people could still come across and shop.
Estrada also noted the effect the new rules will have on the social fabric of the binational community.
"You've got relationships on both sides, you've got families on both sides, you've got that tremendous relationship with our friendly neighbors in Mexico – definitely, that's going to be impacted. There's going to be myriad issues that come up that are going to be harmful or damaging," he said.
"Time will tell; it all depends on how long we have to put up with it," Estrada said, adding that he's still optimistic that the restrictions and the their impact won't be long-lasting.
And as severe as the consequences could be, Estrada said he understands the decision to clamp down on border traffic in an effort to stem the spread of the coronavirus pandemic. "It think we do have an international threat and as a county, we do have to protect ourselves."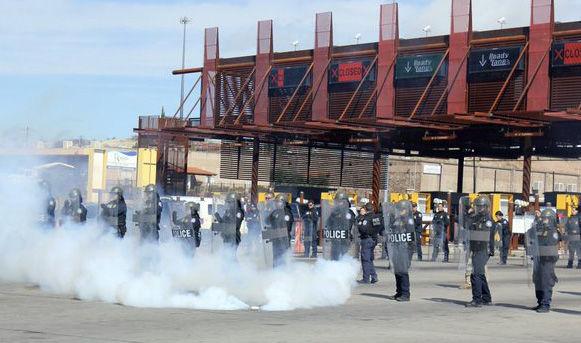 In recent days, U.S. Customs and Border Protection had begun taking measures in Nogales that appeared to portend an imminent change in port operations. Last week, CBP moved more of the razor wire-topped shipping containers that had previously been used to block vehicle lanes back into the Dennis DeConcini Port of Entry. An on Thursday, CBP riot police conducted drills at the local ports.
Mayor Garino said that as recently as Friday, he took part in a conference call the federal government held with border mayors in which participants expressed concern about what might happen at the Southwest ports of entry.
"You're not going to believe this," he said. "They go: 'As of now, we don't have anything.'"
Garino said he learned that the restrictions were being put in place only when a reporter called him Friday morning for comment.
"Everything is changing by the minute," he said.