The surge in local coronavirus cases is now directly impacting a critical service in Nogales that's on the front lines of the health crisis – the fire department.
Nogales Fire Chief Jeff Sargent confirmed on Monday that his department learned of the first confirmed case among NFD staff on June 6. Several other team members were tested since then, and some with unfavorable results.
"We've had some people test positive. We've had a couple people that are out symptomatic, waiting on test results," Sargent said. "Essentially, we're staffing with our current staff, we're on calls and we have been following CDC guidelines on when people can return to work."
As of Monday afternoon, a total of seven Nogales firefighters and paramedics had tested positive for COVID-19 and four others were in self-isolation while they awaited their results. The department has a total of approximately 42 firefighter/paramedics working at two fire stations.
Since NFD cannot require its personnel to be tested for the virus, Sargent said, he was unable to provide an exact number for how many employees had gotten tested. But based on his knowledge, "well over 50 percent of the department" had been tested for the coronavirus.
Asymptomatic employees who took the test were still allowed to work while awaiting their results, though Sargent noted that NFD had seen a couple of asymptomatic positive cases at its stations.
"Basically, since the 6th of June, there have been numerous people that have gone in and out for possible COVID-like symptoms and actual COVID," he said.
To fill the staffing gap at the stations resulting from people with positive or pending tests, other NFD firefighters have been picking up additional overtime shifts to ensure that the department can meet the needs of the community.
For those firefighters and paramedics, that means their workweek went from 48-hour shifts to 60-hour shifts, Sargent said.
"I normally don't work overtime at all, only because I have little ones at home at they keep me super busy," said Jose Malki Higuera, a firefighter and paramedic at NFD. "Seeing that a good portion of the department was off sick or couldn't make it to work, well, it was kind of morally correct for me to show up and work extra hours."
Given his nearly 20 years of experience as a firefighter and paramedic, Higuera said, he doesn't feel any anxiety or fear about being potentially exposed to the virus through his coworkers and patients. But he said the situation might be more unsettling for a newcomer who hasn't yet confronted difficult situations such as the current outbreak.
Fire Captain Angel Taddei, who has worked at NFD for approximately 16 years and has also taken overtime shifts of late, agreed, adding that the situation was also a bit nerve-wracking for his family members, who worry whether the department and its personnel are taking the necessary steps to protect themselves from the virus.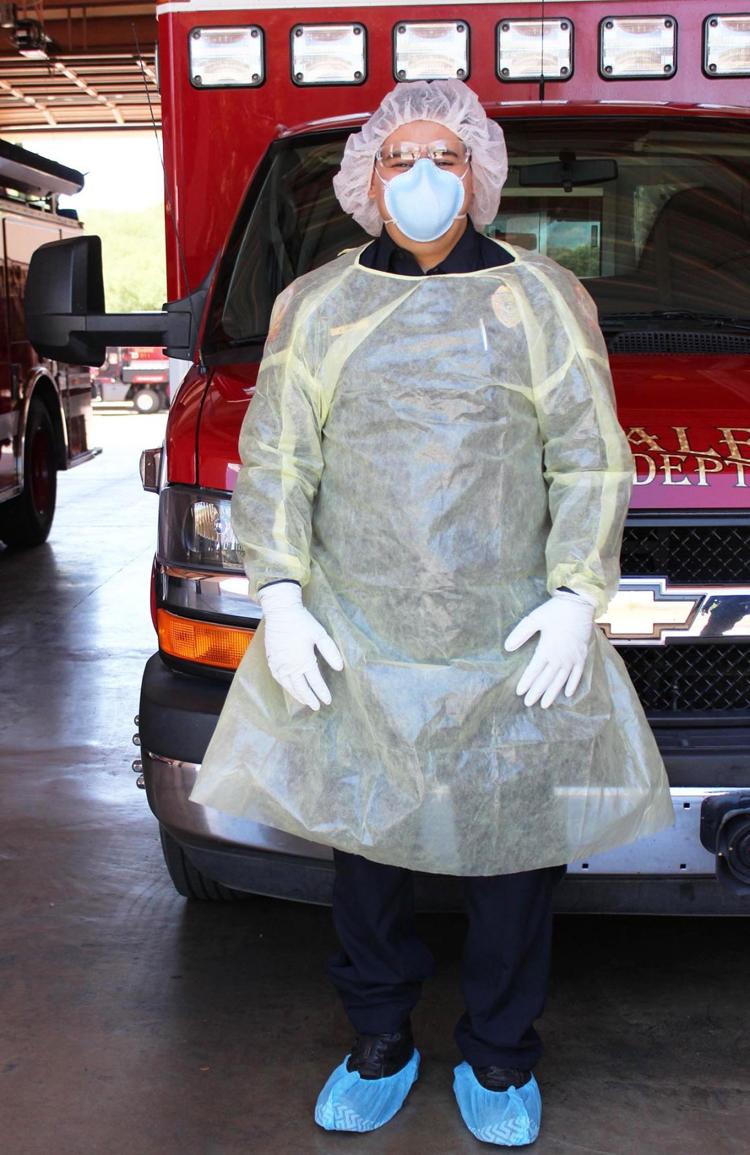 "We go back to trying to take those steps to protect ourselves, and that way, we can protect our families at home," Taddei said. "But I think it's probably a little bit more stressful to the families because they're not here, so they probably don't understand as much as we see it."
One of the key steps firefighters take to protect themselves from exposure while responding to calls, Taddei said, is having fire and EMT personnel gear up in personal protective equipment that includes a washable gown, hair net, goggles, face mask, gloves and shoe covers. Upon returning to the station, he said, the crews immediately wash their uniforms, shower and prepare another set of equipment for the next call.
In addition, he said, they try to mitigate the risks of responding to calls by screening their patients first to determine the best way to handle each case. For example, they might ask a patient to meet them outside of the home, if possible, to avoid potential further exposure inside the home.
"It's just a risk of the nature of this job, so we do our best. But it's not a guarantee," Taddei said.
Sargent said there's no current concern about the reduction in available staff interfering with the NFD's ability to respond to emergency calls. Even so, he said NFD is confident that their firefighting partners in the county would respond with help, if needed.
The collaboration between fire departments is a solution that Chief Adam Amezaga of the Rio Rico Fire District is also keeping in mind, even though the virus has not yet reached his staff.
While some RRFD employees have been exposed to COVID-19 through family members, Amezaga said on Tuesday that nobody at the stations had tested positive themselves.
The district is taking similar precautionary methods to those at NFD, and in addition, is having blue light technology installed at the stations to help with disinfecting efforts.
Still, Amezaga said, fire chiefs in the county have discussed how to help each other out in case a cluster of infections were to affect their staffing.
"We've all talked and we would step up to help each other out," Amezaga said. "How that would take effect? I don't think we've worked out the details."
Sargent at NFD added: "We're just being as cautious as possible with as many plans as we can to make sure that we are able to cover the call line."