As the number of confirmed COVID-19 infections among local residents rises rapidly, giving Santa Cruz County one of the highest infection rates in Arizona, it continues to lag in per-capita testing for the disease.
Data posted by the Arizona Department of Health Services on Thursday morning showed that 607 residents of Santa Cruz County had been tested for COVID-19 infections with definitive results. Compared to the most recently available population estimates from the U.S. Census Bureau, that's a rate of 130.5 tests per 10,000 inhabitants.
Graham was the only one of the state's 15 counties with a lower rate, at 106.4 tests per 10,000 residents. Apache County had the highest rate, at nearly 520 tests per 10,000. The statewide average was 239.3.
So why is Santa Cruz County faring so poorly in a state that itself ranks at or near the bottom in the nation in per-capita testing?
"It's up to the entities who are doing the testing to order the test kits, so I don't have an answer for that. You'd have to ask those people that are doing the tests … to see if they're having issues getting tests," said County Health Services Director Jeff Terrell.
In Santa Cruz County, entities offering COVID-19 testing include Holy Cross Hospital, the Mariposa Community Health Center and NextCare Urgent Care. "That's the three that I know of that are doing the tests," Terrell said.
The administration at Holy Cross Hospital, which since the start of the pandemic has declined to make medical staff available for interviews or provide much insight into the hospital's coronavirus-related operations, did not wish to cooperate for this story.
But Dr. Eladio Pereira, chief medical officer at the Mariposa Community Health Center, said the center had indeed faced problems obtaining the so-called PCR nasal-swab tests that detect a coronavirus infection.
"We work with four vendors and we order as much as we can. But they decide how much we get, we don't," he said, noting that MCHC recently placed an order for 1,000 tests, but received 100.
The health center also receives some tests from the state lab, which has specific rules about who they can be given to – such as patients with certain symptoms, or people who have had close contact with an infected person or who work in critical industries, Pereira said.
With a limited number of tests on hand, Pereira said, MCHC is selective about who receives one.
"What we're mostly interested in at the moment is testing patients who seek our help when they have symptoms, and we want to know whether they have the illness so we can proceed with isolation and monitoring," he said.
But if the issue is the vendors, why would they give health care providers in Santa Cruz County proportionally fewer tests than other Arizona counties?
Mike Geller, spokesman for LabCorp, a major supplier of lab tests in Arizona and around the country, did not speak specifically about Santa Cruz County. But he said the company prioritizes locations according to need.
"LabCorp is working continually to make sure that collection supplies are in the locations where they are in greatest demand and provided to clients in appropriate quantities," he wrote in an email.
Jessica Pridonoff, spokeswoman for Sonora Quest, another important supplier of lab tests in Arizona, wrote in an email that "we are not aware of any unfulfilled requests or screening events sponsored by Santa Cruz County, as we've seen in other counties, but would welcome the opportunity to work with county officials or local healthcare providers on such an event."
She noted that Sonora Quest does currently serve healthcare providers in the Nogales area, "and has provided 200 swabs for sample collection over the last week."
A spokesman for the Arizona Department of Health Services did not immediately answer a question about the state lab's process for divvying up COVID-19 tests.
Pereira said he wasn't sure about what criteria vendors use to decide where their tests go. But he noted that until recently, Santa Cruz County had a low number of confirmed COVID-19 cases.
The county has yet to record a confirmed coronavirus-related death – the rest of the state had 763 as of Thursday morning – and only two local residents have been hospitalized for COVID-19 symptoms out of a statewide total of 1,830 hospitalizations, according to Arizona Department of Health Services data.
"It's always possible that they saw the numbers in Santa Cruz County relatively low and they felt it's not needed, but I really do not know," Pereira said. "I can tell you that we make every effort to get as many tests as we can, but they decide how many we get."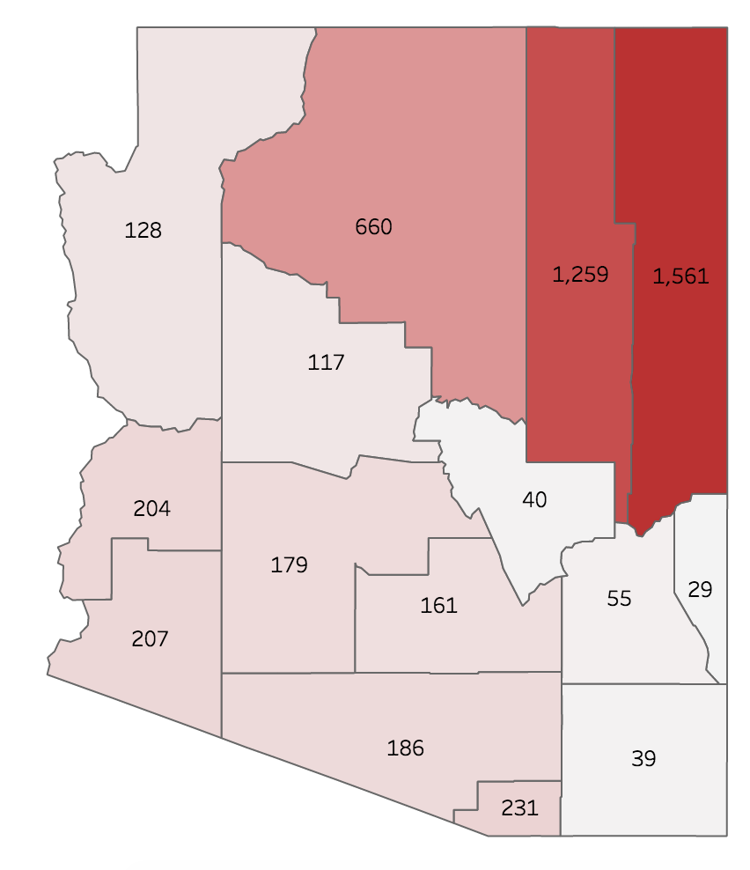 In addition to its rapidly rising number of infections, Santa Cruz County's rate of 231 cases per 100,000 residents, as well as its 14-percent positive PCR test rate as of Thursday, were higher than all but three other Arizona counties: Apache, Navajo and Coconino. Those counties, located in the far north of the state, are home to Native American communities that have been hit especially hard by the virus.
Might these new indicators lead to an increase in tests for MCHC?
"I'm not sure, I hope they do," Pereira said.
Coming soon: rapid testing
Dr. Richard Fleming, a medical director for NextCare Urgent Care in Nogales and Tucson, said he wasn't sure why Santa Cruz County is performing poorly in per-capita testing. But he said NextCare's clinic in Nogales has plenty of PCR nasal-swab tests on hand.
"We have the swabs and we're available to do it," he said, adding later: "Pretty much anyone can just come in and get tested right now, symptomatic or asymptomatic."
A bigger issue is the processing backlog at the labs, he said. More people in Arizona and around the country are being tested for COVID-19, which has meant a longer wait for test results.
"Whereas before we were getting results back in two days, now it might take five days or so to get results back," Fleming said.
The NextCare clinic on Mariposa Road is still relatively new, having opened in 2018. Fleming speculated that perhaps some community members still aren't aware of the clinic, and that's why they haven't been going there for testing.
Businesses, however, appear to be more aware of NextCare, and are especially interested in the rapid-result testing it offers at a site in Tucson. Fleming said local employers who want to quickly clear their employees to return to work, such as produce importers, have been sending large groups of workers to Tucson for the quick-turnaround test.
Now, he said, NextCare is preparing to install a rapid-result machine at its clinic in Nogales, which eliminates the need to send a swab to a lab and produces a result in about 15 minutes. Fleming said he expects the machine to be up and running in Nogales in two weeks or less.
Not all insurers will cover the rapid test, and there is just one supplier of the swabs used by the machine, meaning that supplies could potentially become limited. But Fleming said NextCare will continue to offer send-out COVID-19 testing as well.
"This is just providing another option for people," he said of the rapid tests.
In addition to nasal-swab PCR tests for active coronavirus infections, NextCare, as well as the Mariposa Community Health Center, is now offering antibody tests. These blood-draw tests are used to determine if someone has been exposed to the virus in the past and, as a result, may have developed some level of immunity to it.
State data posted Thursday showed that 79 people from Santa Cruz County had been given antibody tests, with 3.8 percent of the tests coming back positive.
Testing blitz
Even as the rate of testing has lagged here, the total number of COVID-19 diagnostic tests performed on people from Santa Cruz County has been making significant gains. The 607 county residents who had received results on a PCR nasal-swab test as of Thursday morning was up from 300 on May 7.
However, other Arizona counties have been gaining just as much or more. Part of that growth has been fueled by a state-sponsored testing "blitz" held on Saturdays in May at sites around the state, though none have been in Santa Cruz County.
Asked why there hadn't been any local testing blitz sites, Terrell, the county health services director, said that was up to the test providers.
"They have ramped up their testing, the entities here. But they haven't signed up to do a blitz because I don't think they have that many tests," he said.
"Some of these places up in Pima County and some of those places, you're talking 500-600 tests they've got in each location, if not more. So to try and get that many, I don't know if the supply has gotten down here. I don't know if they've ordered that many to participate in a blitz," Terrell said.
Dr. Phil Williams of the Mariposa Community Health Center said "basic math" helps determine whether MCHC can participate in the blitz.
"If our number of test kits is already limited, we want to make sure that we have enough kits for patients that are symptomatic and who really, really need those tests," Williams said, adding that: "If we were to do a large testing thing, it would be taxing on our current resources."
Pereira, the health center's chief medical officer, agreed, saying that if the state had offered MCHC additional tests, they would have considered participating in the blitz.
Sonora Quest has been a partner in the testing blitz, and the company spokeswoman quoted earlier in this story said that it "would welcome the opportunity to work with county officials or local healthcare providers on such an event."
Pereira said he understands why people are interested in testing. But he said it's also important that the public continue to follow recommendations for wearing masks, washing their hands regularly and practicing social distancing.
"Testing is good, I'm not against testing, I think we all like to be tested," he said. "But the way we're going to prevent this from spreading is by taking those precautions."
(Note: The Arizona Department of Health Services recently began separating its tallies of PCR diagnostic tests and its count of antibody tests, in addition to providing a combined total. Except where noted, this story took into account only the tallies of PCR tests, which are used to detect active COVID-19 infections. Previous state testing data cited by the NI may have included relatively small numbers of antibody tests used to identify past exposure to the virus.)