When May rolls around most years, students start getting excited about leaving the classroom behind and enjoying a long-awaited summer vacation.
But this May, after spending the past two months as the subjects of an unplanned experiment in remote learning, some local students say they're thinking about how much they miss being at school.
Asked if she was starting to enjoy her stay-at-home learning routine, Artaya De La Ossa, an eighth-grader at Coatimundi Middle School in the Santa Cruz Valley Unified School District, laughed.
"I'd like to go back to school… With the coronavirus, we know we have to stay home and stay away from other people, but it would be nice to see my friends, my classmates, and everyone, again," she said.
Amerie Atwood, a first-grader at Mary Welty Elementary in the Nogales Unified School District, was on the same page: "I want to go back to school!"
For students and teachers, remote learning programs mean that coursework hasn't stopped, but the challenges of remote learning and the realities of spending day after day at home have generated a new appreciation for daily class routines.
"I think the reaction that we've had from students of how much they miss school has really been an example of how we don't always see the effect that our profession has on students," said Eliza Lopez, an English teacher and senior project coordinator at Nogales High School. "Now it seems like we can really value that, and that everyone really values what we do in the classroom, so I think that has been the most surprising thing to me."
And it's not just students who would like to return to school. Parents said that the demands of caring for children all day and providing extra help on school work has been tough.
"I'm more exhausted, I think, now than I was when they were going to school and waking up at 5 (a.m.)," said Kaitlyn De La Ossa, whose daughter Artaya is the eldest of three children at SCVUSD schools.
De La Ossa, a realtor, has struggled to balance her work and tending to three kids around the house. "At that time, I thought that bothered me waking up so early. Now I'm just exhausted," she said.
Parents learning to teach
In mid-March, local schools announced temporary closures in response to the coronavirus outbreak. Within weeks, state authorities announced that classrooms would remain shuttered for the rest of the academic year.
Soon after the closures, NUSD and SCVUSD started rolling out distance learning programs, using a combination of printed packets and online tools. That's meant replicating classroom discussions with videoconferencing and providing assignments through programs like Google Classroom, Achieve 3000 and Cahoot Learning.
The districts have handed out laptops and provided wi-fi hotspots to some students who didn't have reliable internet access at home.
Teachers have found themselves improvising and, in some cases, modifying curriculums.
Lopez said that senior projects for Nogales High School students would typically conclude with a 10-minute speech, but that's been cancelled and replaced with a PowerPoint presentation that students use to highlight the work they've done throughout the year.
By state order, students will receive a "P" grade, for "passing," for their work after spring break.
But even without grades to worry about, students have faced challenges adapting to virtual learning programs and parents have been forced to play a bigger role in their children's education.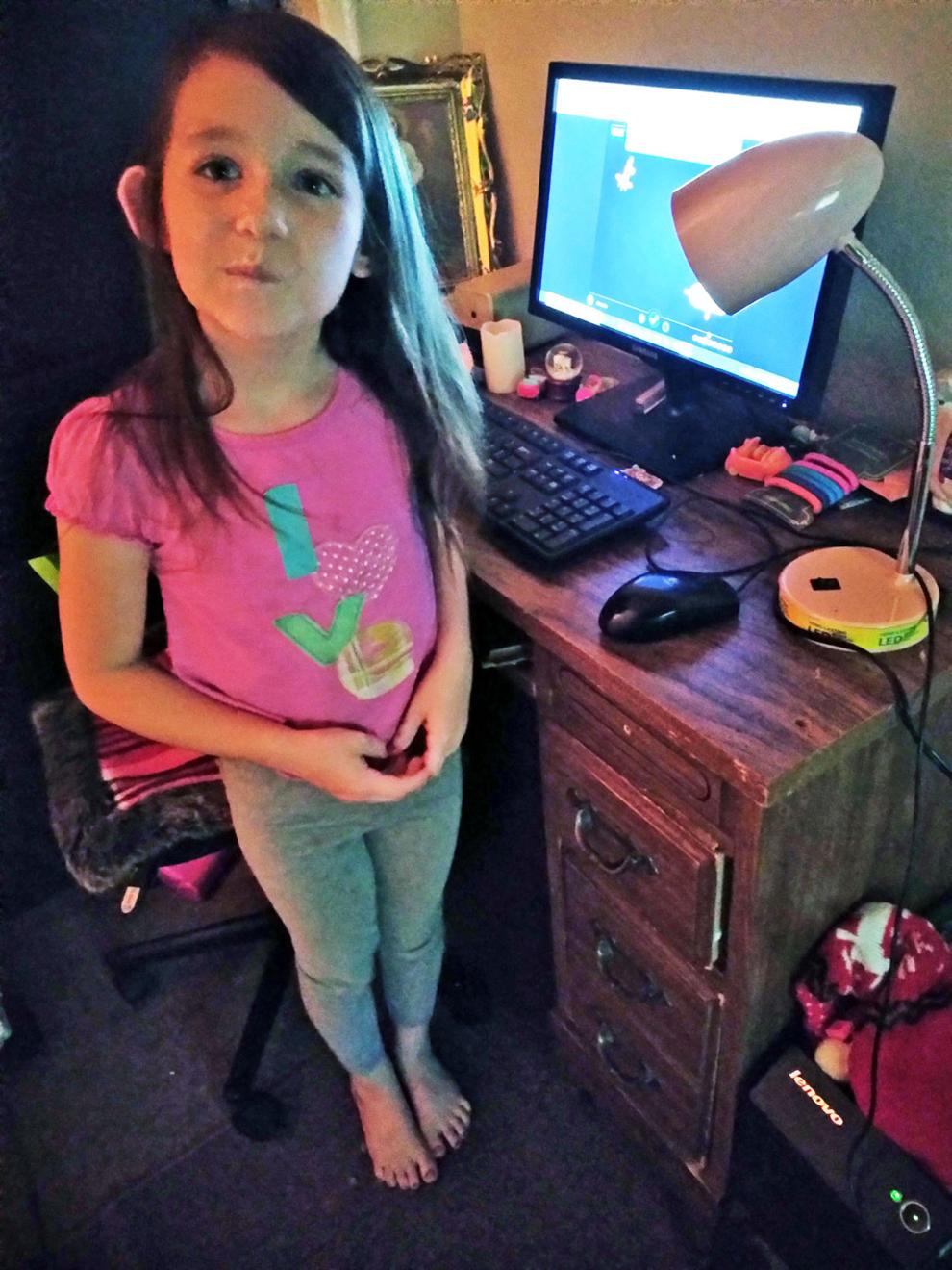 Bonnie Atwood, mother of Amerie, the Welty first-grader, said she used to bring Amerie to and from school and help out with homework, but had taken a more hands-on role in her daughter's school work in recent weeks. That's included the tricky task of imposing a daily learning schedule at home.
"I try to keep it as much as possible centered around doing a little bit of study in the morning. From say nine to about 11 we sit at the kitchen table and just write, three times a week we do that," Atwood said.
"It was very hard (transitioning) and getting her to really understand that you can't go to school right now, but you can't go out and play either. And at the same time, even though you're home, you've still got to work," she added.
"I help them out a lot more now," De La Ossa said.
"I feel like I'm having to be a teacher for three different grades," she continued. "My son will bring me his computer and ask me a question about what this is, or how do I do this problem, and we'll have to sit and try and figure it out… I didn't grow up with the common core and the way I was trying to teach him or show him what I learned, he's like, 'You're doing it wrong,' so I get frustrated."
And, even with parental help, online learning doesn't work for all classroom activities.
"This is the part (of the school year) where in my classroom I teach a lot of creative things," Lopez said of her sophomore English class. "We have debates and we have impromptu speeches and discussions… students write a song, they invent lyrics, we do poetry, that's what we mostly do during the fourth quarter, which we haven't been able to do now because we've had to transition."
For another part of the class, however, Lopez was already making use of learning software.
Her students would choose an article and read it using Achieve 3000, then write about their reactions to the text using the application. Typically, that would be complemented with in-class discussion, but now Lopez has moved all work related to the article to the online platform.
"Substituting it with Achieve 3000 doesn't provide the opportunity for them to have a social debate, but it does provide an opportunity for them to express themselves about important issues that are going on," Lopez said.
The COVID-19 crisis and the statewide school closure have sent all students home, but the fallout hasn't affected all families equally.
For Atwood, the transition was challenging, but ultimately rewarding for her and her daughter.
"Life as you know it was just, it was upside down… but this has all brought us closer together, absolutely it's brought us closer together," she said.
"But then again, I only have one child," Atwood reflected, noting that she is a stay-at-home mother. "I can't imagine what some of these mothers would be going through with three or four kids."
"It's been crazy," De La Ossa said.
She said she's relaxed rules around the house for the sake of avoiding conflict.
For one, she compromised on where her kids do their school work. These days, the two older children sit on their beds while working on their district-issued Chromebooks.
"I don't think it's good for them to sit in bed, but where else can they sit? If they sit close to each other I feel like they're in the airspace of the other person and they're constantly like, 'Be quiet, quit talking to me, why are you making that noise?'" she said. "In the beginning, it was, 'No, we're going to sit at the dining room table, we're going to hash this out, get your homework done.' And now I'm just like, 'Just go get it done, I don't care where you're at in the house.'"
And, perhaps predictably, losing out on in-person connections at school can hit hardest for those who won't be back again next year.
Lopez said she's particularly missed the chance to see seniors in their last weeks of high school.
"Personally it's heartbreaking, because normally we're very excited about this last month, especially with the seniors because we've been working all year long for this project and just watching them, how proud they are of their project," she said. "I think that cannot be replaced with a slideshow or anything else that we try to do."