Second suspect charged in Rio Rico bank scam
A second person has been charged in federal court for their alleged role in a scheme to funnel millions of dollars in cash to Mexico through fraudulent accounts opened at a bank in Rio Rico.
Maria Concepcion Gonzalez Garcia, aka "Dona Mari," a 47-year-old citizen and resident of Mexico, was named as a co-conspirator in a five-count indictment filed Oct. 23 at U.S. District Court in Tucson.
The indictment alleges that from Feb. 17, 2017 until Sept. 12, 2019, Vasquez used his position at the bank to open accounts in the names of people who did not in fact control them. Instead, the accounts were allegedly controlled by Gonzalez and other conspirators, including one identified only as "The Handler."
Gonzalez and The Handler would bring people to the bank, where Vasquez or other co-conspirators would help them set up the accounts that the conspirators then used to wire approximately $10.2 million to Mexico, the indictment alleges.
Gonzalez is charged in the indictment with one count each of conspiracy to commit bank fraud, conspiracy to make false statements to a financial institution, and conspiracy to commit money laundering.
Vasquez was charged with the same three offenses, and well as additional counts of bank fraud and making false statements to a financial institution.
Attempted gun-runners sentenced to federal prison
The man behind a scheme to smuggle nine semi-automatic handguns, 13 magazines and 200 rounds of ammunition into Mexico via the DeConcini Port of Entry in Nogales was sentenced to three years in federal prison, followed by three years of supervised release.
Miguel Sanchez Alvarez, 43, of Mesa, was sentenced at U.S. District Court in Tucson on Oct. 22 after a jury convicted him of one count of unlawful smuggling of goods from the United States.
Court records show that an accomplice, Victor Orlando Leal Medina, was arrested at the port on Oct. 1, 2017 after U.S. Customs and Border Protection officers conducting outbound inspections found the contraband at the bottom of a bucket filled with roofing tar that Leal was transporting in a Chevy Trailblazer.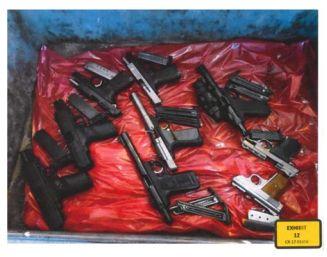 During a post-arrest interview, Leal said a co-worker he called "Guero" had given him $100 to bring the bucket to Mexico. He said he didn't know what was inside the bucket, but thought it might be firearms because Guero liked to shoot guns.
Guero was ultimately identified as Sanchez, and was arrested on April 3, 2018 in Mesa. He claimed that he inadvertently gave the wrong bucket of tar to Leal, but the jury found him guilty anyway.
Leal pleaded guilty and was sentenced to 14 months in prison in December 2018.
Woman busted with heroin at checkpoint
U.S. Border Patrol agents at the Interstate 19 checkpoint arrested a woman who was trying to smuggle a package of heroin in her body cavity.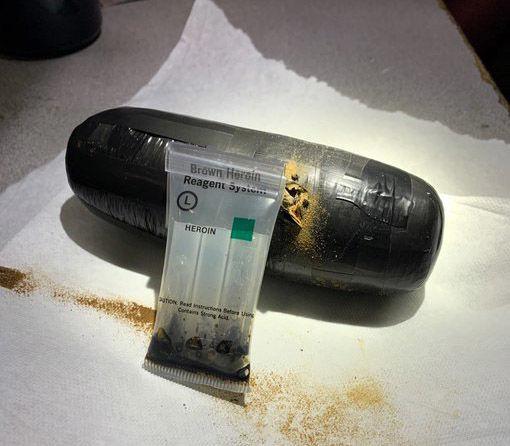 At approximately 5:40 p.m. on Oct. 22, a Border Patrol canine at the checkpoint alerted to a Volkswagen Jetta with two occupants, U.S. Customs and Border Protection said in a news release. During a secondary inspection, the passenger, a 20-year-old Mexican national, was found to be concealing a bundle of heroin in her groin area.
The package weighed approximately 295 grams, or 0.65 pounds, CBP said.
The woman, who was legally present in the United States, was arrested and faces prosecution for drug smuggling, the agency said.