A regular Monday evening bicycle outing involving a handful of friends ballooned into a police-escorted ride of around 50 people, as the local cycling community gathered to pay tribute to bike enthusiast Mark Seeger, who died Sunday after being struck by a pickup while riding on Grand Avenue.
Organizers said Monday's ride, which traveled the length of Nogales on Grand Avenue, was meant both to honor Seeger and raise awareness of the safety issues that confront cyclists in the city.
"We wanted to reach out to the community and show our support to the family and to the cycling community," said Omar Sanchez of Nogales. "And not only the cycling community, but the people on bikes – the children, the moms, the dads – people who don't ride as a sport, but to work or the store."
Sanchez said he and several of his friends usually meet up Monday evenings at the shopping plaza at the intersection of North Grand Avenue and Country Club Road for a ride. But after Seeger, a 66-year-old Nogalian and stalwart of the local cycling scene, was killed on Sunday morning in a hit-and-run crash, "the calls started coming in."
Other cyclists, as well as the bicycle group 0S3, wanted to join up and ride in Seeger's honor. So with Nogales Police Department cruisers leading the way, cyclists of all ages rolled down Grand Avenue, some with the safety slogan "Share the road" emblazoned on the backs of their shirts.
The riders paused in front of City Hall to pay their respects to Seeger's family and pass around a photo of their fallen friend.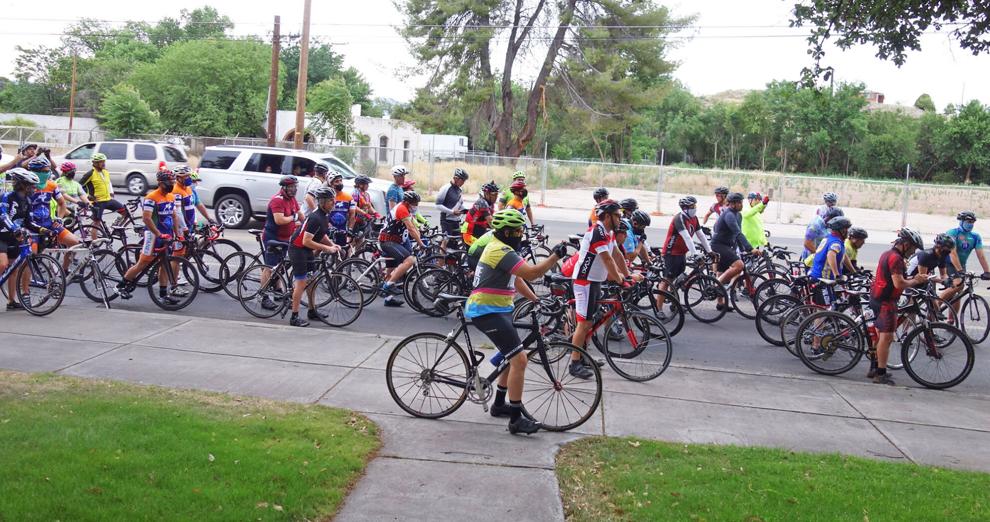 Tito Castro recalled meeting Seeger back in 1991, when he was commuting by bike from Peck Canyon in Rico Rico to his job in Nogales. Seeger and another cyclist, Amado Carrasco, would pass Castro and give him tips.
"And when they'd leave, I'd always look at them and say, 'I want to be like them when I grow up,'" Castro recalled.
Once he got a good enough bike, Seeger and Carrasco invited Castro to meet them for a ride at the same plaza from where Monday's memorial ride departed – known back then as the home of Hollywood Video.
"From that point on, Mark was my riding buddy, my partner," said Castro, who called Seeger "a super fine person" and "a very patient man" who enjoyed helping others.
He credited Seeger with helping to start cycling races in the local area in the 1980s, as well as helping getting races going in Nogales, Sonora. In his professional life, Seeger worked for many years as a Child Protective Services supervisor in Nogales.
"He was like a brother to me. He was like a mentor, he was my counselor, he was my everything. I am very brokenhearted right now," Castro said.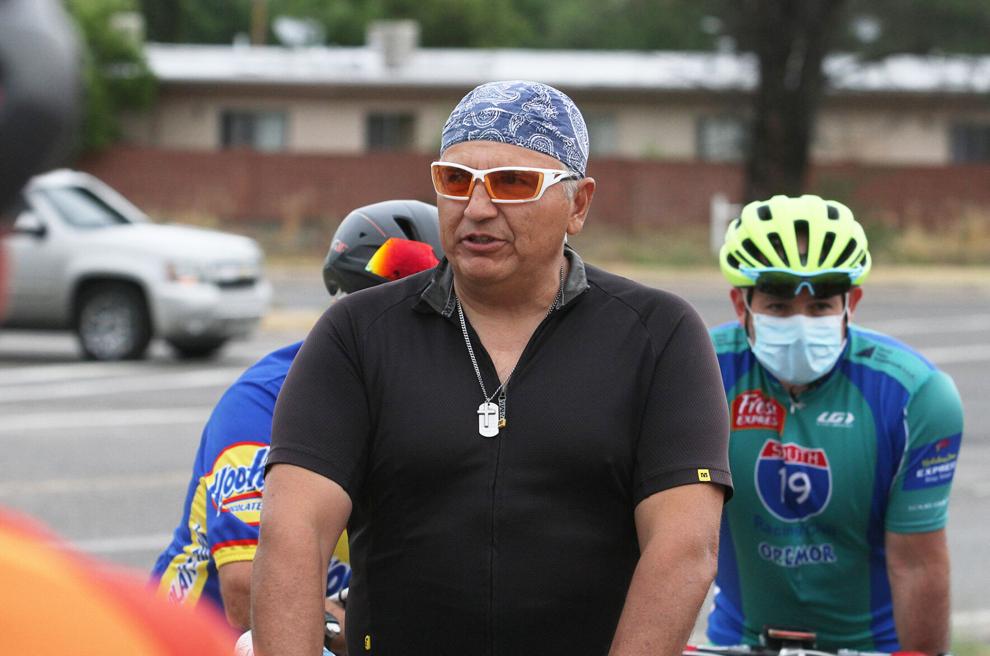 Before setting out on the ride, Sanchez said: "We're doing this for him and we want to see a little bit of change within the community, within the city, within the county."
The change they want to see, he said, involves support for bike and pedestrian lanes.
"Years back, I guess there was a plan and engineering done, so it's all ready to go. The state sent some money, so we just want to see it done, for the protection of the whole community – and not only the cyclists, but the pedestrians as well," Sanchez said.
The volunteer-built Monte Carlo Trails park, which opened last year with mountain bike trails and a BMX pump track, saw the City of Nogales, 0S3 and the National Park Service successfully collaborate on a bike-oriented project for the community.
But getting dedicated bicycle lanes built on city streets has been a different story.
During a meeting in early 2015, representatives of the City of Nogales and Arizona Department of Transportation discussed the possibility of including bike lanes in ADOT's Grand Avenue paving project. But it didn't come to fruition.
City residents have seen other proposals come and go as well, including an idea floated by the city and ADOT in 2011 to build a bike/walking path connecting the Mariposa port to downtown.
Then in November 2018, ADOT hosted a public meeting on a proposed Nogales Bicycle and Pedestrian Plan, meant to guide the city in making improvements for bicyclist and pedestrian safety at heavily trafficked streets. The proposal shown at the meeting consisted of improvements in 13 areas within the city, including Mariposa Road, Grand Avenue, Patagonia Highway and Camino Vista del Cielo.
Public comment at the meeting focused largely on the unsafe conditions for cyclists, joggers and pedestrians on Grand Avenue, the city's heavily trafficked north-south thoroughfare.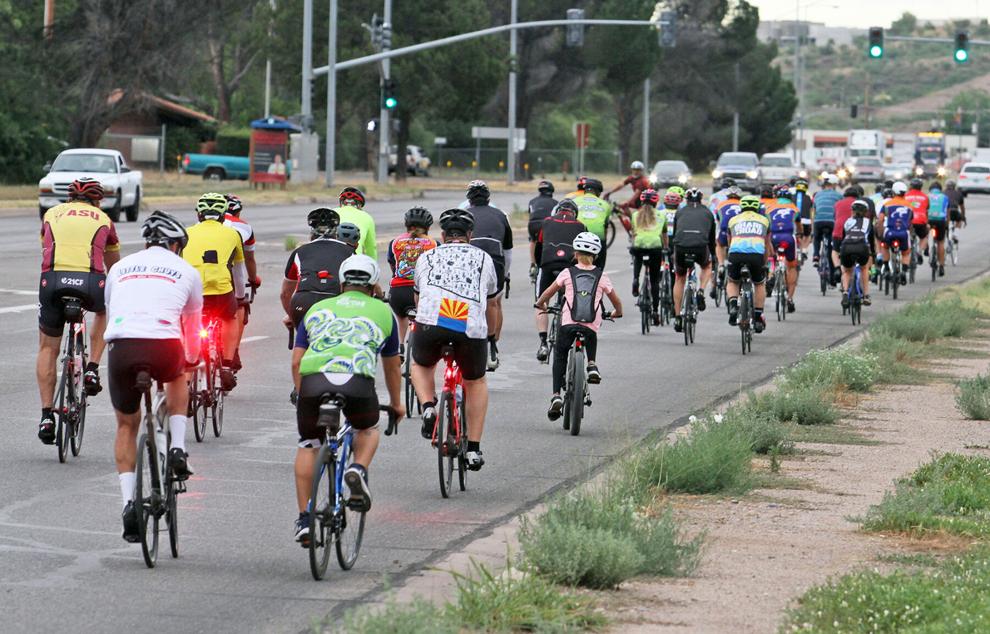 City Councilman Jorge Maldonado, who gathered with the cyclists at the start of Monday's ride and who helped organize the police escort, said the city's elected leadership saw diagrams of ADOT's bike lane plans earlier this year, and heard about what the state's and the city's roles in the plan would be.
"We were already approving the bike lane and all that," he said, adding: "But we've got this pandemic going on that froze everything."
According to ADOT spokesman Garin Groff, the comprehensive plan was completed last year and turned over to the city. The design portion of the Grand Avenue element of the plan will go out to bid this year, he said, with construction funded for fiscal year 2023. 
The budget for the Grand Avenue work is $1.325 million, including design and construction, and the city's share is $75,525, Groff said. The remaining costs will be covered by federal funds.
The Nogales City Council is scheduled to hold a regular meeting on Wednesday evening, and Maldonado said he would bring up the issue of bicycle safety and suggest some new signage warning drivers to watch out for cyclists.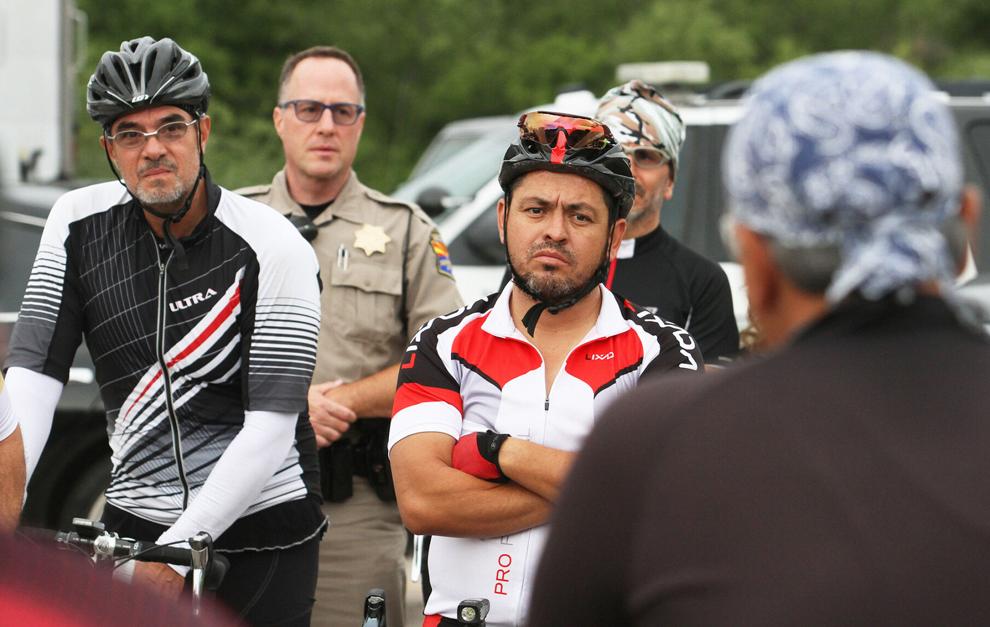 Castro, Seeger's friend and cycling partner, recalled that just a few weeks ago, the two men had been talking about how lucky they had been as cyclists.
"When we hear of all the tragic accidents in other cities including Tucson, we both understood that we were very fortunate and lucky, especially with the beautiful routes we have in Santa Cruz County," he said, adding that little did they know that Seeger would soon become the victim of a collision on one of their own local streets.
"But, as strong as the cycling community is here in Nogales, Ariz. and Santa Cruz County, I highly believe that this is going to be an eye-opener for all of us. For motorists and for cyclists, too," Castro said. "And I hope something good comes out of it. I know it will. There's a lot of positive people here and I believe that they're going to help out to make it safer for all of us."