"On April 27, 2018, life as we knew it took a 360-degree turn for the worse," Alyssa Cordova read from a sheet of paper with a strong voice and trembling hands, as she described her family's life before and after her police officer husband was murdered.
"Not only did Nogales Police Department lose a member of their own," Cordova said into the courtroom microphone, her voice suddenly breaking, "a mother lost her only son, three children lost their father, I lost my husband and our unborn child never got to meet him."
Standing just a few feet away from the man convicted of murdering 44-year-old Nogales Police Officer Jesus Cordova, she, along with two family members and the city's police chief, described the pain they and others had suffered as defendant David Ernesto Murillo sat with his back to them, staring blankly ahead.
Moments later on Wednesday afternoon, Judge Thomas Fink of Santa Cruz County Superior Court sentenced Murillo, 29, to three terms of natural life in prison plus another 119.5 years behind bars for killing Officer Cordova and committing an array of other violent crimes on April 27, 2018.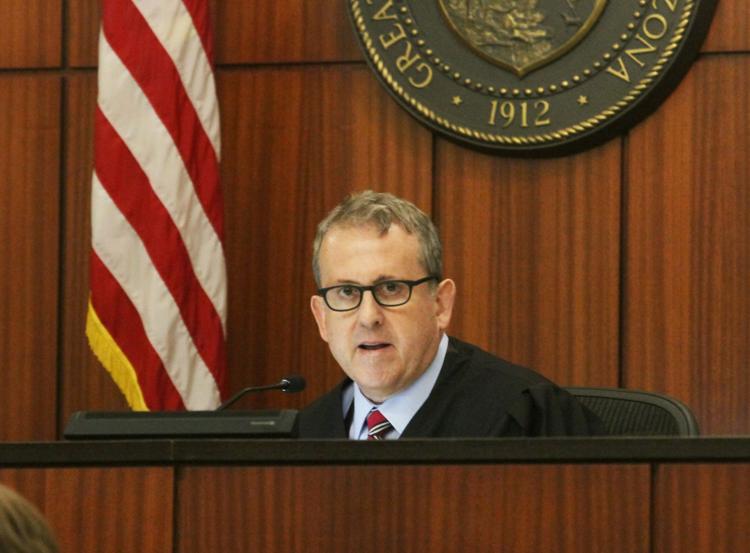 "There's nothing that I can do, as part of this sentence, that will alleviate the trauma that we as a community here have experienced because of what happened," Fink said after he handed down Murillo's punishment.
"But Mr. Murillo… you're going to walk through that door and you're going to go to a state prison. There, you're going to be housed in a maximum security unit. You're going to be housed with the lowest form of human life that exists on this planet," Fink continued, reminding him: "You'll finish your natural life in prison and you will die with those people."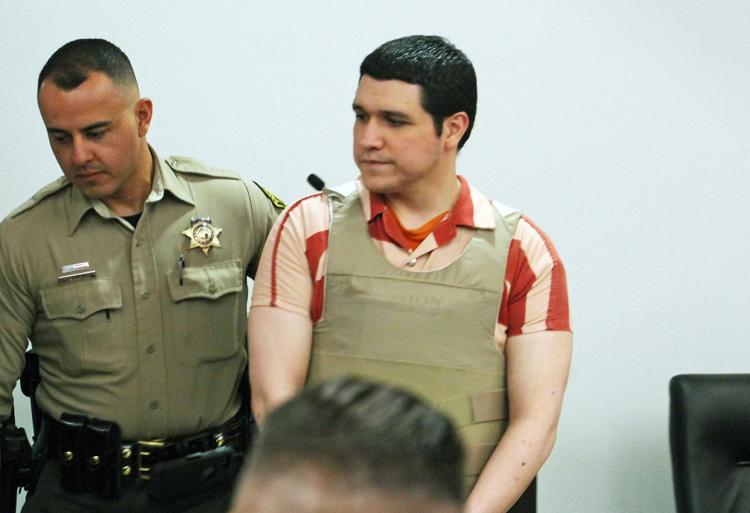 A roomful of family members, friends, victims, law enforcement officers and members of the media listened as county prosecutor Liliana Ortega began the sentencing hearing by laying out the graphic factual basis for Murillo's 39 criminal convictions.
Two days prior to the crime spree, Ortega said, Murillo was fired from his job as a handyman and lost his apartment in the Phoenix area. He traveled to Nogales to stay at his mother's home, where he found an AR-15 rifle that belonged to his brother and began brainstorming a plan, which authorities believe was to return to Phoenix to kill his boss.
"He created a video talking about how he would get the weapon past the (Border Patrol) checkpoint and he said, 'People are going to die tomorrow, promise,'" Ortega said. "He didn't have any money, though, to get back to Phoenix, so he had to create a plan."
That plan began with the attempted robbery of a taxi driver, whom he called claiming he needed a ride to Patagonia Lake. Instead, he took out the rifle as the taxi headed east on State Route 82 and told the driver to pull into a side road, threatening to kill him.
But Murillo disabled the vehicle in the middle of the highway after he shot through the floorboards. The taxi driver jumped out and ran toward a Forest Service vehicle for help, the stress of the situation causing him to suffer multiple heart attacks.
"He spent the next two weeks in the hospital and he missed more than two months of work. To this day, he has not recuperated fully. He still can't fully raise his arms, he can't physically exert himself like he used to, and he hasn't gotten over the emotional tragedy of what happened that day," Ortega said of the driver.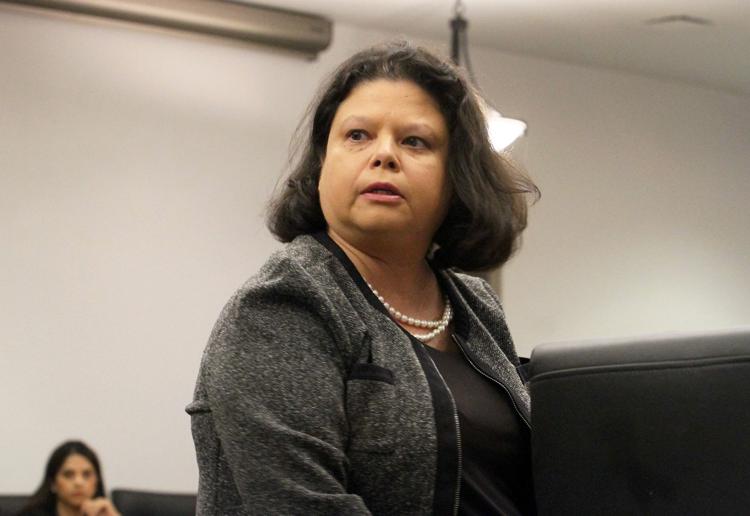 Murillo then proceeded to victimize a local teacher, who sped away after refusing to give him her truck. Then he carjacked a couple of tourists, firing shots in each event.
He drove the tourists' rental vehicle back to Nogales and parked at the Mediacom office on North Grand Avenue, where he was unable to restart the car because the driver had kept the key fob. At that point, Murillo recorded another video, showing the AR-15 in the front seat and expressing his anger at the victims for keeping the key, Ortega said.
Murillo then carjacked another man at a nearby RV park and fled south on Grand Avenue, where Officer Cordova spotted him and tried to pull him over at the intersection of Mesa Verde Drive.
"He should've just stopped and surrendered," Ortega said. "He chose to grab the assault rifle, jump out of the car he was driving while it was still moving, and ambush Officer Cordova with 18 bullets."
Amid audible cries and sobs from the victims' seating area, Ortega added that Cordova was unable to retrieve his own gun because one of the bullets had injured his right hand. Murillo, she said, continued to fire his rifle "at ridiculously close range" as Cordova tried to get out of his patrol car.
"The injuries from the bullets and the shrapnel were so extensive… that (the medical examiner) could not tell us how many times he had been shot," she said. "He did tell us that one bullet struck his left lung, which was the fatal hit."
Murillo fled the scene after he carjacked a truck from a terrified county employee who had witnessed Cordova's murder. He then made his way south, stopping at a home where he though he knew someone who would help him. Instead, he found a man with his vehicle parked in the driveway.
Murillo insisted that the man get in the car and drive him, but the man refused, pleading that he had a baby inside the home. So Murillo took the keys and drove away himself, rationalizing that he was probably a better driver anyway, Ortega said.
At this point, law enforcement was convinced that Murillo was headed for Mexico, and armed officers took up positions at the local ports of entry.
Then, as he was driving south on Mariposa Road, Murillo was spotted by a pair of Border Patrol agents. He pulled into a trucking lot, fled the vehicle and fired more rounds.
"These agents believe that the defendant was shooting to kill them. They feared for their lives and they continue to suffer from the tragedy of that day," Ortega said.
Shortly after, law enforcement officers with agencies including NPD, U.S. Border Patrol, Santa Cruz County Sheriff's Office and U.S. Customs and Border Protection cornered him at the Mariposa Manor Trailer Park, where he fired off a couple more rounds – purportedly just to empty the chamber, a dubious Ortega said – before surrendering.
After Ortega concluded her summary and asked the judge to impose the maximum sentence for each offense, it was the victims' turn to speak.
"All I am left with now are cherished memories and a lot of unanswered, 'What ifs,'" Alyssa Cordova told the judge. "No amount of money could ever bring my husband back. A million years in prison for his murderer won't make a difference either. This individual should never be given the opportunity to hurt and destroy another family as he has ours."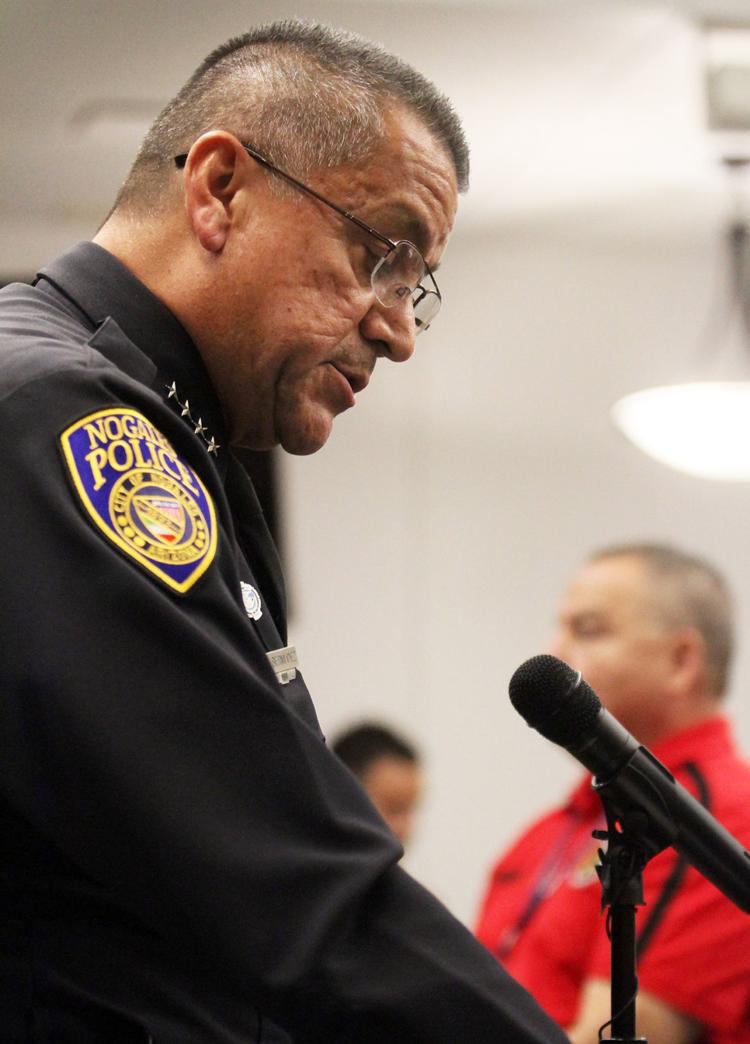 During his statement, NPD Chief Roy Bermudez still refused to refer to the defendant by name – maintaining a vow he made in the hours after Cordova's killing – saying he didn't want to "give him any type of recognition."
"The cold-blooded murder of Officer Cordova has caused great physical, mental and psychological damage to our community that will forever be carried by all of us who lost our brother Chuy," Bermudez said, pausing for brief moments in between words, sometimes wiping a tear from his eyes. "I feel that the death penalty would've done no justice for the Cordova family."
Murillo pleaded guilty on Aug. 7 to the 39 charges that included three counts of first-degree murder, five counts of kidnapping and seven counts of armed robbery among other charges, with the condition that county prosecutors drop their pursuit of the death penalty as a possible sentence.
Surrounded by five sheriff's deputies and a security officer, and wearing a striped jail uniform and bulletproof vest, Murillo addressed the judge and the victims prior to Fink's pronouncement of the sentence:
"Obviously, there's no words I can put together to bring him back, but now that I hear all these testimonies from the family, guilt overcomes me even more," Murillo said from his seat at the defense table. "If I could literally give my life to bring him back, I would in order to prevent all the pain to the county, to my family and loved ones."
Defense Attorney Laura Udall also apologized for the community's loss, adding: "Sometimes people do – we believe this – things that are so horrible they forfeit their rights to live in a civilized society. That happened here."
Speaking to reporters after the hearing, Ortega said she wasn't disappointed that Fink didn't impose the maximum possible sentence for each non-murder conviction, as she had requested. Murillo still got more than 100 additional years, she noted, adding that the important thing was that the judge ordered that the sentences for the crimes against each individual victim be served consecutively rather than at the same time.
That resulted in the emphatic, though not realistic, requirement that Murillo serve 119.5 years in addition to life in prison without parole.
"A lot of people think, 'Well, what does it matter that he gets additional years?'" Ortega said. "For me, it's more than that. For me, it is to bring justice to each one because you don't want to forget that there are other victims and he really should serve a separate sentence, even if it is on paper for now, even if it has no practical implications later down the road. Each victim deserves their justice."