Beginning in January, food establishment operators in Santa Cruz County will have to abide by a new, more costly fee schedule. But they're still waiting for county officials to define the new regulations and guidelines that their businesses will have to follow in the coming year.
The approved change means that restaurants operating a facility up to 1,500 square feet and classified as a high-risk, Class 4 establishment will see their annual permit costs rise from $225 to $400 in January, and to $600 by 2026.
The new schedule also imposes new fees in several areas, including for additional operations, such as bars, at food establishments. Those operations will cost $75 beginning next year, then rise to $100 in 2026.
"Unfortunately, the cost of doing business is rising… Nobody likes it, but it is the reality," Supervisor Bruce Bracker said a few minutes before voting in favor of the new fees.
During a public hearing prior to the vote, Jeff Terrell, the county's health director, explained that the fees for each business vary according to the size, number of inspections required, and risk-factor classification of the establishment.
But Kat Crockett of Elgin argued that the fee schedules would be a burden on local small-scale vendors offering samples of their products at farmers markets – an activity that would require the vendors to pay a fee of $15 for a one-day event.
"They don't make much money and so for them, $15 is significant enough to put them out of business," Crockett said. "I hope that you consider waiving fees for farmers markets and looking at that aspect later to allow these people to grow a customer base and still serve the public."
Terrell clarified that the county was working on and considering an annual permit for temporary vendors that would allow them to participate in various events throughout the year, rather than requiring them to pay a fee for each individual event.
While wineries in the county currently operate under a flat $300 permit as a food establishment, Terrell explained that the county's proposal was to regulate them under two different codes.
The new fee schedule, he said, would give wineries separate permits for their processing and tasting areas. The two permits would cost a total of $375 in 2020 and $500 in 2026.
He maintained that the change would ultimately work in favor of the vintners.
"You got to look at it this way: if you only have one permit for all that, if something is wrong in one area and it has to be shut down, that means every bit of it closes down," Terrell said.
But Crockett countered that the fees for wineries could potentially turn out to be significantly higher than those for high-risk food establishments requiring more inspections. In 2020, she said, wineries that also have a distillery area would face an annual fee of $750, compared to $550 for high-risk establishments.
Terrell noted that tasting rooms at wineries would still be considered food establishments because the activity of "pouring" falls under the food category – something that didn't sit well with some of the winery owners present at the meeting, who have long argued that wineries operate differently from food establishments.
"One of the things that I think has been frustrating on our end is that over the years… the health department has come in and asked for different permits," Ann Roncone said in reference to her 10-year-old operations at the Lightning Ridge Cellars. "Most of the time, we've been handed a form for restaurants and 85 percent of what's in that form doesn't even remotely apply to us."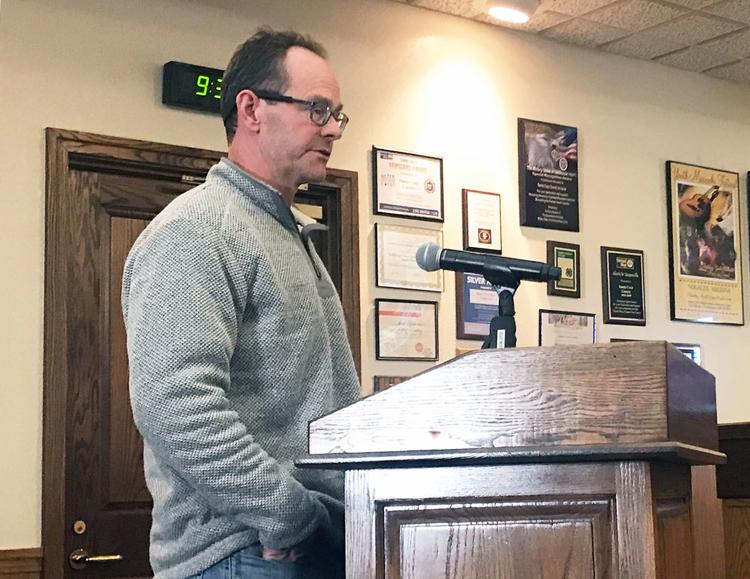 Kent Callaghan echoed Roncone's frustration, describing that he's had the same issues at his Callaghan Vineyards for the past 30 years.
The vintners, along with a couple other members of the audience, pointed out that the Arizona Legislature is currently considering an exemption that would mean wineries, breweries and distilleries would no longer be bound by regular health regulations. The proposal is set to be voted on early in the coming year.
"Our request would be that these businesses be excluded from the health code to get time to see that work through at the state level," Todd Bostock of Dos Cabezas WineWorks said. "Then if it doesn't work out, to have the opportunity to work with the county to see what those regulations would look like for wineries."
He also requested to have fee schedule changes for wineries postponed until the county can set specific guidelines for their permit under the new health code.
However, after a brief 10-minute executive session, Supervisors Bracker and Rudy Molera returned to approve the new fee schedule as proposed by Terrell, with no changes. Supervisor Manuel Ruiz did not attend the meeting.
Prior to the hearing, Bracker and Molera announced without explanation that they would table a vote on a proposal for a new county health code until Jan. 21. The proposal aims to bring the county more into line with the federal Food and Drug Administration's Food Code 2017, but has also generated local pushback due to its stricter regulations, such as requiring food establishments to have a certified food manager on site at all times.
"Someone needs to police, unfortunately," Molera said at the Dec. 18 meeting. "Ultimately there has to be some kind of presence, some kind of policing, because if something happens… the people that are going to be responsible is Santa Cruz County."