On Wednesday morning, Border Patrol Agents Frank Novotny and Daniel Bristol drove to an industrial lot just west of the Mariposa Port of Entry. They parked next to a warehouse loading dock and reached into a pickup truck bed for a hard plastic case that looked a bit like a wheeled, beige suitcase.
Novotny opened the case and started pulling out parts: a communications base station, a touchscreen tablet and a contraption with four spindly legs, rotors and a chunky zoom lens. He set the drone on the ground, pressed the tablet screen using a stylus, and the machine whirred to life.
The rotors buzzed loudly and green and red lights blinked on the underside of the craft, which agents call a "bird." It climbed straight up, past the roof of the warehouse and then towards the U.S.-Mexico border wall, a few hundred feet south.
The Wednesday morning flight was a demo to show the agency's small drone technology (officially termed SUAS for Small Unmanned Aircraft Systems) to this reporter. But the test flight had all the elements of regular Border Patrol drone flights, except a mission objective such as tracking border-crossers or getting a closer look at activity on a remote stretch of desert trail. In fact, agents said they often fly the drones in that particular area, west of the Mariposa port, which is sometimes called "King Louis Point."
Bristol, who is in charge of the drone program at the agency's Nogales Station, said the station has two drones and they're usually used on every shift, day and night. He added that, as drone technology continues to advance, the local Border Patrol station is hoping to add more SUAS to its toolkit.
"It helps with manpower, it's a deterrent, or it can detect," Bristol said. "This is one of our better assets."
Agent Alan Regalado, a spokesman for the Border Patrol in Nogales, said that in addition to being a "force multiplier," the drones are sometimes a safer way to start gathering information about people crossing the border than sending agents right to them.
"We don't know who these people are when we encounter them, or before we encounter them," he said.
But critics say the small drones are yet another technology – like large drones and camera towers – that can invade the privacy of borderlands residents.
"A force multiplier is all well and good, unless it means that it includes putting the equivalent of a federal agent in an aircraft over your backyard, which is one of the problems with a lot of the Border Patrol's technology and their effect on the privacy and civil liberties of border communities," said Jay Stanley, a senior policy analyst for the American Civil Liberties Union.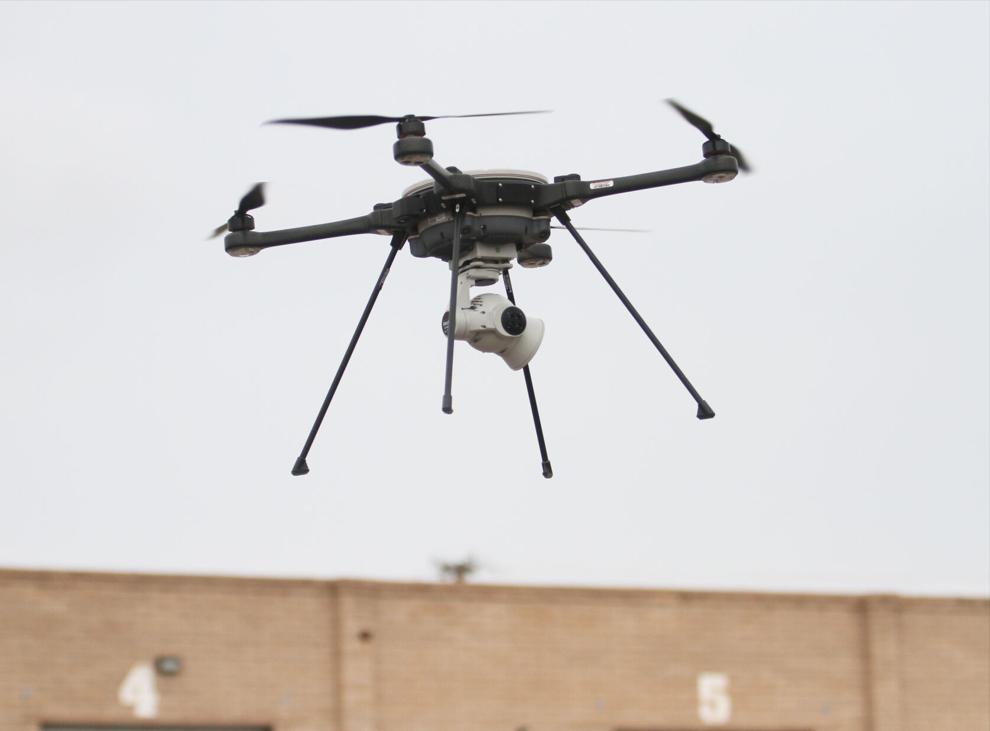 The agents said they try to avoid flying over residential areas and drones are most useful in rugged, remote areas that would take humans or trucks a long time to reach.
"Most of the time, I don't even get that close to town," Novotny said.
Still, he said that in "exigent circumstances" like an active pursuit, the agency could use the drones over populated areas.
A follow-up email from the Border Patrol stated: "SUAS operations will not infringe on individual privacy."
U.S. Customs and Border Protection, the parent agency of the Border Patrol, has used large drones like the 26-foot long Predator for several years. The small drone program is relatively new.
In Nogales, Bristol said, agents first started flying the small drones in Spring 2020. The drone demonstrated on Wednesday is a 10-pound model called the SkyRaider that's about three feet at its widest point. The station's second drone is a smaller five-pound craft called Indago, which can be carried in a backpack. About 20 agents at the local station are trained to pilot one or both of the drones.
Other stations in the Border Patrol's Tucson Sector also use two other fixed-wing drone models.
Besides King Louis Point, agents said they frequently fly the drones in the desert east of Nogales, south of the Kino Springs neighborhood. Bristol said they've used the craft as far away as Ruby – he once headed out to the ghost town in western Santa Cruz County and, finding the gate closed, parked his truck and launched a drone to track people in the area.
In addition to tracking people who've crossed the border in the United States, agents sometimes fly the drones near the border when they see people on the Mexico side that they think are getting ready to cross. The sight and sound of a low-flying drone near the fence can convince people that it's not a good time to cross, they said.
And in the local area, the Union Pacific railroad has sometimes asked the Border Patrol to fly drones near train cars to see if people are hitching a ride, the agents said.
The drone's zoom camera – agents enthusiastically showed its ability to focus on far-away subjects – also takes photos and video. It's up to individual pilots to decide when to hit record, but Bristol said the agency has a policy for deleting videos.
If a photo or video is considered "non-evidentiary" it's supposed to be deleted within 30 days, he said. If it contains useful evidence, then it's supposed to be deleted within 90 days, but only after filling out some paperwork so that evidence doesn't get deleted before relevant court dates.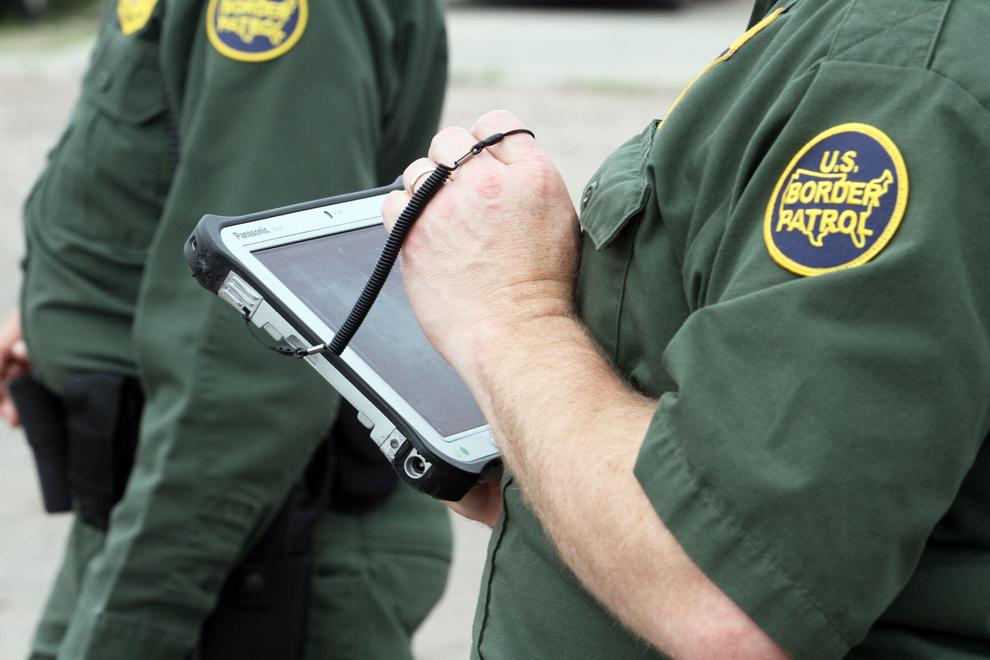 Another issue surrounding drone use is potential conflict with other aircraft. Bristol said the Border Patrol generally follows FAA regulations around drone use, such as keeping altitude under 1,200 feet, though they're exempt from some key rules like the FAA prohibition on nighttime drone use.
Drones are often banned near wildfires in order to avoid problems with firefighting aircraft, and the agents said they sometimes get word that they need to hold off on drone flights for that reason.
At Holy Cross Hospital in Nogales, medical helicopters are sometimes told not to land at the hospital's helipad due to drone activity in the area, according to Nogales Fire Chief Jeff Sargent. But Bristol and Novotny said Border Patrol drones don't interfere with landings at the hospital.
The Border Patrol isn't the only local law enforcement agency that uses drones.
The Nogales Police Department also has a drone, but NPD Chief Roy Bermudez says it's used infrequently and mainly for taking measurements at the scene of vehicle crashes or serious crimes. The last time NPD hauled out its drone was after an April 17 single-car crash on Western Avenue that left a local man dead, he said.
Bermudez said NPD limits its drone use specifically to avoid thorny issues around privacy and appropriate use of the technology.
"Once you get into backyards and start taking pictures during an active investigation and stuff like that, then that's a fine line… there's Fourth Amendment issues that you'll encounter, but we don't use it for that," he said.
Still, with unmanned flight technology advancing rapidly, both local and federal law enforcement agencies see a future with more drone use.
Bermudez said NPD officers had recently received training related to drones and the department might expand its drone program going forward.
Bristol said new, even-smaller aircraft are in development and could provide Border Patrol agents with handheld drones that hover over their position when they're in the field.
Stanley, the ACLU analyst, said people should have a say in how drones are used in their communities.
"Some communities might be OK with increased surveillance in some respects in exchange for other benefits. Other communities may say: 'No thank you.'"
At least, Stanley said, people should know what law enforcement is doing with drones in their area: "This is a brand-new technology and it's important that border communities understand exactly how it's being used."