On July 27, when a half-hour downpour dumped rain across Ambos Nogales, the Avenida 5 de Febrero in Nogales, Sonora briefly looked like a fast-flowing river. A current of opaque, brown water swept up debris and even vehicles, with the water flowing several feet deep in some places.
Juan Carlos Ochoa, who works at a store along the predominantly commercial street, said the flooding came quickly that day. A food cart in front of the business was also carried away in the water and hasn't been recovered, he said.
"They call it 'the canal,'" said Andre Arteaga, referring to the Avenida 5 de Febrero, where he works at the convenience store Super El Toro.
Most of the cars that were swept away on July 27 were parked and empty, but at least one was carrying a passenger – a 24-year-old woman who was traveling in a black sedan. She was killed when the vehicle got trapped underneath a bridge.
A month later, a 39-year-old woman was killed near the Avenida Tecnológico when she was swept away by floodwaters and then trapped under a car following torrential rains on Aug. 30.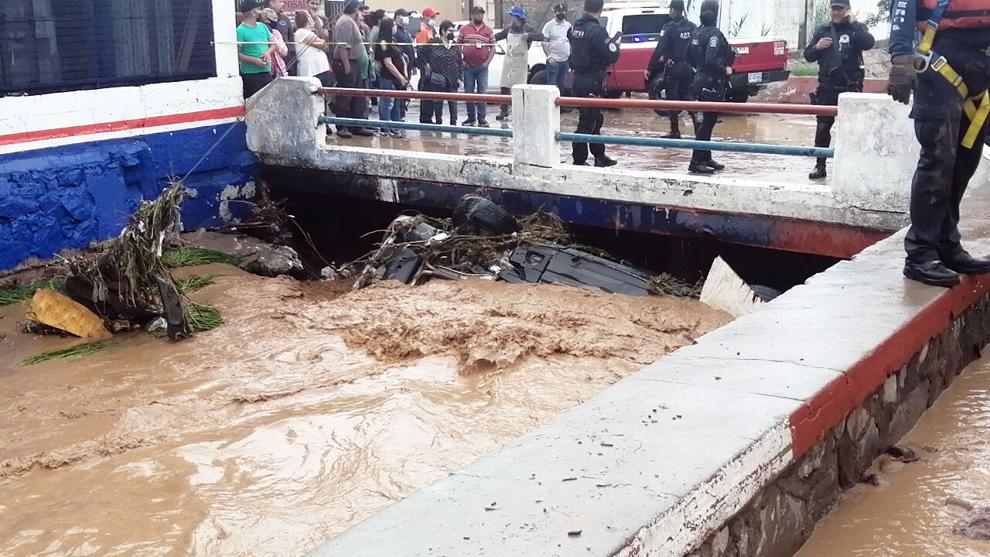 Though many Ambos Nogales residents have enjoyed the cooler temperatures and pleasant gray skies brought by this year's rainy monsoon season, another impact of the rains is dangerous flooding in Nogales, Sonora. For decades, the city has struggled to control the flooding that can turn streets into rivers, sweeping up cars, trash, and sometimes taking lives.
Avenidas 5 de Febrero and Tecnológico are traditionally hotspots for floods. The two roadways connect the Boulevard Luis Donaldo Colosio, which runs along the hilly western outskirts of the city, to the city's main thoroughfare, Calle Elías, which runs through a valley in the center of the urban area. Water that falls at higher altitudes on the western edge of town can eventually come barreling down 5 de Febrero and Tecnologico.
The hills on that side of the city also seem to attract their fair share of the local rainfall. A rain gauge operated by the U.S. Geological survey on one of the hills has registered approximately 15 inches of precipitation since the official start of the 2021 monsoon season on June 15. A typical monsoon season, which ends Sept. 30, brings 11 inches of rain to the area.
Over the years, the municipal government has made attempts to contain the flooding, like building retention dams and basins using rocks and concrete. But this summer's fatalities are evidence that the city's flood-control efforts haven't been sufficient, and other human impacts are contributing to the problem.
Multiple officials and their spokespeople in Nogales, Sonora did not respond to repeated requests to talk about flood control in the city.
The city of Nogales, Sonora and its maquiladora industry have grown significantly in recent years, meaning more and more of the desert landscape is covered by manufacturing warehouses, housing and concrete parking lots.
Urbanization generally increases flood risk in two ways, according to Thomas Meixner, head of the hydrology and atmospheric sciences department at the University of Arizona: developed surfaces like concrete, asphalt and roofs don't absorb water like natural land, and streets create a network that can bring lots of smaller runoff streams together in major drainage pathways.
"Almost everything about how we build our cities, it increases runoff," Meixner said.
For Arizona, the flooding south of the border means heavier flow through the Nogales Wash.
John Hays, floodplain manager for Santa Cruz County, said there are different ways to measure floodwaters, but the overall trend is clear.
"What we see over the decades is a steady increase in how much water, and how fast it comes out of Mexico," he said.
The July 27 rains brought the Nogales Wash up several feet, but not over its banks. The storm did lead to flooding in another part of Nogales, Ariz. – on Western Avenue, where a wash overflowed – but no injuries were reported on this side of the border as a result of that downpour.
Hays added that stricter regulations in the United States mean there are checks on development that could worsen flooding.
Though the floods regularly claim lives in Nogales, Sonora, it's unclear if serious change is on the way. In 2015, city officials told the NI that they had plans for additional mitigation projects, but a lack of funding stood in the way.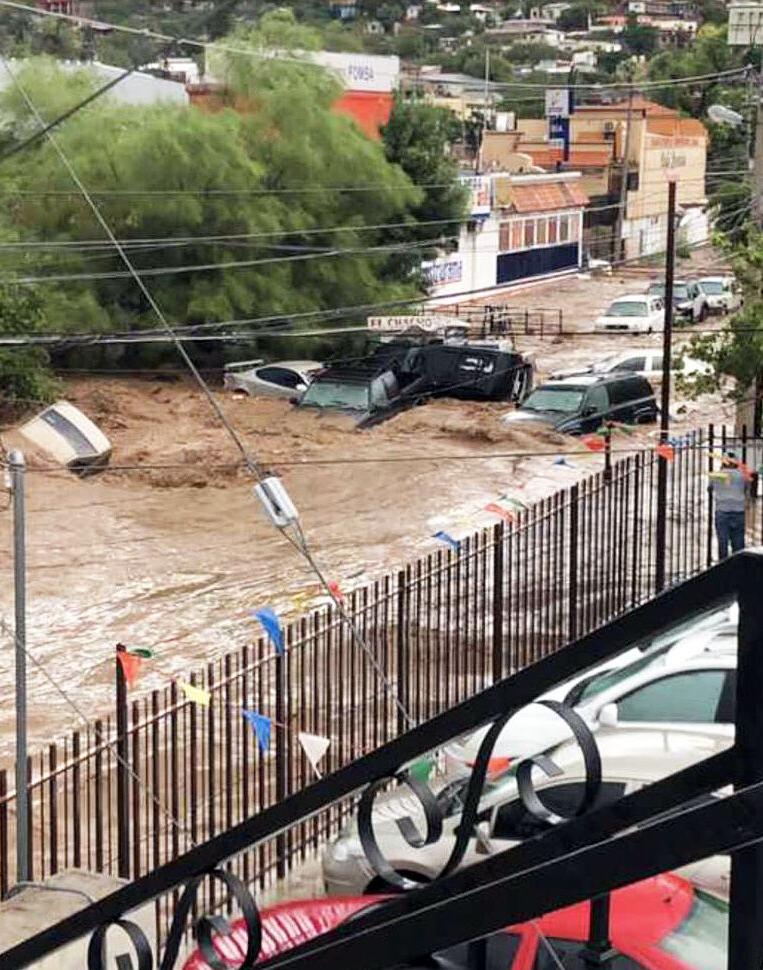 A spokeswoman for Juan Francisco Gim Nogales, who was inaugurated as mayor of Nogales, Sonora on Thursday, said the incoming mayor didn't have time for an interview. But she indicated that the flooding was an issue that the new administration would work on.
Ochoa, one of the men who works along 5 de Febrero, said regular flooding is more or less a fact of life for the many people like himself who live and work in the area. When floodwaters create a current, there's nothing to do but retreat to higher ground inside buildings and wait an hour or two for the water level to go down again, he said.
The store where Ochoa works, as well as Super El Toro, where Andre Arteaga is employed, are both on the north side of 5 de Febrero, where storefronts are elevated a few feet above street level. That relative high ground provides protection for their stores' staffers, customers and merchandise when the flooding starts.
But there's less protection for many businesses on the south side. Employees at one taco stand that operates at street level said they start packing up shop when heavy rain starts to fall.
Ochoa said there was talk about fixing the issue, but he hadn't heard about concrete plans for action.
"It's a disaster, this stream," he said.