Hundreds of cars rolled through a parking lot at Rio Rico High School on Friday morning, but they weren't dropping off students.
Instead, the vehicles pulled up next to stacks of boxes bearing names like Sunny Fresh and Excellent Pick, and labeled as containing products from Mexico. With the drivers remaining inside, workers in masks and gloves loaded their trunks and backseats with 10-pound cartons filled with tomatoes, bell peppers, zucchinis, watermelons and other food products – all for free.
It was part of a program that saw a coalition of government, nonprofit and private sector partners distribute more than 1,600 boxes of fresh produce to community members at Rio Rico and Nogales high schools on Thursday and Friday.
The scale of the two giveaways reflected a growing demand for food in the local area as the effects of an economic slowdown caused by the COVID-19 pandemic begin to hit local families. But the availability of so many supermarket-quality fruits and vegetables also points to a problem for local businesses: a supply chain snag caused by the crisis has left hundreds of thousands of pounds of surplus produce piling up in Nogales and Rio Rico in recent weeks.
The local dilemma is a result of a national trend. Restaurants, hotels and schools around the country either closed or are operating at reduced capacity, so their suppliers aren't buying as much food from Santa Cruz County warehouses.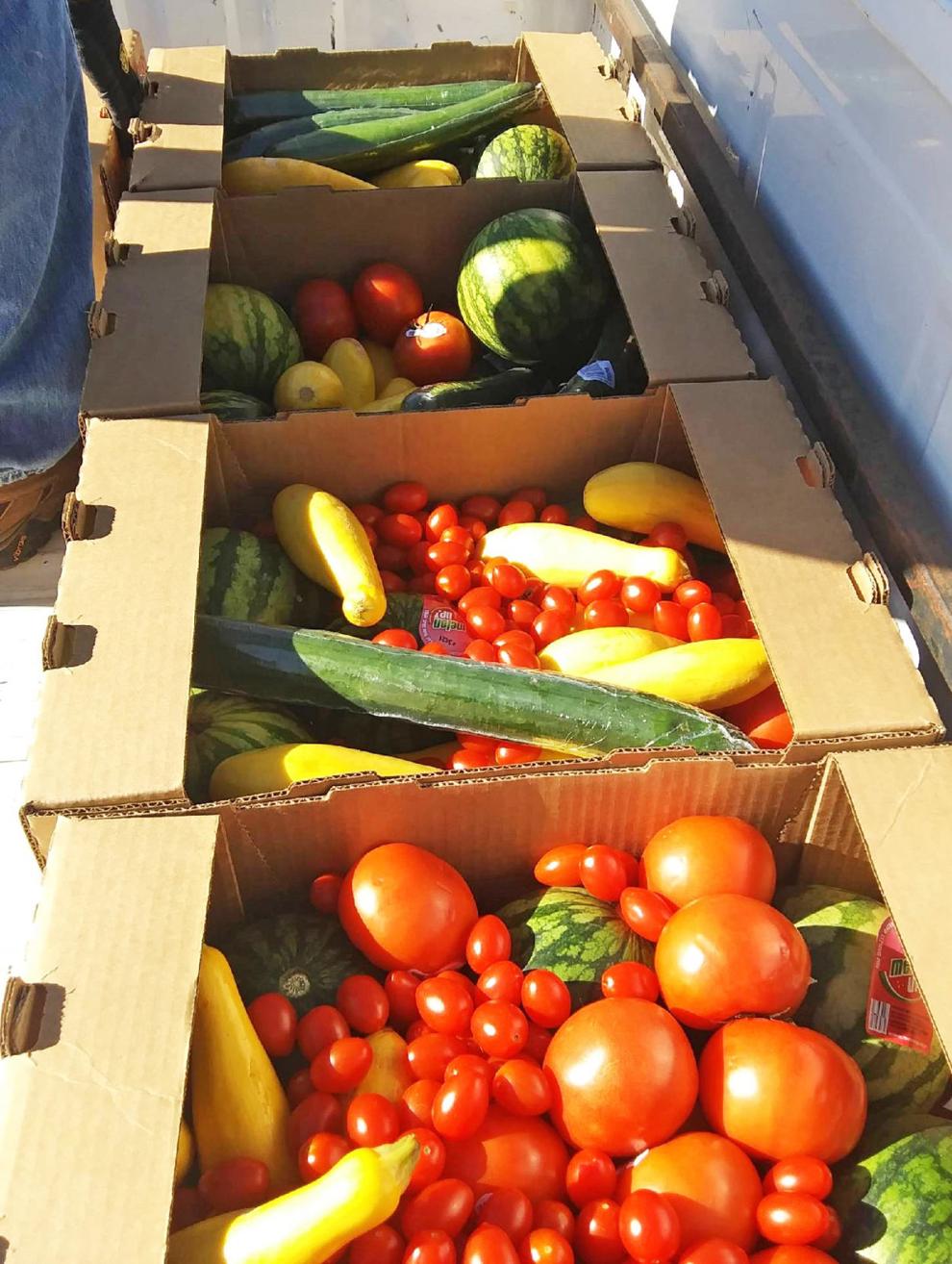 "Fifty-two percent of all the fruits and vegetables in the whole country are sold through the foodservice sector. We've lost about 96, 97 percent of our foodservice business all over the country and all over Canada," Jaime Chamberlain, president of J-C Distributing and chairman of the Greater Nogales-Santa Cruz County Port Authority, said in a conversation earlier this month.
Chamberlain said local produce importers were trying to sell their surplus product to retailers – supermarkets and other grocers – but with limited success.
"There's absolutely no way… that they can absorb the other 52 percent of the availability," he said.
Lance Jungmeyer, president of the Fresh Produce Association of the Americas, a trade association that represents local produce importers, said one reason the surplus food winds up in the local area is that Nogales is both an import point and a shipping point in the fresh produce supply chain. That is, trucks carrying produce from Mexico drop their loads off at warehouses in Nogales and Rio Rico, then different vehicles carry the goods to their final destination, in places like Chicago or Des Moines, Iowa.
"That's why the crops end up here," Jungmeyer said.
He added that growers plant crops in Mexico weeks and months before importers expect to fulfill contracts with restaurants and other foodservice providers, so local businesses couldn't immediately adjust to the precipitous drop in demand.
Without enough buyers, produce businesses are looking to get the product off their hands by handing out boxes at events like the NHS and RRHS giveaways, donating to nonprofits and other organizations and tossing plenty of product into the landfill in Rio Rico.
Efrain Trigueras of the Nogales Community Food Bank, which helped out at the giveaway events this week, said the local food bank had been overwhelmed with produce and had to turn donations away in recent weeks, since they didn't have the space to store it or the staff to sort and distribute the additional products.
County Supervisor Bruce Bracker said the Cochise County Emergency Operations Center had recently picked up a truckload of produce and the Pima County government had taken trucks to drop off donations in Sahuarita, Arivaca and Tucson. Chamberlain said he'd paid for a truck to deliver donated produce to St. Mary's Food Bank in Phoenix.
And Jerry Montoya, the county's assistant superintendent for the landfill, said that he's noticed an increase in the fruits and vegetables piling up at the dump recently.
"There is definitely an increase (of produce) being thrown," he wrote in an email.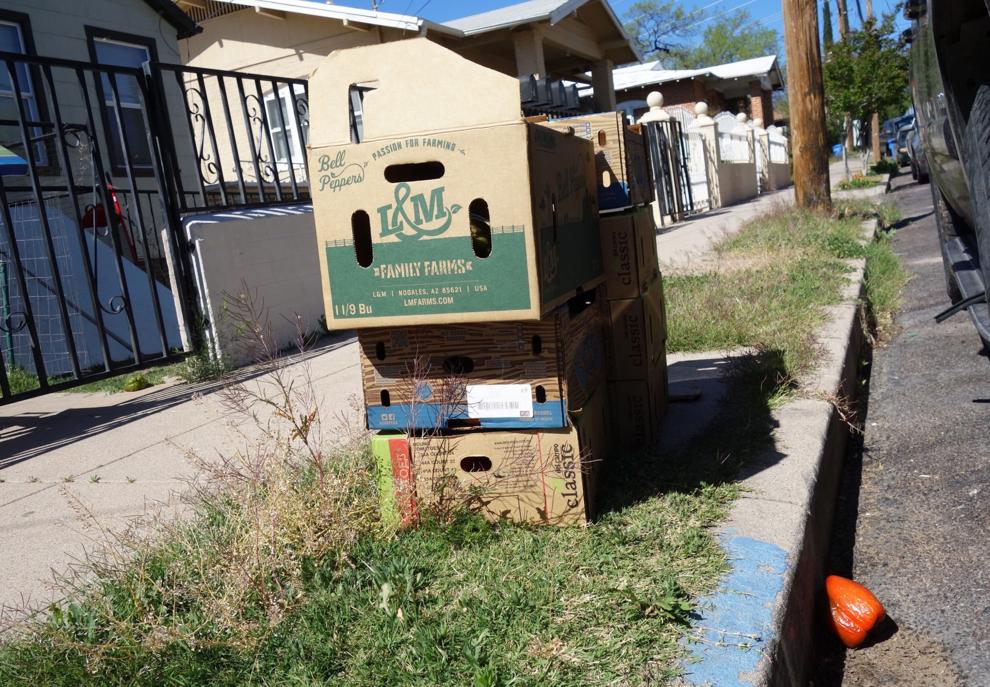 Some of that waste comes from individual warehouse employees, who take boxes of excess produce home from work and leave the unused product on the street for garbage collectors. But a lot of it also comes from the businesses themselves, who cart loads of unsold produce directly to the dump.
"We've been throwing away fruits and vegetables now, hundreds and hundreds of tons," Chamberlain said on April 7.
Now, in recent days, produce distributors have been teaming up with local governments, schools, the food bank and other volunteers to find new ways to get the food into the hands of people in need.
"Oh my God, we have an oversupply and here we are giving food banks everything they want," Chamberlain said. "Thank goodness it comes at a time where it's very much needed all across the United States."
Local leaders often say that a third of the fresh fruits and vegetables eaten in the United States during winter and spring pass through Nogales. In February, the latest month for which information is available, more than $350 million of vegetables and almost $30 million of fruits and nuts entered the United States through the local port, according to U.S. Census Department data.
But the supply chain hiccup that's left Nogales awash in fresh produce isn't unique.
"That is indicative of the whole country right now," Jungmeyer said.
News media around the United States have reported dairy farmers dumping milk, chicken processors destroying eggs, and domestic vegetable growers burying onions and other products that they can't sell in the post-coronavirus market.
Now, Nogales-area produce importers are scrambling to adapt to the new reality.
"This discussion has been going on between distributors and growers for about the last 12 days," Chamberlain said in the April 7 call. "Do we go forward? How much do we pack? What don't we pack?"
Jungmeyer said he expected supply chains would smooth out in coming weeks and added that demand from grocery stores was up, though not enough to replace the lost contracts from the foodservice industry.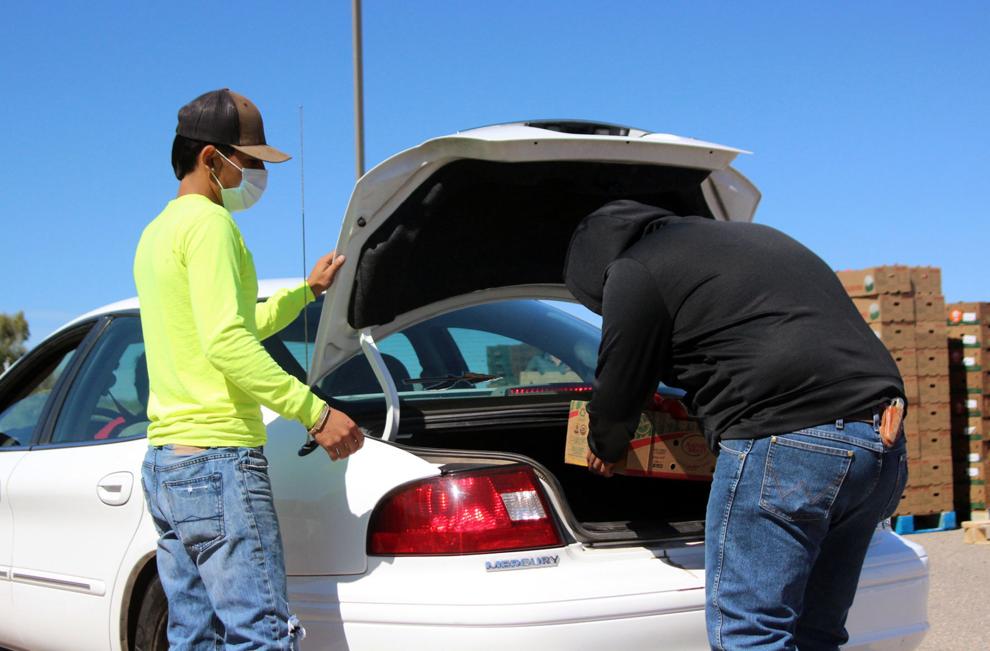 Beyond the total volume of business, Jungmeyer said, altered lifestyles – with much of the country under stay-at-home measures and more residents eating at home – could change the particular foods that local importers handle.
Grapes, for example, are a larger product for supermarkets than restaurants, meaning the coming summer grape season might not be dramatically affected. But sales of watermelons, which Jungmeyer said are popular in restaurants but tend to be an "impulse buy" at grocery stores, could take a bigger hit.