Long lines of cars and pedestrians stretched back from the Dennis DeConcini Port of Entry when the clock struck midnight Monday morning, marking the end of a nearly 20-month ban on non-essential travel through the U.S. land ports of entry with Mexico.
And while much of the talk surrounding the end of the restrictions has focused on the return of Mexican shoppers and their expected economic impact on border communities like Nogales, many of those at the front of the line on Monday morning were crossing for more a sentimental reason: to visit family.
Alejandro Acosta, his wife and their two young children were in one of the first vehicles to cross, having driven three-plus hours north from Hermosillo to visit Acosta's grandmother in Nogales, Ariz. It would be the first time they'd get to see her since the travel restrictions went into effect on March 21, 2020.
"She's been sick and hasn't been able to cross," Acosta said.
Asked how it felt to be separated from his grandmother for so long, he said: "It was a bit distressing because she was getting close to death. But I've got vacation time at work now, so I took advantage."
A couple of cars back, Silvia Mendizabal and her two children had come from Guaymas, five-to-six hours south of the border. They were on the way to visit her husband in Tucson, preparing to cross into the United States for the first time since the pandemic arrived.
"The children are going to see their father, who works up there," she said, adding that the kids, ages 7 and 9, had already worn themselves out from excitement during the drive.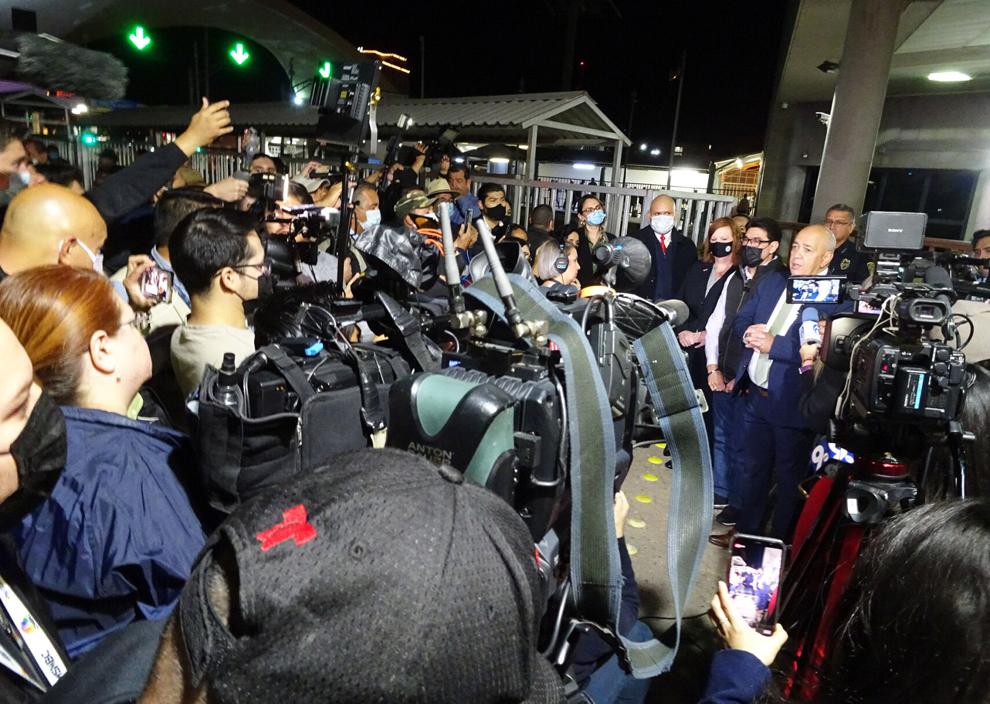 Speaking to a crowd of reporters who gathered for a news conference on the south side of the port just before midnight, Nogales, Ariz. Mayor Arturo Garino reiterated the important economic implications of the change in border policy.
"We've been waiting for this day for months and months and months," he said at one point.
But he also noted the significance of the new rules for families with members on both sides of the border.
"There's one thing, not only economically, that's been hurting Nogales – it's the separation of families," Garino said, adding: "Now that we're going into the holidays – Thanksgiving, Christmas – that's going to be beautiful."
A half-block north of DeConcini, around a dozen members of the related Rojas, Rivera, Vega and Contreras families from Nogales, Ariz. stood on the corner of Grand Avenue and Park Street, cheering and waving handmade welcome signs at the vehicles driving out of the port.
Ask what motivated them to organize a welcoming committee for the returnees from Mexico, group member Valeria Rivera said: "Because our families are coming as well and we want to welcome them because it's been a long time since we've seen them."
She said they were expecting a total of 25 family members from Hermosillo, Nogales, Cibuta and Imuris, Sonora, and promised that the arriving loved ones would receive plenty of hugs.
A few feet away, strung across the northbound lanes of Grand Avenue, a banner displayed by the City of Nogales read: "Bienvenidos amigos de vuelta a Nogales, AZ" – "Welcome returning friends to Nogales, AZ."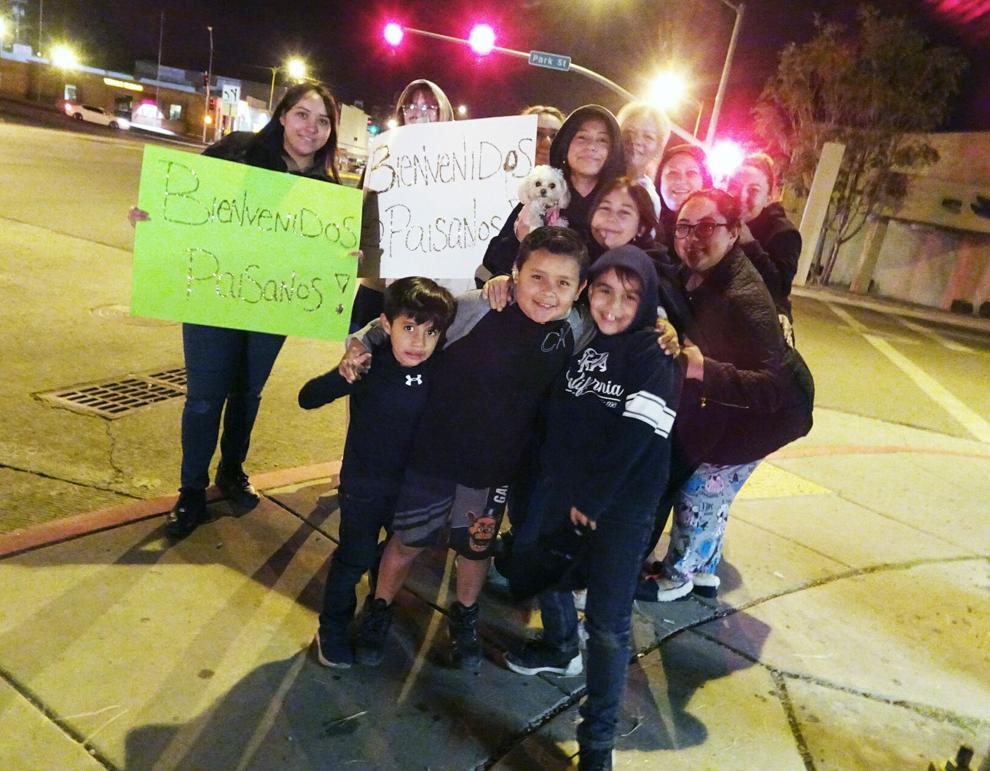 The new rules that went into effect at midnight allow non-citizens engaged in non-essential travel to once again cross through the land ports of entry on a tourist visa, as long as they can show proof that they've been fully vaccinated. Children under 18 can cross without being vaccinated, as long as they are traveling with a vaccinated adult.
People who spoke to the NI after crossing the border on Monday said they had been asked about their vaccination status, but none had been required to prove it. One traveler, a U.S. citizen, said she hadn't been asked about it once she produced her passport. Those testimonies were consistent with how U.S. Customs and Border Protection had said the process would go.
Lorenia Castillo of Nogales, Sonora was one of the first people to cross through the port's pedestrian lanes on Monday morning. She had no trouble recalling the last time she had set foot in the United States: March 12, 2020.
Now, she was on her way to visit her daughter, who had a baby a month ago.
"She went to to Nogales, Sonora when she first had the baby," Castillo said of her daughter. "But now it's my turn."
Asked how she felt now that she can freely cross back and forth to visit her loved ones, she said: "Happy, content, blessed by God."
Still, her first trip back to Arizona in nearly 20 months wouldn't be solely dedicated to visiting family.
"I'm going to do some shopping," he said. "I'll take advantage."