Last Wednesday, Anthony Verdugo Moreno, an 8-year-old student at Lincoln Elementary School in Nogales, smiled brightly at a laptop screen as a teacher led him through a spelling exercise.
Like his third-grade classmates, Verdugo Moreno has been studying online this school year, calling in from the dining room table of his home off of Western Avenue.
Anthony, who's been diagnosed with multiple learning disabilities and social anxiety, still takes mainstream classes, in addition to receiving extra attention from special education specialists. But he hasn't been thriving in his online classroom.
"He's gotten really frustrated," said his mother, Yoquebet Moreno. "Sometimes he's even cried."
Moreno fears that, at the rate he's falling behind, Anthony will have to repeat the third grade. And she's having trouble getting him the help he needs. Until last week, she said, Anthony was only receiving one of several special sessions that he'd normally attend at school. Moreno has found herself trying to help where she can, with mixed results.
"It's been hard for us to adapt," she said.
Moreno and her son aren't the only ones. As it did for all school-age children, the COVID-19 pandemic threw old routines out the window. But the transition to online learning has presented unique challenges for students with special needs.
There's "a big gap between a non-disabled student and a disabled student, when it comes to learning on the computer," said Maria Scholnick, who founded the Santa Cruz Parent Love Connection, a group for local parents of special needs children.
That gap between students with and without special needs can begin with their daily routine.
Vasthi Anduaga said she was never able to effectively establish an at-home, online learning routine for her daughter, 16-year-old Nogales High School student Damaris Monge, who has Down syndrome. "She saw all this like: I'm still on vacation, I don't want to work, I don't want to do anything. She got up really late, her routine got out of control," Anduaga said.
With students learning at home, parents have been called on more often to help with schoolwork, something that's more difficult for students with special needs.
"They have a difficult time working with the student themselves and their disabilities," said Judith Mendoza Jimenez, student services and special education director at Nogales High School. "And then on top, it's an added challenge to be trying to work virtually."
For Moreno, trying to fill in gaps in educational support for her son has meant fighting an uphill battle against a language barrier. She speaks some English, but not enough to completely understand Anthony's lessons, and her son doesn't know know some Spanish vocabulary about specific subjects, like math.
"My children are bilingual, but sometimes they understand English more, when it comes to equations and all that, because at home we don't talk about equations," she said.
Beyond classes, support systems have also been strained.
Scholnick said the Parent Love Connection put all in-person events on hold earlier this year as the coronavirus began to spread. She still responds to calls and messages from parents seeking help, but many families have stopped communicating on the Facebook page and Whatsapp groups where parents can share experiences and offer advice.
She said the group is planning a virtual workshop about special needs students and online education, which will be held sometime in coming weeks.
With a shift to hybrid learning just weeks away at most local public schools, a majority of students are expected to return to campus for a couple of days each week. But parents of special needs students who aren't already back on campus through a special on-site program might still be hesitant to send them back with COVID-19 still present in the community.
Mendoza Jimenez said it's not unusual for students with substantial learning needs to also have unique health circumstances.
"The kids with the most significant disabilities… their health is more fragile," she said.
In the Nogales Unified School District, about 100 students have significant special needs, like those with Down syndrome or autism diagnoses, Mendoza Jimenez said. Of those, approximately half are currently learning remotely, most online, but some are also using learning packets.
(She said 49 students were receiving on-site services, which bring them to campus five days per week during normal hours. They still attend online classes while at school, but are able to access services like occupational therapy in-person.)
The district is doing what it can to serve special needs students who have stayed home, she said. That means one-on-one instruction happens in video chat, and therapists have recorded videos to walk students through physical therapy activities.
"Now that we're working (with) online instruction, we can still fulfill the scope of the IEP," she said, referring to students' Individualized Education Programs.
But parents said that remote learning is a struggle for kids with special needs, even if the requirements for the IEP are being met.
"The school gives very good services, but I think children with special needs are more physical," Moreno said. "It would work better for them to go to school, see the teacher, have (the teacher) present."
Anduaga said her daughter receives speech therapy and special P.E., but wasn't getting those services from home. She said Damaris was on track to graduate from high school this year, but after missing many online classes and struggling to learn on the computer, that timeline might have to change.
"It's been really frustrating for (Damaris), the change from school to home," Anduaga said.
Still, while special needs students share some challenges this year, different families reported dramatically different experiences with remote learning.
Belinda Jaramillo lives in Nogales, Sonora and her 11-year-old son Santiago Jaramillo is a student at Sacred Heart Catholic School. She said that online learning has, for the most part, worked out well for her family.
At first, Jaramillo said, her son wanted to get back to school to spend time around his classmates, but within about two weeks he had adapted to the new routine. Her husband, Fabian Jaramillo, recently switched jobs, giving him time to spend the school day at Santi's side, ready to help. She also credited Santi's teacher for working to keep him involved and included in the online classes.
"We think we're blessed," Jaramillo said.
Still, she added, even though Sacred Heart recently re-instituted in-person learning, she and her husband are keeping Santi at home for a little while longer, to keep working on social distancing.
"Most children with Down syndrome are very social. They want to show appreciation so they love hugging, they love touching, so that's the challenging part," she said.
Yoquebet Moreno has found herself in a tougher situation. A single mother of four, she works from midnight until 8 a.m. at the Santa Cruz Training Center's adult residence on Crawford Street.
When she gets home, it's time to put breakfast on the table and get her three school-age boys set up to learn on their laptops. The three boys share a table in the main room of their home, making it hard for them to participate in lessons without distracting each other.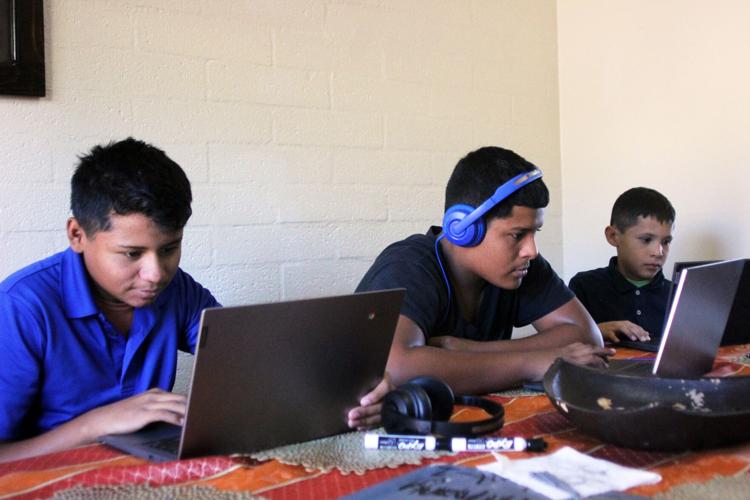 Moreno said that she has family members nearby who might be able to help out, but visa issues mean they can't make it to Nogales.
And Anduaga said the situation with her daughter was simply unsustainable. Two weeks ago, she started sending Damaris to back to campus for on-site services, where she started receiving speech and physical therapies again. It was a choice Anduaga didn't want to make, since she has had trouble explaining COVID-19 restrictions to her daughter.
But Anduaga felt like it was her only option: "I had to make that drastic decision because at home, there was a lot of frustration."
Scholnick said that stressful situations like the current pandemic can cause small frustrations to pile up for the parents of special needs kids – what she called "parent exhaustion."
Anduaga didn't use that term to describe her own experience, but she did say that the daily routine at home had begun to wear on her.
"Every day I have to tell her why you have to do this, or why you have to use your face mask, or why you have to wash your hands," she said. "Every day is explanations."