When contractors were ordered to stop building former President Trump's border wall back in January, they left behind new segments of wall in western Santa Cruz County. Those segments included intermittent gaps at spots where workers hadn't had time to close construction access points or hang gates.
In the desert east of Nogales, where they never got around to putting up any new barrier, crews left open trenches they had dug for the wall's footer, as well as access roads that began to erode when the monsoon rains came. The trenches were filled in months later, but several eroded areas remain.
Now, nearly a year after President Joe Biden ordered a pause on his predecessor's border wall construction, U.S. Customs and Border Protection has been assigned the task of addressing "life, safety, environmental and remediation requirements" that remain at the work sites.
The Department of Homeland Security announced Monday that DHS Security Alejandro Mayorkas had authorized CBP to take over the unfinished projects and fix any remaining problems in order to "protect border communities." Most of the projects are located within the Border Patrol's Tucson Sector, which covers much of the Arizona-Mexico border, including Santa Cruz County.
However, any specific work that might be undertaken here, as well as the sites where it would be done and when it would start, is still to be determined.
"Following a safety analysis by CBP in the Tucson Sector, work to address life, safety, environmental or other remediation requirements will begin," the DHS announcement said.
A general description of the work to be undertaken includes completing and/or installing drainage to prevent flooding, as well as installing and completing permanent erosion control and slope stabilization measures.
The list also includes "remediating temporary use areas such as laydown yards, haul roads and project areas impacted by construction," which could potentially apply to the conspicuously massive staging area dug out of a mountainside in the Coronado National Forest west of Nogales.
Referring specifically to the Tucson, Yuma and El Paso sectors, DHS said the work will "address safety concerns by closing construction access gaps that were left open at the time of the border barrier construction pause, and will also include adding missing gates, addressing incomplete foundations, and connecting power to gates that are already hung but are currently inoperable."
The border wall work that began in the local area in mid-2020 was part of a $1.28-billion contract awarded to North Dakota-based Fisher Sand and Gravel to build about 43 miles of barrier in Pima and Santa Cruz counties, as well as install a ground detection system, build or repair roads, and install lighting supported by grid power. Of the approximately 23 miles of the wall was meant to be built from west of the Mariposa Port of Entry to the Pima County line, crews managed to put up about 17 miles by the time Biden took office.
But even the completed segments included small gaps and stretches with open space at ground level where gates were meant to be hung.
Rancher Dan Bell, whose family grazes cattle on Forest Service land running west along the border from near the Mariposa port, guessed that there were four spots in that stretch where gaps ranging from 20 to 90 feet remain in the wall where crews intended to place flood gates or gates to access historical border monuments.
On Tuesday morning, Bell and others were out looking for some cattle that a rancher in Mexico told the Border Patrol had wandered into the United States through one of the gaps.
"That puts the onus on us to gather them up," he said, adding: "We try to help them out because they are our neighbors to the south and we try to help them out in any way we can to get their cattle back."
Bell was pleased that plans had been announced to close the gaps in the fence abutting his grazing land, but perplexed that the decision had been made after the materials meant to fill the open spaces had been removed.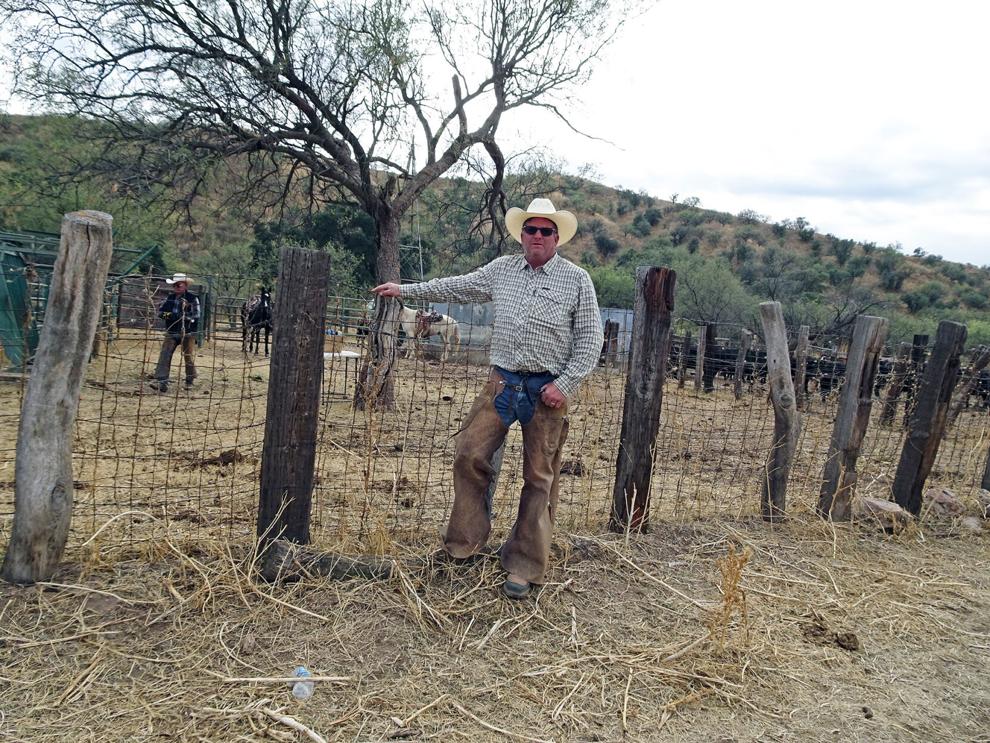 At one particularly noticeable spot about three miles west of the port, where the new wall dips into a canyon, there are gaps left for construction access as well as segments of standing wall that are missing floodgates. When construction was halted, panels meant for those those spots were still stacked up in the canyon. They've since been hauled away.
"The frustrating part about it is that the material was in place to put in the floodgates. Now they've been removed and now we're being told that they're going to OK them to do this," Bell said. "How much is this costing us as taxpayers to do this when all they needed to do was button up the gaps? If you didn't want to continue the wall at the ends, fine. But at least button up the gaps that were there."
The apparent start-over approach comes as the responsibility for the border wall work shifts from the Department of Defense to DHS.
The initial contract awarded to Fisher Sand and Gravel for wall-building in Santa Cruz County came after Trump declared a state of emergency at the U.S.-Mexico border in February 2019 and redirected nearly $6 billion in Treasury and Defense department funding to border wall construction after Congress refused to allocate the funding he asked for.
DHS said this week that the deputy secretary of defense had directed the cancellation of all work funded by those means, and that the U.S. Army Corps of Engineers, working on Defense's behalf, "is in the process of terminating the construction contracts for these projects."
As part of that process, it said, the Defense Department will turn over the unfinished projects to DHS, which in turn has authorized its sub-agency CBP to take the lead on follow-up work that "will be executed with available funding."
Aside from the issue of wandering cattle, Bell said the fence gaps are creating a larger problem for his ranching operation: "They're being exploited by the illegal traffic coming through."
Bell said that since January, he's seen a sharp increase in illegal border-crossing the area, following a relative lull that began around 2013. That's meant more litter and more damage to his grazing lands.
"What it does is, they cut our fences, they mash our fences down," he said. "We're trying to maintain a management system here and it just makes it difficult."
Cut fences mean that ranchers have to constantly round up cattle and return them to the pastures where they are supposed to be grazing, which takes time and adds costs, he said.
"When these gaps got left open, it just created an influx," Bell said.
That's also meant an increase in migrant deaths on the lands he ranches, he said.
"That's something that we haven't seen since about 2013. I'm not saying that it wasn't happening, but we weren't finding it," he said.
Bell acknowledged that fixing the gaps in the wall will likely push illegal traffic to other areas, including the five-mile stretch farther west in the Coronado National Forest where no new fence was put up and where his family also ranches. But he said the technological features of the wall project, which have generated a lot less attention that the physical barrier itself, could have made a difference.
In fact, while Biden vowed that not a single foot of new border wall would be built under his administration, reports circulated at at the time of his January moratorium that funds remaining from the unfinished wall project might be redirected to related border projects, such as roads, lights, sensors and other technology.
That doesn't appear to have been the approach to this point, but in Monday's news release, DHS said: "The Administration continues to call on Congress to cancel remaining border wall funding and instead fund smarter border security measures that are proven to be more effective at improving safety and security at the border."
Barrier removal vs. repair
Some would prefer to see the Biden administration remove border barriers rather than just fix up existing work.
In a statement released in response to Monday's announcement by DHS, U.S. Rep. Raul Grijalva (D-Tucson), who represents Santa Cruz County in Congress, said that continuing construction at the border "must focus on mitigating damages caused by the border wall of the previous administration. The Biden administration must use funds to remove divisive barriers that have damaged the environment and pursue humane border policies."
Emily Burns, program director at the Sky Island Alliance, a Tucson-based environmental advocacy organization, said in an emailed statement that her group is "very troubled by the DHS announcement and the lack of detail offered about where, when and how this 'gap filling' may occur."
Referring to the area at the eastern end of Santa Cruz County, Burns called attention to "a vital wildlife corridor between Sonora and Arizona in the Huachuca Mountains that may be a serious risk for this new construction because there is a disconnected section of new border wall at the start of the Arizona Trail (Montezuma Pass) that could be connected to the wall further east in Coronado National Memorial."
An extension of the wall in that area would be "extremely detrimental" to species including the ocelot, American black bear, mountain lion and others that move back and forth across the border to find food, water, shelter and mates, Burns said.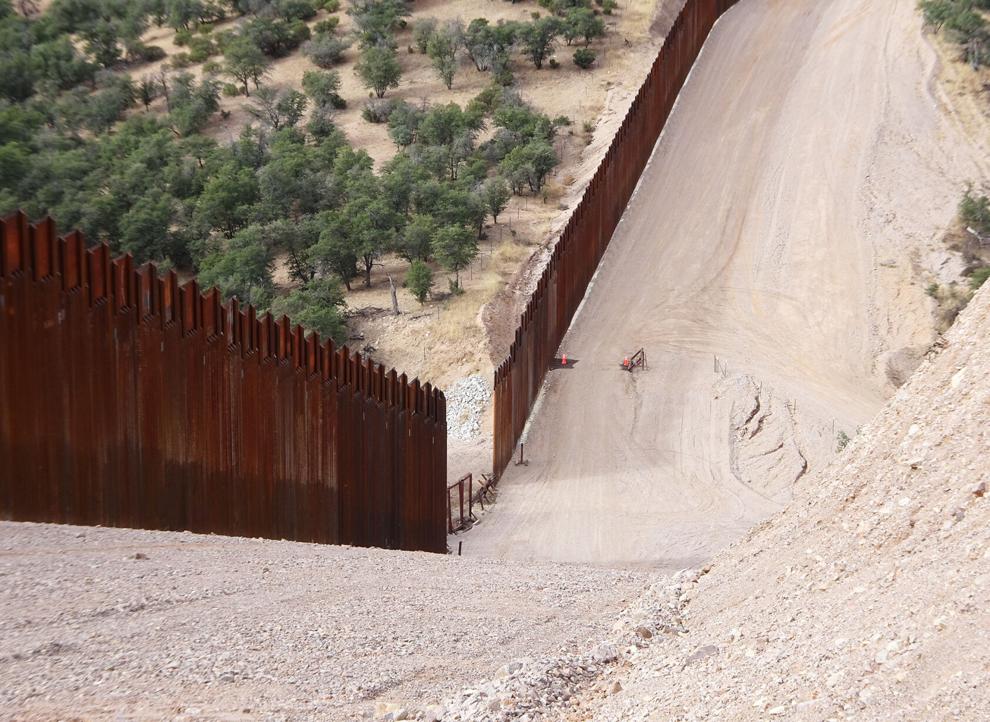 Bell, the rancher in western Santa Cruz County, recognized that closing the wall gaps would impede migrating wildlife as well as wayward cattle. But he thought technological infrastructure could help.
"It's definitely going to have an effect. But there should be some way we can mitigate that and put in some wildlife crossings or something like that," he said, adding: "If that cable system would have gone in, there would have been a way to monitor those through technology."
Like Grijalva, the Sky Island Alliance believes that any new border construction work done "should be strictly habitat restoration by land management professionals to start addressing the massive mountainside removal that was done in 2020-2021 and to deal with the unstable border access road that was cut into the mountains quickly and is already eroding," Burns said, adding: "We need to replant lost trees and agaves, not add another foot of wall."
Paulo Lopes, an attorney at the Center for Biological Diversity, was also also skeptical of DHS's intentions, telling the NI in an email that: "The agency has turned 'closing gaps' along the Rio Grande into more than 13 miles of border wall, so we're skeptical about the latest announcement. We need to heal what Trump destroyed, not makes things worse."
"DHS should use the money to restore the borderlands and remove border barriers, not subject wildlife and communities to even more destruction," he said.