On Saturday evening, Itzel Uribe stood on Morley Avenue, watching dozens of folk dancers twirl beneath floppy, paper mache flowers. She was one of hundreds of people who turned out for the Fiesta de las Flores celebrations over the weekend.
"Because it's traditional," she explained, adding that she'd also stopped by to watch her 13-year-old niece perform folkloric dance.
Nogales' annual Fiesta de las Flores – known as the Fiestas de Mayo when it's held in early May – returned on Saturday for the first time in three years. In 2020 and 2021, as the COVID-19 pandemic took hold, local officials canceled a slew of traditional events – including the annual spring festival, which roughly aligns with Cinco de Mayo.
"They were two very heavy years," Nogales Mayor Arturo Garino acknowledged, addressing the crowd in Spanish Saturday evening.
"But we already know about that. Look how we're all here, together," he added. "Right?"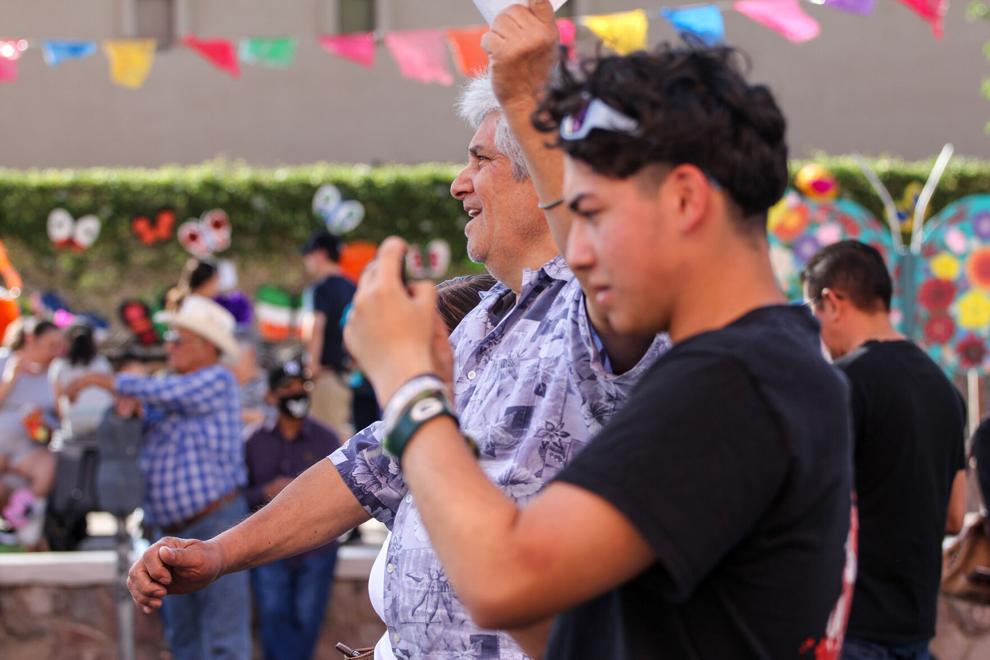 For hours Saturday, visitors milled around the first two blocks of Morley Avenue – closed to traffic for the occasion – as vendors cooked up coctel de elote, champurrado and oven-fired pizzas on the spot.
For Liliana Valle, who was sitting by Karam Park Saturday evening, the food is an essential part of the tradition for her.
"Tacos," she elaborated with a smile. "Carne asada."
Each spring – with the exception of the last two years – the fiesta culminates in the coronation of the fiesta queens and princesses. During Saturday's festival, as is tradition, each candidate presented a traditional dress from a different Mexican state.
Chosen at random, the queens represent the City of Nogales throughout the coming year.
With the festival put on hold, Isabel Lizarraga Valenzuela was the last queen to be crowned in 2019.
"I enjoyed it so much," she told the crowd Saturday night, wishing luck to the candidates as they awaited the results.
Moments later, Yarelli Abril, a 17-year-old student at Nogales High School, was crowned fiesta queen for 2022. Her dress, she told audience members, was a traditional ensemble from Chiapas, meant in part to represent the state's rich biodiversity.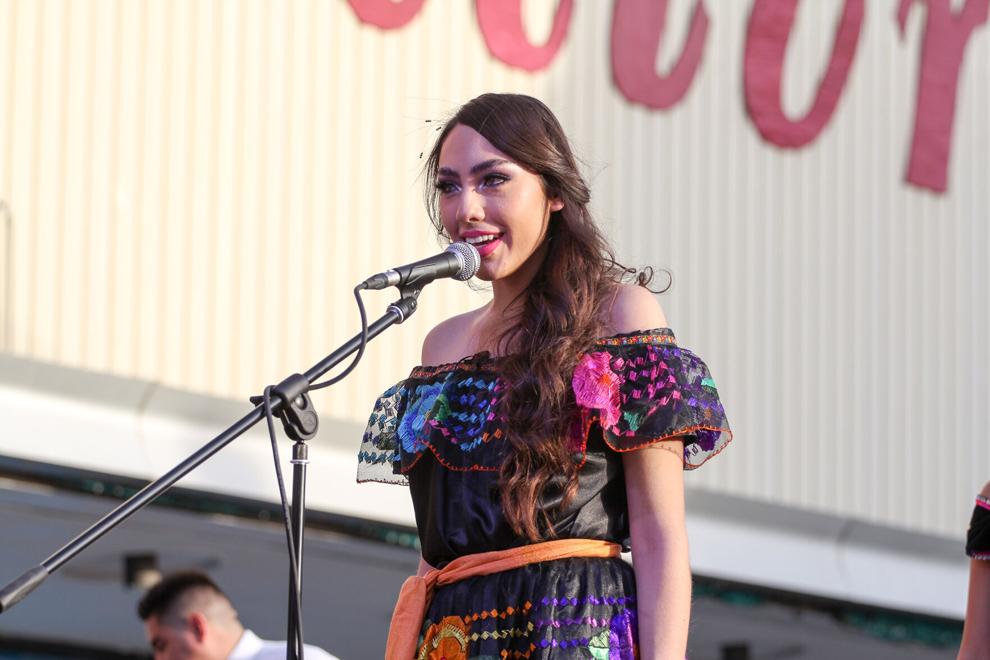 Mia Richardson, an 18-year-old student at Rio Rico High School, snagged second place and will serve as fiesta princess for the coming year.
Michelle Covarrubias, a 17-year-old NHS student, and Paulette Romo, a 19-year-old student at Aveda Institute in Phoenix, were awarded runners-up positions in third and fourth place.
Earlier in the day, the city crowned its "mini" queen – 9-year-old Nichole Andrea Diaz, a student at Coronado Elementary School.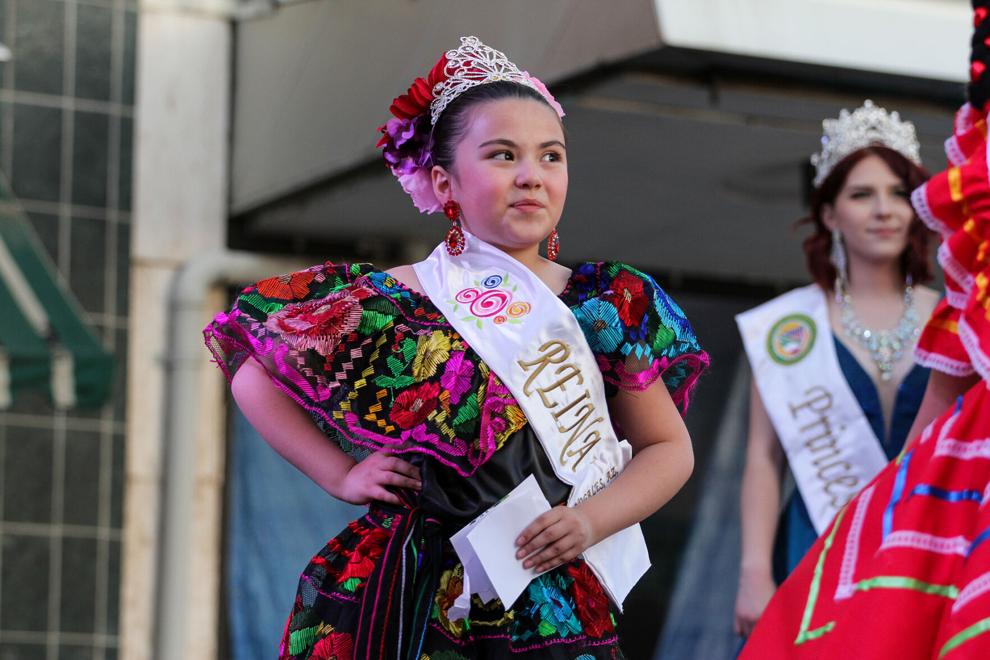 Camila Hernandez, also a 9-year-old Coronado student, clinched the crown for "mini" princess, while 9-year-old Kassandra Rivera and 7-year-old Kimberly Soul Williams were awarded runner-up positions – all according to a random drawing meant to eliminate judging from the process.
Williams, the youngest of the group, crossed the stage wearing an homage to the Yaqui deer dancers – a sacred tradition performed in the neighboring state of Sonora.
"I was nervous," Williams admitted later, still wearing a pair of decorated deer antlers. "But then when I saw the big girl was nervous..."
"But then you did it," her mother, Jacqueline Romo, encouraged.
Romo said they'd initially planned on putting together a traditional dress with a long skirt, but began researching the Yaqui tradition instead.
"The whole Googling, and just the background of it, it's amazing," she added.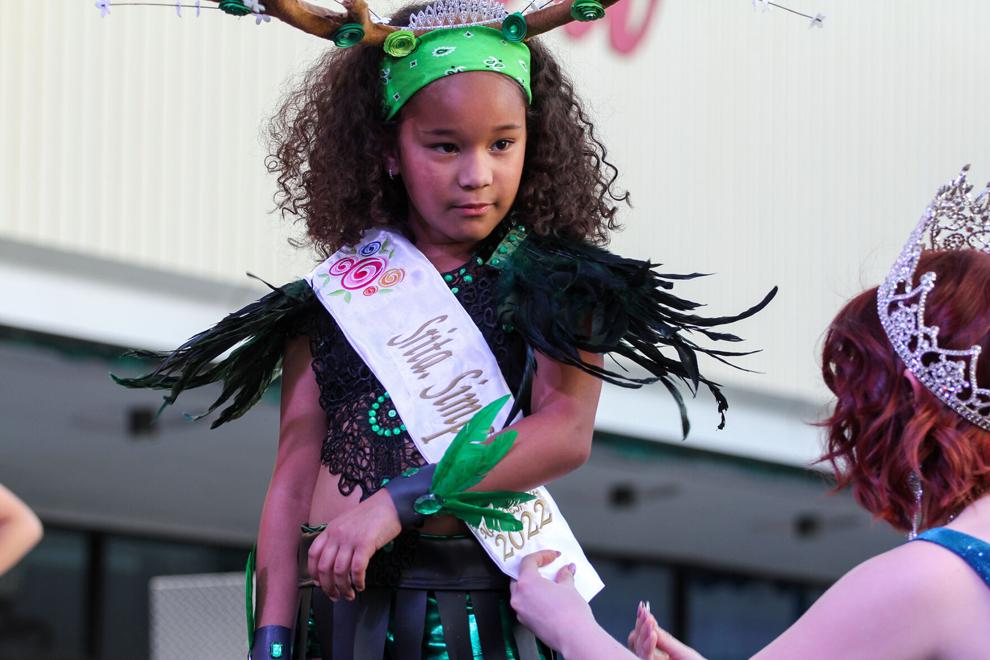 Performers from both sides of the border, meanwhile, graced the stage at the corner of Morley Avenue and Park Street. Singer Michael René covered traditional ballads, like the decades-old Cuban "La Negra Tomasa," while Rocío Vázquez Bonilla belted ranchera tunes, winning over the crowd as audience members danced and sang along. Both artists are based in Nogales, Sonora.
As adults hoisted young children onto their shoulders to watch folkloric dancers from Mexicayotl Academy and Lourdes Catholic School, sounds of a neighboring festival – the Fiesta de las Flores held across the border in Nogales, Sonora – echoed across the border fence.
Throughout the coming week, celebrations are set to continue on Calle Elias in Nogales, Sonora, leading up to Cinco de Mayo.
Jesus Valdez, who sat beneath the shade in Karam Park, watched the action, noting that he often goes to the festivities in both countries.
On Saturday, the celebration was going well, Valdez told the NI. "Very family-friendly," he added.