A former Nogales mayoral candidate and businessman agreed this week to plead guilty to federal drug-smuggling charges.
Ramon Alberto "Beto" Fuentes, 52, who ran unsuccessfully for mayor in 2014 and published the now-defunct Spanish-language newspaper El Heraldo, signed a deal with prosecutors on Wednesday in which he agreed to plea guilty to illegally importing cocaine and heroin from Mexico in 2017.
According to a copy of the plea agreement filed at U.S. District Court in Tucson, each offense is punishable by a minimum prison sentence of 10 years, though language in the deal suggests the possibility of a downward adjustment.
According to the factual basis included in Fuentes' plea agreement, U.S. Customs and Border Protection officers at the Dennis DeConcini Port of Entry seized 10 packages of cocaine weighing a total of 25 pounds from a 1999 Chevy Silverado driven by one of Fuentes' associates on Jan. 30, 2017.
Investigators searched the suspect's phone and found a recently missed call from Fuentes. They also found that the suspect had sent a photo to Fuentes via WhatsApp on Jan. 18 showing a white truck with money in its tailgate that another alleged co-conspirator had been busted with on Jan. 13.
CBP reported at the time that its officers at the Mariposa Port of Entry found almost $211,000 in unreported U.S. currency in a Chevy truck during an outbound inspection on Jan. 13, 2017. A photo released by the agency a few days after the bust showed a white truck with cash laid out on its tailgate.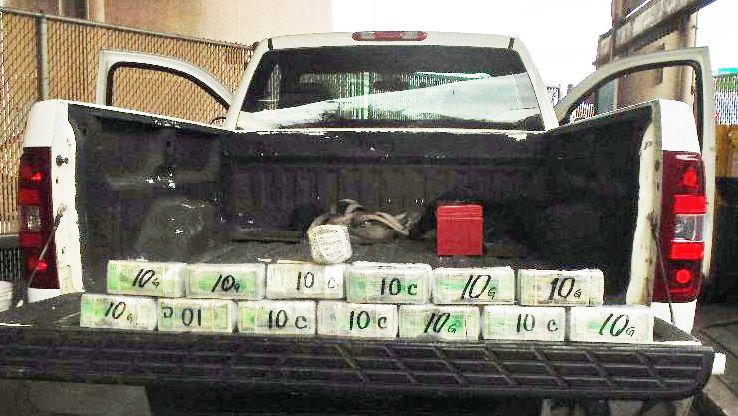 As for the driver of the Silverado who was caught with the cocaine load two weeks later, applications for search warrants filed by federal investigators in the case identified him as Efrain Corrales Perez, who had been one of Fuentes' biggest financial contributors when he ran for mayor, donating $2,500 to the campaign.
Corrales was listed on Fuentes' campaign finance documents as a Nogales resident and commercial director of OOMAPAS, the water authority for the municipal government of Nogales, Sonora.
Fuentes' plea deal states that he now admits that from January to October 2017, he conspired with others to smuggle cocaine into the United States from Mexico.
The search warrant applications show that on Feb. 17, 2017, Fuentes and a relative of Corrales were reportedly stopped by a CBP officer at the Mariposa port when they tried to drive into Mexico. Fuentes was allegedly found with $6,722 in U.S. currency in his pockets and his passenger had another $5,000.
It didn't appear that the two were charged in connection with the cash, which fell below the threshold for a required declaration. Still, according to the warrant applications, authorities confiscated a phone from Fuentes at the time that contained "illicit communications" that allegedly further tied him to drug-smuggling activity.
Then on Sept. 14, 2017, Fuentes was sent for a secondary inspection at the Mariposa port as he tried to enter the United States in a Chevy Malibu registered in his name in Arizona. According to his plea agreement, officers opened the car's trunk and found three boxes of cement compound, each of which turned out to contain one package of heroin. The total weight of the drugs was more than seven pounds.
Fuentes was indicted by a grand jury on Aug. 1, 2018 at U.S. District Court in Tucson on four criminal counts related to his drug-smuggling activities. In exchange for his guilty pleas on two of the counts, federal prosecutors agreed to drop the others.
His sentencing hearing is set for April 13.