The museum at the Tubac Presidio State Historic Park remains closed nearly five months after rodents chewed on electrical wires, sending smoke throughout the building. And with the repair work bogged down by state procurement procedures, no re-opening date has been announced.
Park Director Shannon Stone said she is frustrated and dismayed.
"It's a travesty. It's been almost five months and we've not had anything started," she said.
Revenue has dropped after the park reduced its entry fees from $7 to $5 per person as a result of having fewer open exhibits. And Stone is worried about providing space for an upcoming Water/Ways program by the Smithsonian Institution and other sponsors. It's scheduled to run Oct. 19 to Dec. 1 at the park and has been two-and-a-half years in the planning phase.
Following the March 9 incident, Arizona State Parks decided to re-wire and bring up to code the entire building, which was constructed in 1964 and houses a wide range of historic textiles, pottery, baskets, maps, guns and other items inside glass display cases.
However, the proposal soliciting bids for the electrical work hasn't been released yet, so no completion date is known, said Michelle Thompson, chief of communications for Arizona State Parks.
In a phone interview, Thompson said the state "has approved a contractor to write the architectural and engineering plans. The next step is to create a scope of work." She didn't know when the proposal for electrical bids would be ready and released.
Although it seems like a long time, Thompson said, "It's the state process. We had to make sure we had the funding" and follow regulations regarding bids.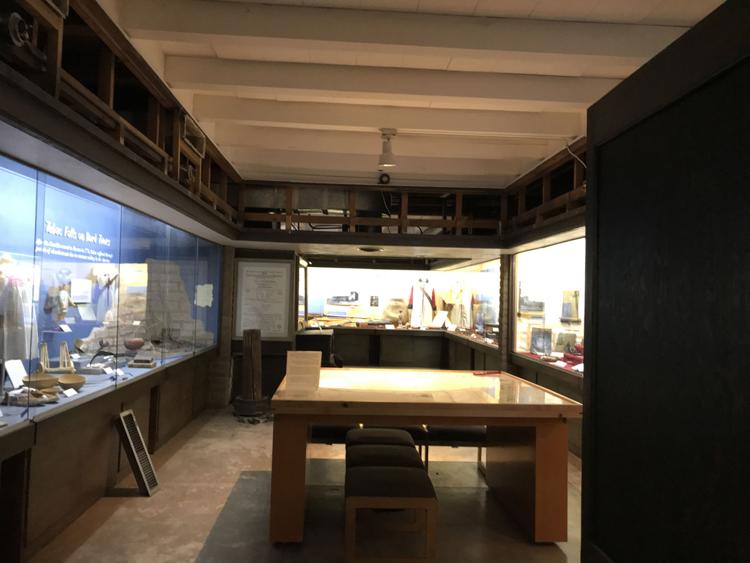 All other buildings and gardens in the park remain open. That includes a visitor center with a gift shop, the 1885 Schoolhouse, an underground archaeology exhibit, the printing press used for Arizona's first newspaper, Otero Hall with exhibits (including a full-size, horse-drawn wagon), and the Rojas House. The park is open seven days a week, from 9 a.m. to 5 p.m. and is located on the east side of the village of Tubac.
A fire alarm was received on March 9 by an off-site security company and transmitted to the Tubac Fire District at 7:30 a.m. Firefighters found smoke, but no flames. There were no injuries. Stone said an investigation showed that rodent debris next to the middle heating and air conditioning unit burned, causing the smoke.
Stone said she's anxious to get the museum building re-opened. It spans more than 5,000-square feet in a U-shape around a patio.
She's also looking to resume visits by schoolchildren.
"For the last two years, we've doubled the amount of schools that participate in our education program," she said.
School starts in early August and she is anxious to know when the electrical work will be completed.
Inside the museum is the historic Washington Press. Demonstrations showing how type was set in the 1850s and turning out facsimiles of Arizona's first newspaper are popular with many visitors. One schoolteacher, who's been bringing her class to Tubac for about 10 years "cried on the phone when I told her the press was closed" last April, Stone said.
How the museum closure will affect the Smithsonian Institution's Water/Ways exhibit is not clear. That traveling program has been to many venues in Arizona. It covers a wide array of information about rivers, lakes and stream and in Tubac focuses on the Santa Cruz River.
The Tubac Presidio State Historic Park was Arizona's first state park, opened in 1958. Tubac was Arizona's first European settlement and dates to 1752.
The park was scheduled to be closed by Arizona State Parks in 2010 as a result of the state legislature sweeping money from the parks account to help balance the budget.
Instead, the Santa Cruz County Board of Supervisors entered into an agreement with both the state and with a Tubac non-profit, to raise money and keep the park open. Now, dozens of volunteers work at the park greeting visitors, planning programs, and doing gardening and maintenance.