Dressed in a white chef's coat and hat, third-grader Mia Durazo strode into her school's kitchen ready to get to work. With a blue ribbon proclaiming "future chef" pinned to her chest, she confidently began chopping bell peppers to make the recipe that earned her the title: vegetable quesadillas.
Sodexo, a food service company that caters to Rio Rico schools, hosted its sixth-annual Future Chef Competition in March, bringing together kids from the Santa Cruz Valley Unified School District to share their healthy recipes with a panel of judges. Mia, a student at Calabasas School, took home the first-place prize with her creation featuring bell peppers, mushrooms and corn stuffed into a whole-wheat quesadilla.
"I was really excited," she said, thinking back to the day she emerged from a field of five finalists to win the competition.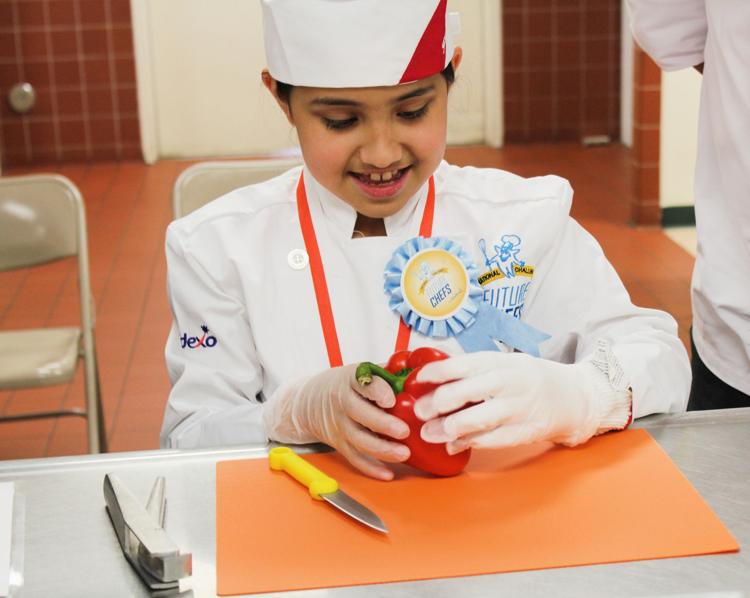 Standing beside her in the Calabasas kitchen a few weeks after the event, her mother Yudith Durazo added: "We never saw it as a competition, just a school event, so it was a surprise."
The theme for this year's competition was "fit fiestas," according to Rachel Carroll, regional general manager for Sodexo.
The judges, she said, looked for Mexican dishes that were prepared in a healthy way and still remained kid-friendly. The dishes were also judged for appearance, to make sure that the food was appealing to children.
"We never thought that a quesadilla would win the competition, but now I see that that's what they were looking for," Yudith said.
The recipe is simple, easy and quick to make, and also serves as a healthier alternative to regular quesadillas, Yudith said, explaining why she and Mia chose to enter the contest with that particular family dish.
Although Yudith taught her daughter how to cook everything, she gave credit for the dish to her own mother who has passed it on to the younger generations.
"We always try to eat as healthy as possible," Yudith said, adding: "(Mia) really likes to be in the kitchen, so this was something that she could make – not too complicated."
As she focused intently on carefully cutting the bell peppers into small, squared pieces, Mia softly chatted with her assistant for the day, Arlette Camacho, a Sodexo cook who also helped her complete the recipe the day of the competition.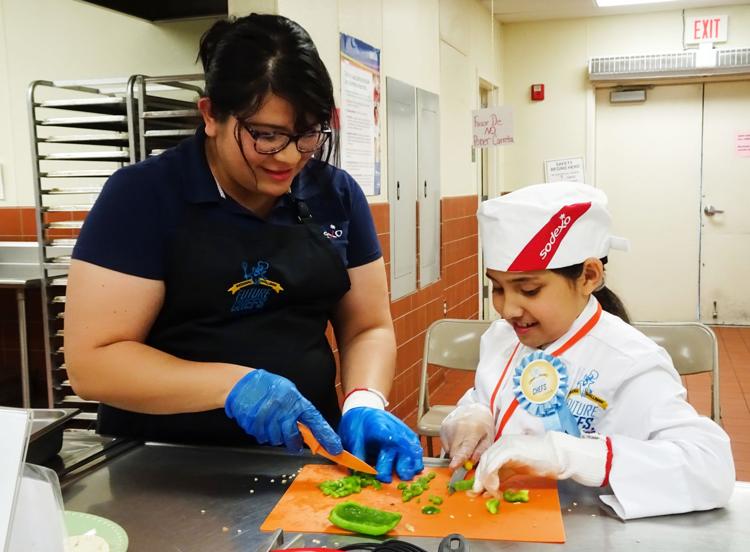 "I can't believe you do this every day… I only know how to cook for like five or six people," Mia said, in awe of Camacho's daily responsibility to help cook meals for hundreds of students.
While Mia doesn't consider herself a culinary expert, despite her cooking award, her mother Yudith described how she has seen her daughter's skills improve with the recent experience.
"I see that she has learned very well to cut the ingredients in small pieces. She pays a lot of attention to detail," she said.
And as Mia focused all her attention on carrying out the final detail of her grandmother's recipe, cutting each quesadilla into three portions, a small audience of family members and school staff waited anxiously to try a piece of the prize-winning creation.
"You know how you can tell that it's really, really good?" Carroll from Sodexo asked Mia after everyone had a piece of quesadilla. "It's when everyone is really quiet because they're eating."
---
Vegetable quesadillas recipe, courtesy of Mia Durazo
1-1/2 cup mushrooms
1/2 cup corn
1 cup red bell pepper
1 cup green bell pepper
1/2 cup minced garlic
1 tbsp olive oil
1/4 tsp black pepper
Salt, to taste
3 tbsp butter
3 flour tortillas
1 cup mozzarella cheese
 Chop mushrooms and bell peppers into small, thin portions and combine together in a bowl. Mix in the corn and minced garlic, then set aside.

Pour olive oil in a pan over medium heat and add chopped vegetables. Season with black pepper and salt, to taste. Continue cooking vegetables for about 5-6 minutes, then turn the heat off and set aside.
In a separate pan, melt one tablespoon of butter. Roast one side of a tortilla until golden, then flip to prepare for filling.
Add the vegetable filling to only half of the tortilla, then pour mozzarella cheese over the filling. Fold the tortilla in half, to keep ingredients from falling, and wait for cheese to melt completely. Repeat with remaining tortillas.
Serve vegetable quesadillas in a plate, slice each into three portions and enjoy.