A few hours before the start of her graduation ceremony at Nogales High School last Friday, Kimberly Liera stood at the far south end of Morley Avenue, already dressed in her cap and gown.
She was there to show her outfit to her mother and 4-year-old sister in Nogales, Sonora, who admired her through a metal screen in the border wall that stood between them.
The sight of a young woman in her cap and gown conversing with someone on the other side of the barrier immediately caught the attention of Rio Rico resident Marco Espinoza as he drove by. He decided to capture the moment in a photo.
"When I noticed her talking to someone at the border wall, my heart just fell apart, shattered into a million pieces, that she has to see her family this way," Espinoza said. "I turned my car around a second time and took the picture."
The photo, which Espinoza shared with friends, circulated quickly on social media in the days following Liera's graduation. Within less than a week, the photograph had been shared more than 550 times on Facebook.
One of those who shared it was Tony Velasquez of Nogales, who posted it to his popular Facebook page last Saturday afternoon, following up with a message reading: "We don't know who she is; this was yesterday, graduation day."
In the space below, Liera replied: "It's me."
Liera, who lives with her grandparents in Nogales, Ariz., said she couldn't cross into Mexico the day of her graduation for fear that she wouldn't be able to get back in time for the ceremony. So she organized the meeting at the fence.
"It was my idea. I texted my mom asking if she could meet me there, and she said yes. I wanted her to see me dressed in my cap and gown," the 17-year-old graduate said in a phone interview Wednesday.
"I started crying when I saw her, of happiness and sadness at the same time," her mother Beatriz Acosta said. "To see her so pretty and to see her accomplish what she always told me she would."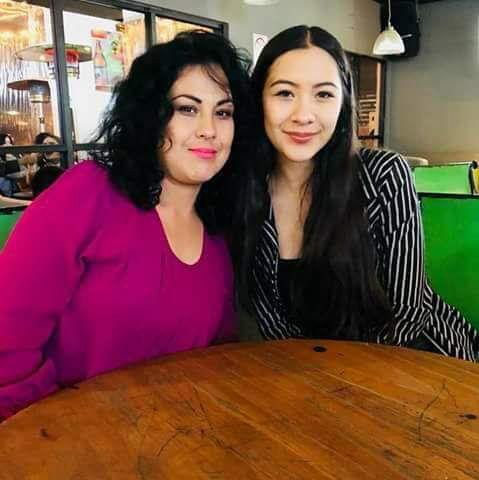 Shortly after Liera was born, Acosta said, she had her U.S. visa taken away after she tried to cross into the United States with a relative who had brought someone else's passport, and border officers suspected fraud. She hasn't been able to get another visa since then.
As a result, Acosta hasn't been able to attend any of her daughter's school transitions or graduations.
"The most difficult part for me is not being there with her in those moments, because she has graduated three times," Acosta said. "But her future is (in the United States), not here."
Having realized that her daughter had better opportunities in the United States than in Mexico, Acosta said, she found needed support from family members in Nogales, Ariz., who agreed to take Liera under their wing.
Those family members – grandparents, aunts and uncles – celebrated with Liera, barrier-free, on the day of her NHS graduation.
"I always tell her, 'I gave birth to you, but they have raised you,'" Acosta said of Liera's grandparents. "They're very good people and my daughter has grown to be just like them, very noble."
Liera said she felt "sad and frustrated because she couldn't do anything" about being separated from her mother. But she also expressed gratitude for all the support she has received from her family, friends and now, even strangers.
The photo of her at the fence spawned numerous online responses from people using the adjectives "powerful" and "beautiful." One poster wrote: "Se me puso la piel chinita," Spanish for "it gave me goosebumps." Another responded with a photo of herself at the same spot, saying that she hadn't seen her own mother for nine years until a few months ago, but even then it was "only through the wall."
Once Liera identified herself as the person in the photo, people began responding to her directly with congratulations and words of encouragement.
"Congratulations to a beautiful courageous young lady," wrote one woman. "Keep on doing the right things your mom taught you. You will achieve your dreams."
Espinoza, who took the iconic photo, said he thought it was an important moment that the community needed to see.
"After all her struggles and effort, she graduated. I wanted to share this picture so people can see that success and love have no borders," he said. "Dreams and hard work have no borders."
In addition to the supportive online messages encouraging the mother and daughter to keep their heads held high, Acosta said, she has also received private messages saying what a special person her daughter is.
"They've sent me messages congratulating me for the daughter I have, that she's a beautiful woman, very kind, and just a lot of things that make me feel super proud of my daughter," she said.
As for her future, Liera said, she'll seek opportunities that allow her to be near her mother and little sister, though still on the U.S. side of the border.
"My plan was to continue studying, but I don't have the money for that," she said, adding that school in Mexico hadn't turned to be a viable option for her, either. "I'm going to stay in Nogales, Ariz."