A crew of construction workers took a break underneath the shade of a newly built house last Thursday morning as they put the finishing touches on an ambitious grassroots renewal project that, for the past year and seven months, has been transforming a once run-down residential property on the west side of Nogales into a bold integration of art and housing.
Around them, a cluster of newly built tiny homes sported vividly colored murals on their walls, including one depicting a small village with indigenous people preparing food, and all with an underlying theme of Mexican culture. More artwork could also be seen incorporated onto the trees around the property, as well as the railings that lined the front porches of the homes.
Altogether, a total of seven houses at the site at 163 W. Kino St., as well as two more homes at the top of a nearby hill on First Street, represent the fulfillment of Nogales resident Maria G. Lopez's vision to bring dignity to her tenants living in one of the city's lower-income neighborhoods.
"I bought this property because I saw that it was in bad condition, so I told myself, 'Someday I'll be able to do something about this, contribute something,'" Lopez said about her purchase approximately seven years ago. "I'm from this border town and it hurts me to see what's happening here. It's not fair to just get their money without giving them a dignified place to live."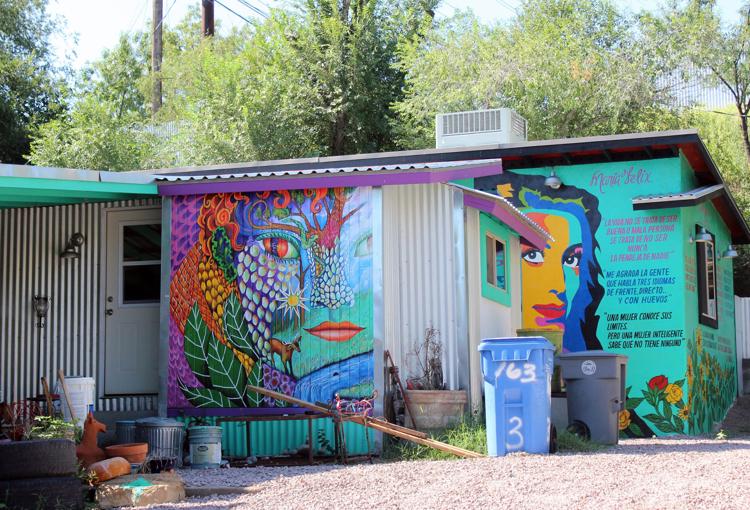 Shuffling through a stack of old photos showing how the property used to look, Lopez recalled that some people would refer to it as "Kino's Dump," due to the trash that was accumulated outside of people's mobile homes.
She added that many other neighborhoods in town look the same way, and lamented that nobody seemed to care about the way the residents of those places live. But for her part, she said, she didn't want to be known as a slumlord who perpetuated poor living conditions.
So over the years, Lopez saved the monthly payments she received from her tenants, and about two years ago, decided to sell her two personal homes in Tucson and Rio Rico and invest a significant portion of her retirement savings to pursue the renewal project.
Since her former tenants owned their own mobile homes, Lopez said, the first step in the project was buying five of the seven residences on the property. She then tore them down and replaced them with modern tiny homes built from scratch, with the help of what she called a "village" of local workers.
On Thursday, longtime tenant Alejandro Lopez, who has rented a space at the Kino Street property for more than seven years and whose mobile home was not replaced as part of the project, stood atop a ladder perched over his residence and began painting the base of his own mural as a way to contribute to the effort.
"It used to be very dirty here, but since we were all neighbors, we couldn't really say anything. Then Maria took charge and began beautifying the place," he said.
New tenants Chase Curtis and Alexis Vasquez also expressed excitement at their new digs on what Lopez has dubbed "El rincón del arte," or "The Art Corner."
"It kind of brightens up your day because you see this every time you come home. And when it's not just your home, but your entire neighborhood that looks like this, it brightens up your mood," Curtis said.
Standing beside him, Vasquez added: "The way this area used to be and what it is now, it's a complete transformation. It's a whole new Nogales."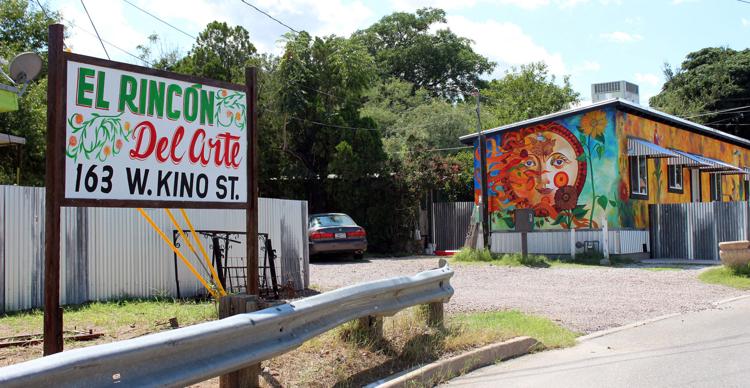 The real masters behind the project, Lopez insisted, are the more than 20 local workers that she hired to bring her vision to life.
Lead contractor Martin Preciado and his construction team took over the roles of tearing down the mobile homes, clearing the property and rebuilding around the concept of tiny homes.
Local welders Benigno Guzman, Gilberto Hernandez and Viviano Vallejo put their skills to work on the project as well, dipping their toes into new waters in the process.
"My job is welding, but we've learned how to do a lot of things that don't fall within our expertise," Guzman said.
"Everyone here is an everything-ologist," Hernandez chimed in jokingly. "We've all had to do a bit of everything, but it's a great satisfaction to know that we've finished."
Lopez added that electrical and gas utility UniSource had to install entirely new equipment because of dangers posed by the existing infrastructure.
After the houses were up, local muralist Arturo Pino used his talents to add color to every corner of the homes, which Lopez said was an effort to help people envision a better world.
"We need to create the world that we want to see, so that's what I did here. Art invites us to imagine something better for all of us," she said, adding that she wanted the murals to represent the largely Hispanic community in Nogales.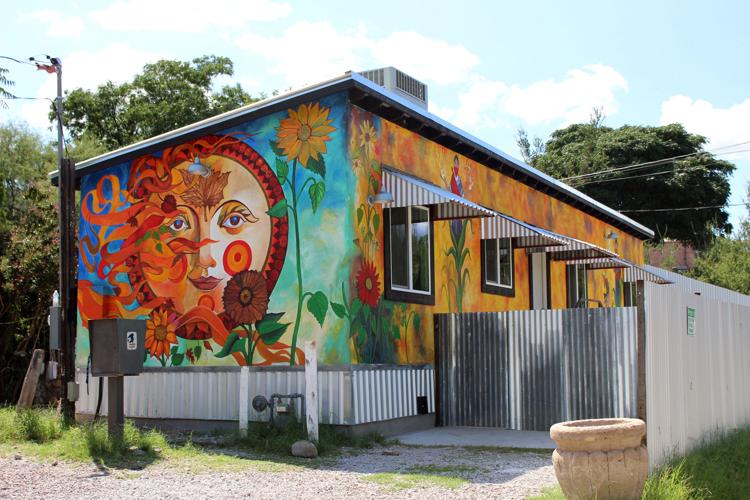 The art on one of the larger houses at the end of the property depicts a portrait of the late Mexican actress Maria Felix, accompanied by several empowering and colorful quotes in Spanish, including one that translates as: "A woman knows her limits. But an intelligent woman knows that she doesn't have any."
Next door, the mural on another house illustrates a colonial town with the phrase, "Los mexicanos también merecemos respeto," or "Mexicans also deserve respect," written in big letters across the top.
"You know what this is? It's a dignified protest. I'm upset that they've categorized us in a certain way, when the truth is that our culture is beautiful," Lopez said.
While tenants and passersby can now enjoy the finished product, Lopez and Preciado said there were a few setbacks on the road to its fruition.
Several employees in the city's planning and zoning department provided a helpful hand in getting the plans approved for the first house, both said. However, when it came to the plans for the rest of the houses, Lopez said, a certain city official rejected the blueprints and insisted that they have another professional redo them.
"I had all the blueprints ready, but the inspector came and didn't want to approve them," Preciado said, calling it the most "discouraging" part of the project.
The issue with the plans set the project back by three months.
But by the end of the day on Thursday, Lopez said, two families were set to move into the last two unoccupied homes – including the one where she had lived throughout the duration of the project.
The houses, which include two or three bedrooms and one or two bathrooms, rent for prices ranging from $400 to more $1,000 per month. For those longtime tenants who rent a space for their mobile homes, the rent stayed at $275.
"I rented them all out like this," Lopez said, snapping her fingers. "They were rented before they were even finished. It's affordable living and the people are fascinated with their homes. That's real gentrification."