In one of the most closely watched local races of the 2020 general election, David Hathaway cruised to a victory over Jose "Joe" Agosttini and Andrew Ibarra for the job that will be vacated by retiring seven-term Sheriff Antonio Estrada.
Unofficial results published by the County Elections Office at 5 p.m. on Thursday gave Hathaway 13,694 votes. Agosttini had 3,253 and Ibarra received 1,512.
Hathaway said he was at home on Tuesday night as results rolled in, checking vote totals on the Santa Cruz County website while he watched for the outcomes of national races on TV.
The first results published by the county on Tuesday evening showed Hathaway with three-quarters of the the total vote – a share that dipped only slightly as more ballots were counted.
"I thought we were in the lead, but I didn't know it would be by such a big margin, so we were happy about that," he said.
Hathaway, a 61-year-old Democrat from Rio Rico, is the former head of the local Drug Enforcement Administration office. He pitched himself to voters this year by saying he'd stand up to fear-mongering at the border while making the Sheriff's Office "a fun place to work again" for patrol deputies.
Speaking on Wednesday afternoon, Hathaway said he'd been in touch with Estrada and was making plans to transition into the office that the outgoing sheriff has held for nearly three decades. He said residents shouldn't expect any major changes soon after he takes office.
"I need three to six months to just go make an assessment, work with every shift, work in every department," he said.
Hathaway won the Democratic Party's nomination by beating out challengers Rafael "Rafita" Corrales, Keith Barth and David Ruiz in August. That race ended with a tighter result: Hathaway took 39.7 percent of the vote, with Corrales in second with 33.5 percent.
The soon-to-be sheriff raised some eyebrows this summer when he voiced his opposition to the use of face masks to stop the spread of COVID-19, citing health concerns. But he eventually began to wear a mask in public in the days leading up to the Aug. 4 primary election.
On Wednesday, Hathaway said the sheriff's job is to enforce laws, not make them, and that city and county regulations were "very clear" about mandating mask use when six-foot social distancing isn't possible. He added that the department should do its best to be conscientious and be a "good neighbor," though he stopped short of walking back his earlier comments on mask use.
At least one state law that local deputies are charged with upholding appears poised to change, after Arizona voters approved Proposition 207, which will legalize recreational marijuana use for adults 21 and over. But Hathaway said that won't mean a big change in operations for the department, since marijuana enforcement hasn't been a major priority locally, with more efforts focused on large-scale drug trafficking.
Hathaway dramatically outspent his opponents on his way to the Nov. 3 victory, shelling out more than $70,000 on the campaign. Most of the money came out of his own pocket and was spent before the August primary, according to financial reports filed with the County Elections Office.
Agosttini reported raising and spending just short of $2,640 and Ibarra did not file any campaign finance reports by the end of the third quarter.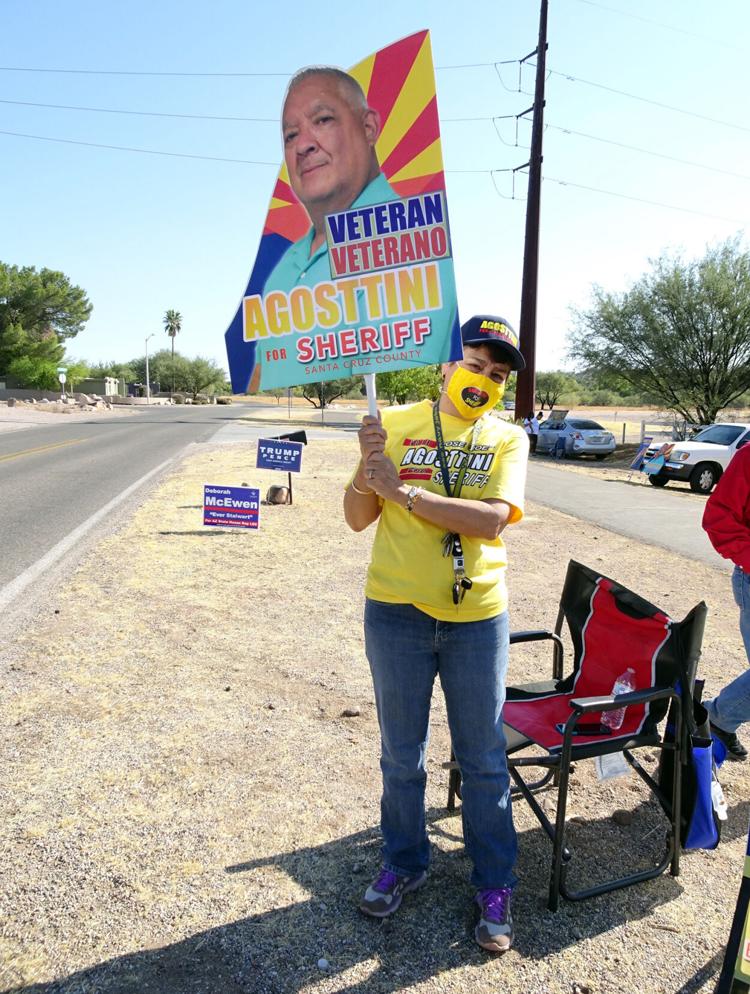 Agosttini, 63, is a former assistant port director in Nogales for U.S. Customs and Border Protection, the agency where he spent most of his career. In conversation with the NI this summer, Agosttini said that he would improve the Sheriff's Office's relationship with other law enforcement agencies in the area and increase patrols in the sparsely populated rural areas of the county.
A longtime Republican, Agosttini said he ran as an Independent to connect with more county voters and said the Sheriff's job should be an "unbiased position."
Ibarra, a Rio Rico resident running as an Independent, said he's a U.S. Army veteran and has 25 years of experience as an administrator. But Ibarra, who's launched several unsuccessful bids for other public offices in recent years, was vague about most of his experience, declining to name the places he's worked or even reveal his age.
This year was Hathaway's second campaign for the job. In 2016, he mounted an unsuccessful bid to unseat Estrada, losing out to the longtime sheriff in that year's Democratic primary.
On Wednesday, Hathaway praised his predecessor, saying he had "studied his [Estrada's] example" and specifically noting the outgoing sheriff's role in promoting a non-alarmist image of the border county.
For now, Hathaway said, he's busy complying with county regulations by taking down the hundreds of campaign signs that he put up over the past few months.