Morley Avenue appeared busy on Tuesday morning as cars with Sonoran license plates filled the parking spaces along the street and shoppers sifted through the clothing racks set up on the sidewalk.
But nearby, other signs weren't so encouraging. Several local exchange houses offered the Mexican peso close to the uncomfortable price of 20 to the dollar, with some staying under the threshold at $19.99 and others going higher at $20.05. And at the ports of entry, people crossed from Nogales, Sonora into Nogales, Ariz. past ominous-looking concertina wire, barricaded vehicle lanes and a stepped-up presence of customs officers.
As Nogales heads into the crucial holiday shopping season, it's been hit with the seemingly double-whammy of a weakening Mexican peso and uncertainty at the ports of entry. With an estimated three-quarters of local sales tax revenue generated by shoppers from Mexico, any factor that might negatively affect their crossing habits is concerning. Two factors converging at this time of year has the potential for a veritable nightmare before Christmas.
Even so, while shoppers and merchants downtown and on Mariposa Road expressed concern Tuesday that U.S. Customs and Border Protection might close the ports as it prepares for or responds to a caravan of asylum-seekers, they were less worried about the peso creeping past the 20-to-1 mark for the first time since July. Some also doubted that the long lines resulting from the security measures would discourage holiday-season border-crossers.
Setting her grocery bags on the ground to free her hands as she searched the racks on Morley Avenue, Mexican shopper Josefina Velasquez said she still crosses the border twice a week to shop on the U.S. side.
"Even if they make the lines longer, we are always going to be here, looking for the cheaper offers," Velasquez said. "When I need something, it doesn't matter how long the line is."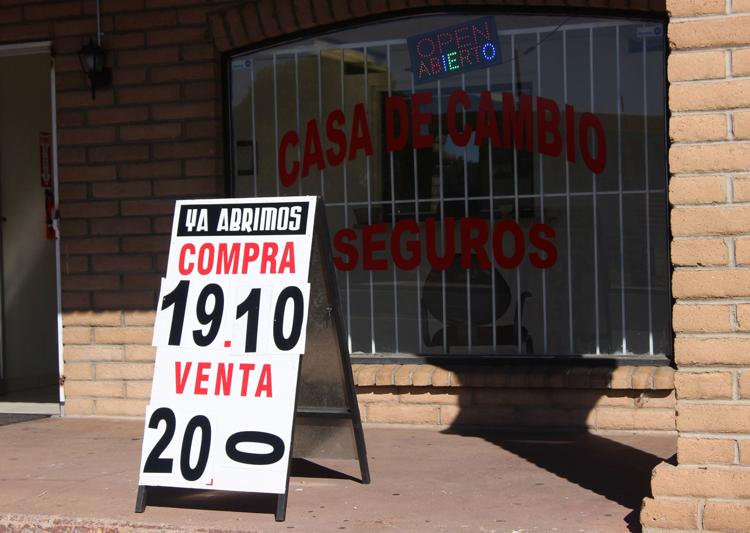 The peso had strengthened after July's slide to the point of selling for around 18 to the dollar in Nogales. But uncertainty over some of incoming President Andres Lopez Obrador's policy proposals sent it back over the 20-dollar mark in currency markets starting in late October. It began to eclipse that figure at Ambos Nogales change houses shortly after Army troops arrived to begin "hardening" the local ports on Nov. 6.
But while a weaker peso means weaker buying power for Mexican shoppers in Arizona, Myrna Navarro, manager at the Payless Outlet shoe store on Mariposa Road, said she was hopeful there wouldn't be significant fallout.
"I think that people have gotten used to it, because we also accept pesos here and I have not heard any complaints about (the dollar) being too expensive," Navarro said
She added that the previous weekend was especially busy for local businesses, as shoppers from Mexico crossed the border in large numbers during a three-day "puente" commemorating the Mexican Revolution.
"I've seen a lot of people at businesses (around town), so I don't think it's something to worry about for now," Navarro said.
Refugio Egurrola, manager of Kim's Shoes on Morley Avenue, also remained optimistic that with Black Friday and the holiday season approaching, sales would continue as regularly as the previous weekend.
"They complain that the lines are too long and slow, but they still come," Egurrola said.
"A lot of people prefer to come to shop here instead of (Mexico) because there are lower prices here," she continued, adding: "I don't think anything will affect us as long as they don't close the border."
U.S. Customs and Border Protection has so far sealed off two of eight total vehicle lanes at the DeConcini port and one commercial lane at the Mariposa port, and agency spokeswoman Teresa Small previously told the NI that CBP would close more lanes, if necessary. On Thanksgiving, President Trump told reporters he might close "the whole border" with Mexico if the situation with the caravan gets out of control.
"It's the uncertainty, that we do not know what will happen and we feel a bit disoriented," said Jorge Felix, a men's clothing store owner on Morley Avenue, adding that he has also heard his customers worry about the possibility of the local ports being closed.
Felix said false rumors are also fueling the tension on the border. For example, he said, customers from Hermosillo mentioned that they heard warnings to not travel to Nogales because local ports had been closed and people were getting violent.
The misinformation was pervasive enough that Visit Tucson, which promotes tourism in Tucson and Southern Arizona, issued a news release in Spanish on Monday to try to discredit the rumors.
Rosa Maria Gausin, a shopper from Nogales, Sonora who walked down Morley Avenue with two black bags full of clothes on Tuesday, said she's now more hesitant to cross the border because of the uncertainty and the lines.
"People had said that the port would close down if the Honduran (caravan) arrived and I am afraid that I would be stuck here with no way to return," she said, adding that she also refuses to cross the border if the line is too long.
"We depend about 90 percent on the people from Mexico because the (locals) go shopping in Tucson or Phoenix," Felix said of his shop, adding that he hopes CBP isn't compelled to close the border. "If it happens, the local retailers are going to have problems."
Velasquez, the shopper from Nogales, Sonora who said she's unfazed by long lines, also listed a possible port closure as her main concern.
"One crosses the border afraid of getting stuck here if they close the port. I am scared of staying here," she said.