Manuel Garrido Gonzalo was calm, but apprehensive.
On Tuesday, after almost two months of waiting, his number had been called and he would have the chance walk to the DeConcini Port of Entry to request asylum in the United States.
The 54-year-old from Cienfuegos, Cuba wore jeans, a black flat-brim baseball cap, and carried a red folder in his right hand. Pointing to his chipped front teeth, Garrido said he had been detained and beaten up by the police after he started criticizing the Cuban government in 2017.
He used to sell artisanal products, like jewelry, until local authorities started giving him trouble, he said. On Jan. 4, police came to the table where he was working, hit him with a 5,000 Cuban peso ($190) fine, and threw him in jail for four days.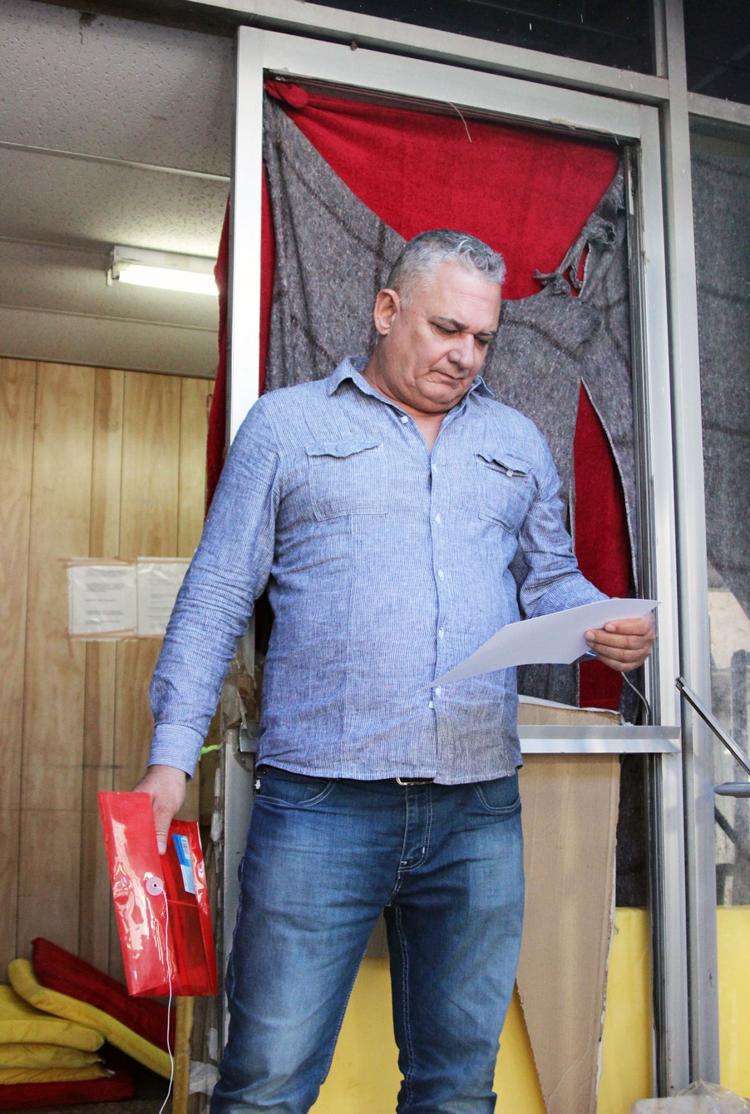 "When you protest against the government, you're not a trustworthy person for the government," he said. "They want everyone to be with them, so then they don't give you any more work."
With parents and two children of his own, that put him in a tough spot.
After the January incident, Garrido left Cuba and, after initially heading to Ciudad Juarez, traveled to Nogales, Sonora, where he has been waiting to ask for asylum since late August.
While migrants fleeing violence in Central American countries have made headlines this year, Cubans form a growing portion of the ranks on asylum waiting lists across the U.S.-Mexico border.
Across the U.S.-Mexico border, more than 20,000 Cubans have presented themselves without papers in the first 11 months of fiscal year 2019, according to U.S. Customs and Border Protection. That's up from 7,079 in all of fiscal year 2018 and 15,383 in 2017, but not on track to hit the total of 41,523 counted in 2016.
As of last week, Cubans accounted for 538 of the 1,599 asylum-seekers on the local waiting list, according to Joanna Williams, education director of the Kino Border Initiative, a Jesuit ministry that advocates for migrants in the city.
Cuban migrants who spoke to the NI pointed to state-sponsored repression and a lack of work as their reasons for leaving the island in recent months.
"It's always been a mixture of political and economic motives," said Jorge Duany, director of the Cuba Research Institute and a professor of anthropology at Florida International University who has written about Cuban migration since the 1959 revolution.
But if the factors motivating people to leave Cuba for the United States are roughly the same as they have been for decades, the situation that Cubans face when they arrive at the U.S. border has changed dramatically since 2017.
And a recent twist in U.S. immigration policy – the Migrant Protection Protocols (MPP), commonly known as the "Remain in Mexico" program – is one factor that's leading them to Nogales, Sonora.
On Thursday morning, Marilay Tabarcia, a 51-year-old from Havana, was resting on a bench near the DeConcini port, taking in the early morning scene and talking to a friend on her cell phone, which she pulled out of a small purse.
She left Cuba in March, hoping to reunite with her husband, who has been living in Phoenix for three years.
Her husband's family was opposed to the Cuban government, and when they visited her house, she said, members of the local Committee for the Defense of the Revolution took notice.
"That's where the chaos started in my life. They started to follow me, and surveil me, and give me citations," she said.
Tabarcia spent five months waiting in Ciudad Juarez, across the border from El Paso, Texas, before coming to Nogales, Sonora. She was worried about the frequent shootouts she heard while in Juarez, but she made the decision to leave the city only after she learned about MPP from a friend, who also told her that the policy hadn't been implemented in Nogales.
She arrived on Sept. 23 in Nogales, Sonora, where she's renting a house with another Cuban woman and has made a little money doing domestic work.
"For me, this city is really peaceful," she said. "They told me, 'You can't go out.' That's a lie! I go out… I always go out by myself."
For many years, Cubans had a dramatic advantage over migrants from other countries who wanted to gain legal status in the United States.
Cold War-era U.S. policies paved the way for hundreds of thousands of migrants to leave communist Cuba by plane, boat or raft.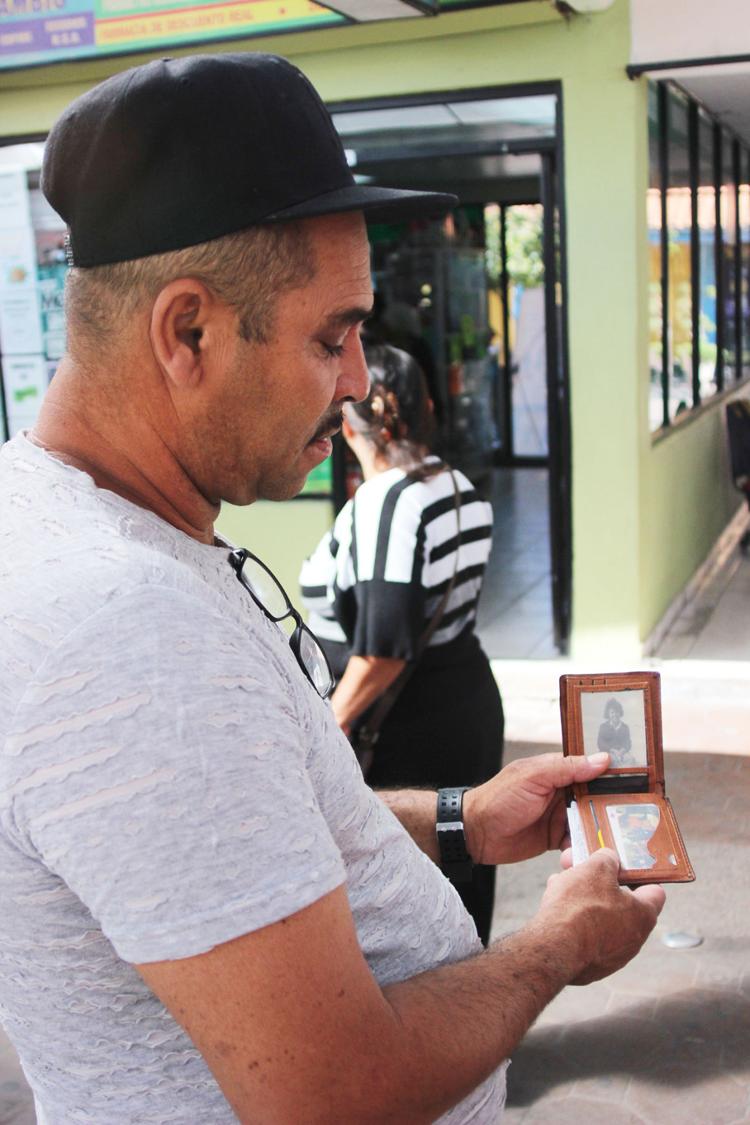 Alvaro Espinosa's father, a former member of the Cuban military, was among the tens of thousands of "balseros" that fled the island for Miami on rafts in 1994. Espinosa, 49, from Havana, put his name on the asylum waiting list in Nogales, Sonora about 15 days ago.
In 1995, the Clinton administration implemented the "wet foot, dry foot" policy, which granted legal entry to Cubans who made it to U.S. soil, but not to those apprehended off U.S. shores. But the policy was ended in 2017, part of a normalization of U.S.-Cuba relations begun during the Obama administration.
That means that Espinosa, who wants to reunite with his father and other family members in Miami, will have to go through the standard process for seeking political asylum, starting with a credible fear interview.
Cubans do retain one potentially critical advantage, but its application is inconsistent.
Randy McGrorty, CEO of Catholic Legal Services in Miami, said that Cubans remain eligible for immigration "parole," which allows them to enter the country legally.
And, "if they are lucky enough to get a parole, they can move forward through the specially designated law of Cuban Adjustment," McGrorty said.
The Cuban Adjustment Act allows Cubans to gain permanent residency in the United States after they've been inspected and have lived in the country for a year.
But he said that U.S. immigration authorities were giving parole to some Cubans and not to others, without much explanation.
If they don't get paroled, McGrorty added, "they're treated just like everyone else."
And for migrants of all nationalities, obtaining asylum in the United States can be an uphill battle.
"It's very difficult for Cubans – as well as others from other countries – to actually show that they have a credible fear of being persecuted if they return" to their home countries, Duany said.
Even before they arrive at U.S. ports, the routes that Cubans are taking in 2019 set them apart from earlier migrants.
Unlike the balseros or passengers on "freedom flights," many Cubans that reached the United States in 2019 made their way to the U.S. border after traversing Central America and Mexico by land.
For most, the long journey north starts by heading south, often to Nicaragua or Guyana, where Cubans can secure a visa. Some start in Colombia, then cross the treacherous Darien Gap to reach Panama.
Julio Senciales, from Artemisa province, flew to Nicaragua in July.
As the day of his flight approached, he kept his plans a secret, afraid of what would happen if people knew that he planned to leave Cuba for good.
"You buy your ticket. You keep it quietly, in silence, silence, silence. So when you go to the airport, you're all nerves, shaking," he said. "When the plane takes off… then you can breath."
Senciales left Cuba on July 19, 2019. It was his 58th birthday.
"It was a gift to myself," he grinned.
During the wet foot, dry foot era, Laredo, Texas was the most popular port of entry for Cubans coming to the U.S., according to Stephanie Leutert, director of the Mexico Security Initiative at the University of Texas.
Laredo still accounts for more than half of the 20,702 Cubans who showed up at U.S. ports between October 2018 and August 2019, but it's one of the ports that implemented the Trump Administration's "Remain in Mexico," or MPP policy, earlier this year.
Under MPP, immigration authorities are sending some migrants who seek asylum at the U.S.-Mexico border back to Mexico while they wait for court hearings.
More than 38,000 migrants, including more than 4,600 Cubans, had been returned to Mexico under MPP by the end of August, according to government data compiled by researchers at Syracuse University.
Of the 13 Cuban migrants that the NI spoke to for this story, all but one reached a city on the Texas border before coming to Nogales, Sonora.
The one who came straight to Nogales had heard about MPP before he got to the border and came here to avoid it.
"Before MPP expanded (to Texas), you saw Cubans switching ports all the time trying to find the port of entry with the shortest list," Leutert said.
"There was a lot of list-shopping… but now that all of South Texas is under MPP, it makes sense that they would go to try to find some place where they wouldn't be subject to MPP."
Yovanys Fernandez Acuña was chatting on Thursday with three Cuban men, a Cuban woman and the woman's Venezuelan husband.
The five came to Nogales, Sonora and got their names on the local asylum waiting list after first reaching Ciudad Juarez.
Acuña, 42, said he sold his cafeteria in Granma, Cuba, to help finance the trip.
He said he's headed for Miami, to join his brother-in-law.
For now, he's waiting in Nogales, where the group arrived in September.
With his own wait finished on Tuesday morning, Manuel Garrido, the 54-year-old from Cienfuegos, wasn't sure what to expect, though he'd heard that he could be sent to U.S. detention after making his political asylum claim.
He clutched the red folder, which was filled with photos documenting human rights abuses in Cuba.
Asked by this reporter what he hoped to do if he managed to enter the United States, Garrido answered without hesitation.
What, exactly, did he want to do?
There was just one thing that definitely wasn't in his plans.
"I can't go back to Cuba," he said.