Santa Cruz County swelled with patriotic spirit on Thursday as people in Nogales, Patagonia and Tubac dressed up in red, white and blue and celebrated Independence Day with parades, picnics and pyrotechnics.
"Since I moved to Arizona in 1973, Santa Cruz County's always been patriotic," said State Rep. Rosanna Gabaldon, who served as the grand marshal of the Nogales parade. "Santa Cruz County is just the epitome of patriotism and I just love being down here because they really value community."
Geovanna Esquer, a 9-year-old student at Coronado Elementary School, gave her bicycle the patriotic treatment (with a little help from her dad), covering it with red, white and blue garlands before she rode in the 10 a.m. Nogales parade with the 0S3 cycling group.
Asked what she likes best about Independence Day, she said: "What I like about it is that I get to ride my bike around the parade and I get to see fireworks."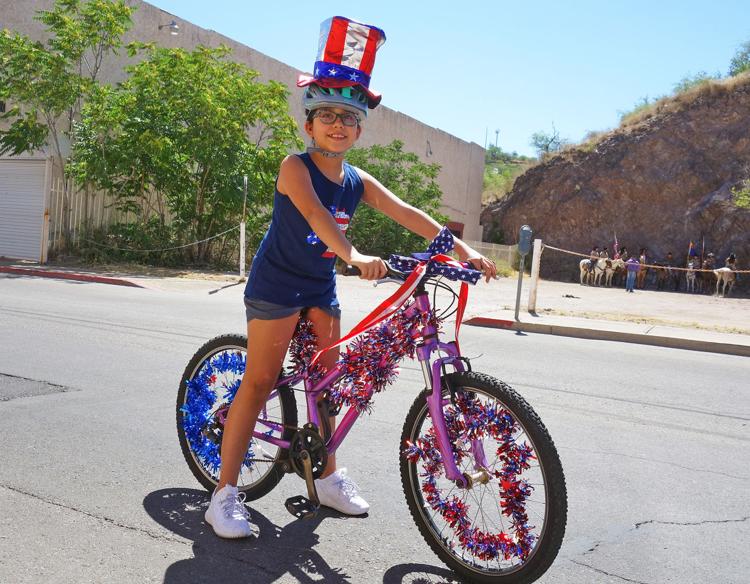 Francisco Cantua of Rio Rico pushed his 2-year-old daughter Kaely into parade-watching position on Morley Avenue on Thursday morning. He usually takes the day off to rest up from work, he said, but another daughter was participating in the parade with a taekwondo organization and he came to show his support.
He also showed his Independence Day spirit by sporting a U.S. flag T-shirt. "I'm a proud Mexican-American," Cantua said.
Matt and Jen Anderson of Rio Rico and their 2-1/2-year-old son Maxwell also came to the Nogales parade to cheer on family – their daughters marched with the Girl Scouts contingent, they said. All three wore stars-and-stripes-themed shirts, with Jen adding a matching headband to her ensemble.
"You've got to support the USA," Matt said.
Asked what she likes best about the Fourth of July, Jen said: "The fireworks are the best. The kids love the sparklers."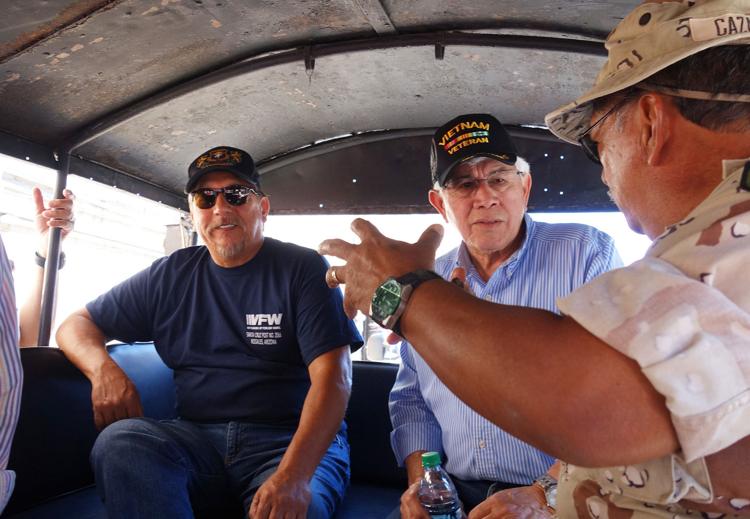 Sergio Parra of Nogales, a Desert Storm veteran who rode in the parade in the American Legion Post 23 locomotive-mobile, said the community's Independence Day enthusiasm means a lot to local veterans.
"We have a lot of people here that spent time in different wars, and it's very important for all of us and the families," he said.
The Nogales parade, as well as the picnic and fireworks that followed later in the day at Fleischer Park, attracted a number of neighbors from Mexico, including Jesús Antonio Pujol Irastorza, mayor of Nogales, Sonora.
"It's a tradition here in Ambos Nogales," he said. "Going to the fireworks, and getting together with family and all your friends from Nogales, Ariz. to spend time together and celebrate the day."
And while U.S.-Mexico relations have been tense of late, Pujol Irastorza said those issues had only minimal relevance in Ambos Nogales when it came to celebrating U.S. Independence Day. "It's a very unified community," he said.
About 20 miles to the northeast, Manuel Rodriguez of Nogales was tending to a grill covered with burgers, steak and corn in the Patagonia Town Park as he waited for the community's annual parade to begin at 11 a.m.
Rodriguez was part of a group of 16 family members and friends from Nogales and Rio Rico who were celebrating Independence Day in Patagonia. They've spent July 4 there for the past several years.
"It's a tradition now," he said. "Get together with family and enjoy everybody's company."
Why Patagonia instead of Nogales?
Sulema Rodriguez, another member of the group, said the weather is sometimes cooler in Patagonia, while Kimberly Lopez noted that the party at Nogales' Fleischer Park – which lacks the trees and shade of the Patagonia park – doesn't begin until the late afternoon.
"We've been here since what, 9:30?" Lopez said.
Asked why he preferred to spend July 4 in Patagonia rather than his home city of Tucson, Patrick Cochran said: "More country, more down home, more personal, cooler, prettier."
"This 4,000-foot riparian area is just a special slice of Arizona," he said.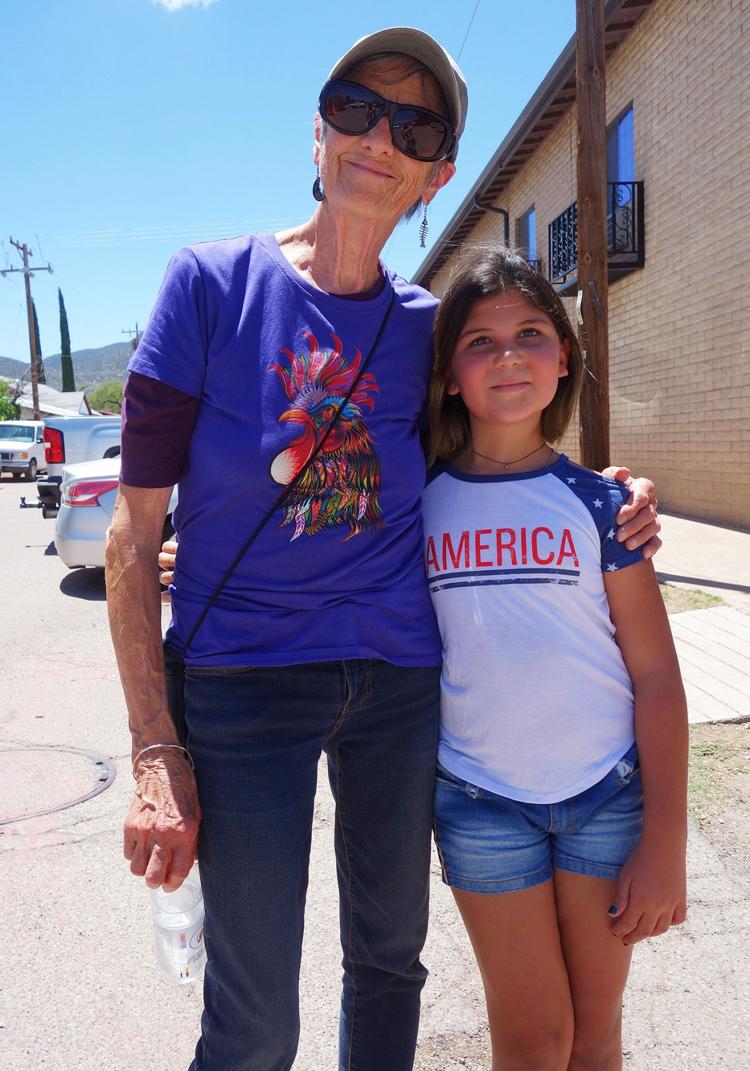 Patagonia resident Harriet Hardigan said the Independence Day parade, which featured numerous riders on horseback, an all-woman drumming group and lots of firefighters, reflects the town's character. "It's got so much culture and community. There's so much art, there's so much ranching life. It's quirky," she said of the community.
Hardigan noted the unpolished, anyone-can-participate nature of the parade. "It's wholesome," she said.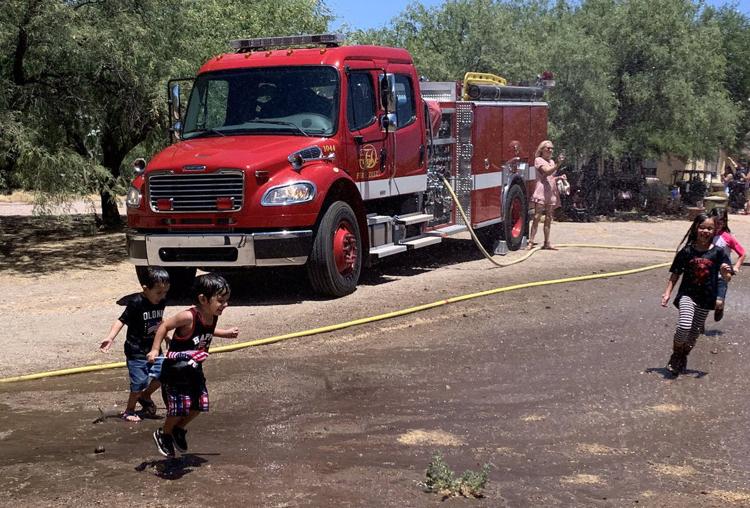 A fireworks display capped off the celebration in Patagonia, as it did in Tubac, where the Tubac Presidio State Historic Park hosted a July 4 party featuring old-fashioned games and a fire truck spray-down, and the Tubac Golf Resort hosted a party later in the day.
In Nogales, the fireworks led to some post-celebration stress after falling embers ignited several brush fires in the hills east and northeast of Fleischer Park. It took a couple of hours for firefighters to extinguish them.