On a cold morning earlier this month, the Tabora Delcid family was hunkered down in the storage room behind a storefront in Nogales, Sonora, where blankets hung from bedframes give a little privacy to an area tightly packed with bunk beds and the repurposed back seat of a car that serves as a couch.
Three small children huddled together on the couch, playing with their father's cell phone. A young mother breastfed her child while the child's grandmother spoke over children's shouts and the rumble of trucks passing on a heavily trafficked road nearby.
The concrete-walled room is where Lourdes Delcid, 38, and her husband Roberto Tabora, 37, spend most of their days lately. They share it with their five children ages 5 to 17, as well as Lourdes' daughter Katerine and her children, ages 1 and 3. The group has traveled thousands of miles since they left their home in Choloma, Honduras last May, fleeing threats from a local gang and hoping for safety elsewhere. Now, they mostly stick to their makeshift home and the cafeteria at the nearby Kino Border Initiative, a Jesuit ministry that serves migrants and deportees.
"It's just here, to the comedor, and then back here," Lourdes said of the 10-member family's routine.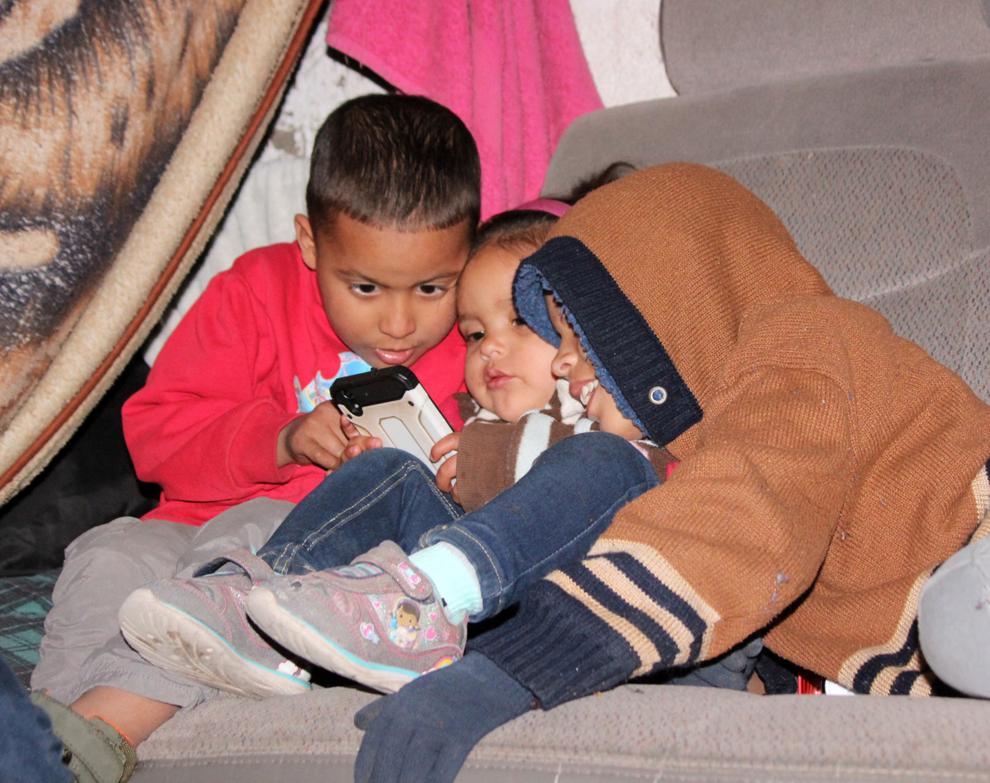 The Tabora Delcid family is among the roughly 500 asylum-seekers who've been returned to Mexico through local ports of entry since the U.S. government began enforcing the Migrant Protection Protocols (MPP) in Nogales on Jan. 2, according to U.S. Customs and Border Protection Spokesman Matthew Dyman. Some have headed to other border cities and others simply abandoned their asylum claim after being sent back. But many have ended up hanging on in Nogales, Sonora, scraping together money for basic needs and waiting for their day in court, which is often several months and hundreds of miles away.
"I don't know what's going to happen. For now, I'm just living day to day," Roberto said.
The family members said they initially sought humanitarian visas in Mexico, where they hoped to live with Roberto's sister. But after discovering what they described as a corrupt visa process and facing threats from Mexican immigration authorities, they said, they came to Nogales to seek asylum in the United States.
After making their asylum claims with U.S. authorities on Jan. 27 and 28, they were promptly returned to Nogales, Sonora. They have a court date in April in El Paso, Texas.
The money that the Taboras put together when they set out from Honduras was spent long ago. In Nogales, Sonora, their eldest son, 17-year-old Diego, has made a little cash doing construction work, and they've asked Roberto's uncle for help paying their 600-peso weekly rent (approximately $32). But the work isn't reliable and they're not sure how much more support their relatives can offer.
"I think their experience illustrates a lot of what families are going through," said Joanna Williams, director of education at the Kino Border Initiative. "The situation of insecurity and danger that folks face in Mexico and the fact that the (screening) under MPP is wholly inadequate to evaluate that level of danger."
MPP, better known as the "Remain in Mexico" program, is a federal policy, first implemented in San Diego, Calif., that sends asylum-seeking migrants back to Mexico while they wait for their date in immigration court. In a January 2019 news release, CBP said that under MPP, "migrants with non-meritorious or even fraudulent claims will no longer have an incentive for making the journey."
The program was expanded in December 2019 to include asylum-seekers entering the country in Arizona, and U.S. authorities started returning migrants through Nogales ports at the beginning of this year.
Migrant advocates say the program puts vulnerable people in danger and prevents them from accessing resources like family and legal support in the United States.
"People don't have the economic resources that they need to survive in Nogales for the many months that they're waiting for a court hearing," Williams said. "If they really follow through on their asylum claim, they're looking at over a year in Mexico."
In May 2018, in the midst of a U.S. mid-term election campaign marked by heated rhetoric over immigration policy, Central American families began arriving in Nogales, Sonora and camping out at the Dennis DeConcini Port of Entry. They weren't part of a caravan that had made the news and sparked the ire of President Donald Trump weeks earlier, but the dozens of migrants were among the first of a growing number of Central American asylum-seekers that would draw headlines in the coming year, provoking debate and then dramatic changes in U.S. immigration policy.
At that time, Lourdes and Roberto said, the issues that eventually brought them to leave Honduras hadn't begun.
They were renting a house in the El Chaparro neighborhood of Choloma, Honduras' third-largest city just north of San Pedro Sula, a city infamous for having one of the world's highest murder rates. The family went to a nearby Mennonite church and their school-aged children attended class – Ziany, 14, preferred Spanish and 9-year-old Fernanda liked math.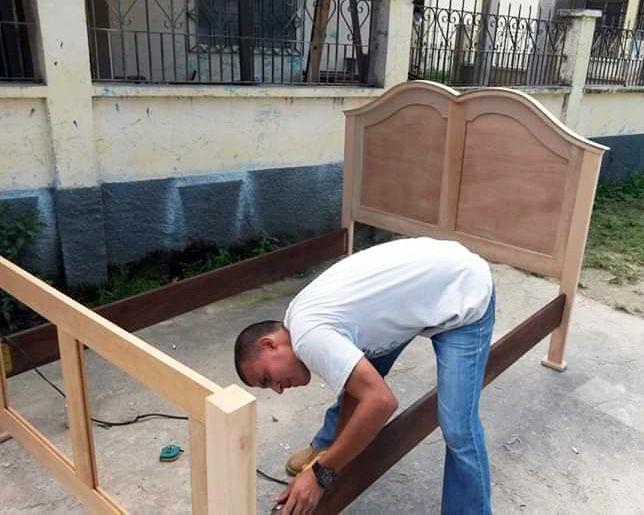 Roberto had a workshop where he repaired wooden furniture and motorcycles and Lourdes would sometimes clean houses for a little extra cash. "I wasn't needy," Roberto said.
Lourdes' oldest daughter Katerine, whom she had prior to marrying Roberto, put her attention toward raising two young children of her own. They got together frequently with Lourdes' mother, her sister and her sister's children.
Lourdes advised her kids to be careful about who they hung around with and to avoid people who might get them in trouble. "I've always been selective with friendships," she said.
But for the Tabora family, the trouble started at work.
Later in 2018, a group of men started coming by Roberto's shop, he said, first bringing motorcycles for him to repair, then demanding that he pay a protection fee in order to keep the business open. They also tried to get Diego, his oldest son, to work with them. Roberto says he and Diego refused.
In the following months, Roberto said, he was forced out of business.
"November 2018 were the worst days for us in Honduras, we were doing very badly," Roberto said. "By December I didn't have any work… We had the worst Christmas."
In Nogales, November 2018 marked an escalation of the Trump administration's efforts to deter what the president referred to as an "invasion" by people fleeing conditions like those experienced by the Tabora family.
'It's a little unpredictable'
By early 2019, Lourdes and Roberto were thinking about leaving Honduras. They had been talking to Roberto's sister, who's lived in Morelos, Mexico since the late 1990s and who told him the family could come to Morelos, establish themselves and put the kids in school. Roberto said that the initial plan wasn't to head for the United States, where he has an uncle living in Missouri.
They sold their belongings – household items, a motorcycle, tools from Roberto's workshop – and scraped together about $4,000.
In May 2019, the family left Choloma, traveling first to San Pedro Sula, then catching a series of buses that brought them to Tapachula, Chiapas, a Mexican city just across the border from Guatemala.
In the following weeks, as Trump threatened Mexico with tariffs if the country didn't stop the flow of migrants to the United States, Mexican authorities began to crack down on undocumented migrants in southern cities including Tapachula.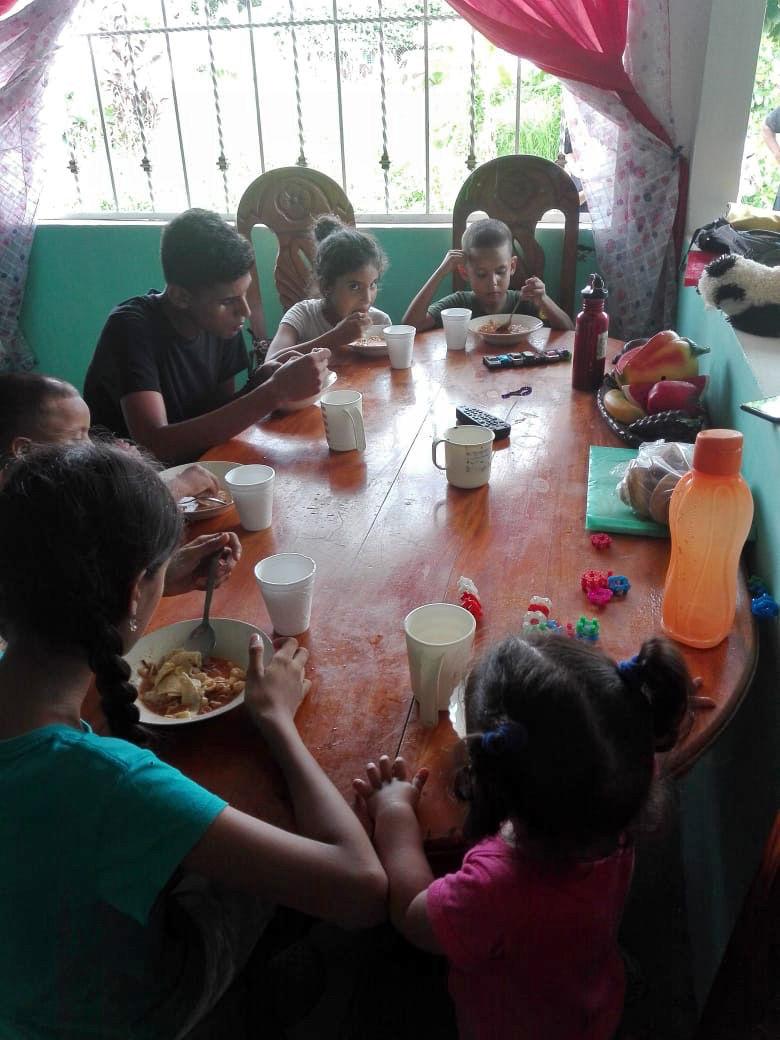 But at first, the Taboras said, they thought things would work out for them in Mexico. They put their names on a waiting list to receive a humanitarian visa that would allow them to settle in Mexico and regularly went to the office to confirm their place on the list.
But months passed and the visa didn't appear. Eventually, Roberto said, he started hearing about people who'd paid bribes for visas. He says he was offered the chance to purchase a visa, too, though it wasn't something he would consider.
"Anyway," he laughed grimly, "I don't have the money."
He said that he joined a group of people who were documenting the corrupt visa system and sharing evidence in a WhatsApp group. They made a formal complaint at the beginning of November, and held a meeting at a public park. Then, he said, threats started pouring in to his cell phone from people connected to the Mexican immigration agency.
He said people started telling him that he wouldn't be safe in Mexico and should take his family to seek asylum in the United States.
Around the same time, asylum-seekers in Nogales, Sonora, frustrated with increasingly long waits to request asylum at the port of entry, were getting creative in their efforts to enter the United States.
In a news release issued Dec. 5, 2019, CBP said that it had begun processing migrants who entered the country through Nogales under the Migrant Protection Protocols, beginning with nine Venezuelans who had crossed through vehicle lanes.
It was the first application of MPP in Nogales, which had become a destination for migrants seeking to avoid getting sent back to Mexico after making their claim. However, at that point, CBP said it was returning people who requested asylum in Nogales through El Paso, Texas, rather than sending them back to Nogales, Sonora.
The Tabora Delcid family decided they, too, would head to Nogales, Sonora. Roberto said he'd been in touch with other migrants in Tapachula who had arrived to Nogales and managed to enter the United States in a matter of weeks. This time, that would be the family's goal.
On Dec. 7, 2019, Roberto said, the family left Tapachula for Nogales, Sonora.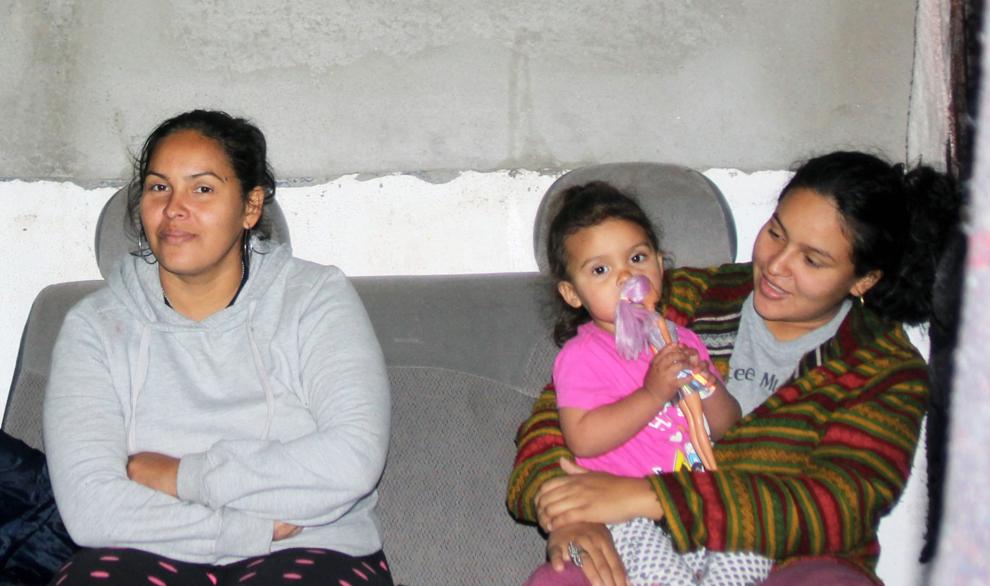 After arriving to the border city, they quickly set themselves up in the dimly-lit storage room and began eating at KBI, where Roberto volunteered to serve meals. Pointing to patterned blankets on the bunk beds, Lourdes said that a policewoman had given four blankets to the family.
Unlike most asylum-seeking migrants, the Tabora Delcid family didn't take a number and wait for their turn on the asylum waiting list in Nogales, Sonora – a process that can take several months. Given the persecution they faced in Mexico, Roberto said, he was able to work with staff from KBI and the municipal government of Nogales, Sonora to have their names called early.
Sitting on a sidewalk on Calle Internacional, Roberto showed the NI a letter written by April Mayes, a volunteer and a professor at Pomona College whom he'd met in Tapachula.
"I ask that you consider Roberto's a unique case and that, upon hearing his initial interview, you find that returning him to wait in Mexico poses a threat to his and his family's wellbeing," Mayes wrote.
Roberto took a long look across the border fence. Viewed from the Nogales, Sonora side, the iron bollards stretch 25 feet high and are covered by an anti-climbing plate at the top. On the other side, peeking out from beneath the plate, are two coils of barbed concertina wire.
Roberto said he couldn't read Mayes' letter, which was written in English, but planned to present it along with other evidence showing the danger he would face if returned to Mexico.
On Jan. 27, a Monday, Lourdes and Roberto said, they and their children walked into the DeConcini port. The next day, Katerine crossed with hers.
By Wednesday, Lourdes and Roberto were back in Mexico and on Thursday they were rejoined by Katerine. They'd been on U.S. soil less than 48 hours.
It had been dramatic, but also routine.
Roberto said that CBP officials treated him rudely. Lourdes said that one of the children had gotten sick after eating the burritos offered by U.S. officials, then had to wait until the next day to see a doctor. Both said that they'd been denied the opportunity to show any documentation or evidence to support their claim of being persecuted in Mexico.
Just days after making their asylum claim, the family was back under the metal roof and concrete walls of their temporary home in Nogales, Sonora. Lourdes said they'd been given a court date in El Paso on April 20 and were told to show up early that morning on the other side of the international bridge in Ciudad Juarez, Chihuahua.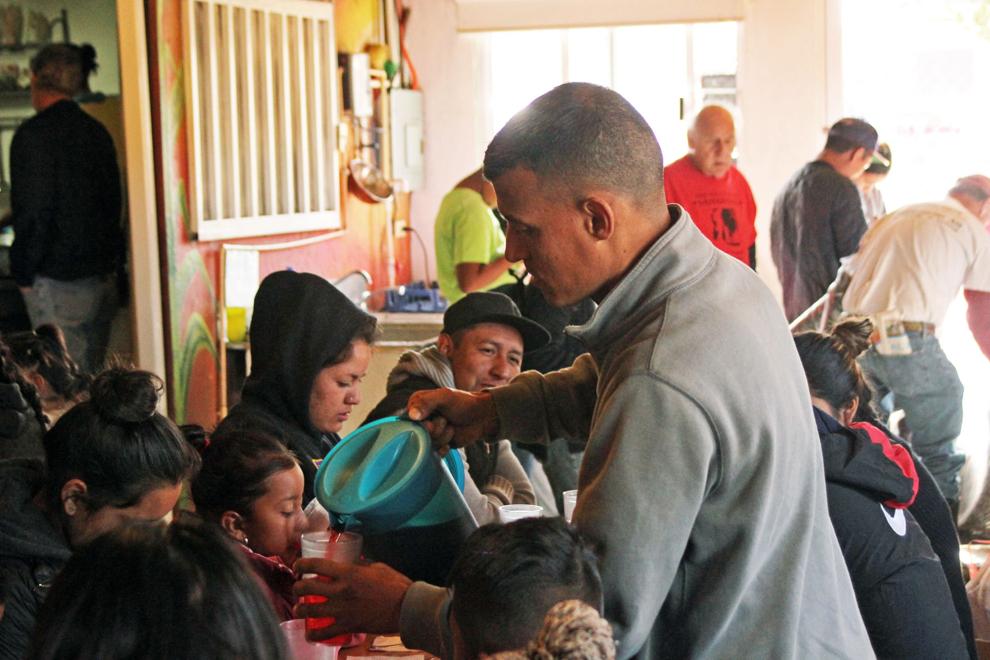 Joanna Williams, the KBI education director, said that's not unusual. She said she hasn't heard of any asylum-seekers in Nogales who were allowed to share documents showing the danger they believed they faced in Mexico in order to avoid processing under MPP.
Talking the next week, Lourdes and Roberto said they were committed to making their court date, though the thought of giving up had crossed both their minds.
Roberto had a new edge in his voice. "I'm not well, I'm not comfortable," he said after relating his brief stay in federal custody.
Looking ahead to spending at least another two months stuck in Nogales, Sonora, he didn't know where he was going to get money for the next week's rent, let alone for a bus to Ciudad Juarez. (In a WhatsApp message sent this Wednesday, he said that he'd found work as a carpenter, with Diego as his assistant.)
He said he was worried about people who'd threatened him in Tapachula, believing that they knew the family had traveled to Nogales. Even so, he said, he hoped that publicizing their story might help the family make a case for asylum, or find some support.
"With all of this, I can't be in Mexico anymore," he said. "Time could betray me."