"I think that being out here today kind of proves to the people of Nogales that we're serious," said 51-year-old Kerri Muñoz, a Nogales Unified School District teacher who stood at the side of Mariposa Road with a group of fellow educators around midday Wednesday.
The rally, organized by the Professional Educators of Nogales, brought out demonstrators in bright red shirts and matching red signs that read "Invest in Ed" and "Yes on 208," making reference to the new ballot measure that would create a higher income tax bracket in Arizona and direct the additional revenue to public education.
"There's too many people in our community who don't know what Proposition 208 is about, so we're trying to raise awareness," said 38-year-old Venesa Garcia, who serves as president for PEN.
"This is still Red for Ed, it's still investing in education," Garcia said, in reference to the movement that started in 2018 to demand better funding for public education in the state.
Proposition 208, if passed, would impose a 3.5-percent income tax surcharge to the existing 4.5-percent income tax on those Arizona residents who report an annual income of more than $250,000 in a single filing or more than $500,000 in a joint filing.
The additional revenue from the 3.5-percent surcharge would then be distributed to specific education areas: 50 percent to hire teachers and classroom support; 25 percent to student support services; 10 percent to mentoring and retention programs for new teachers; 12 percent to the Career Training and Workforce Fund; and 3 percent to the Arizona Teachers Academy Fund.
Those in opposition to Prop. 208, including Gov. Doug Ducey, say the tax will hurt Arizona's appeal to out-of-state businesses considering locating here. And they argue that the increase would harm the state's small business owners who have already been hit hard by the pandemic, which would result in job losses.
Garcia argued that a very small portion of the state population would have to pay the income tax surcharge.
According to numbers provided to her by the Arizona Education Association, Garcia said, the Nogales Unified School District alone would receive about $3.7 million dollars.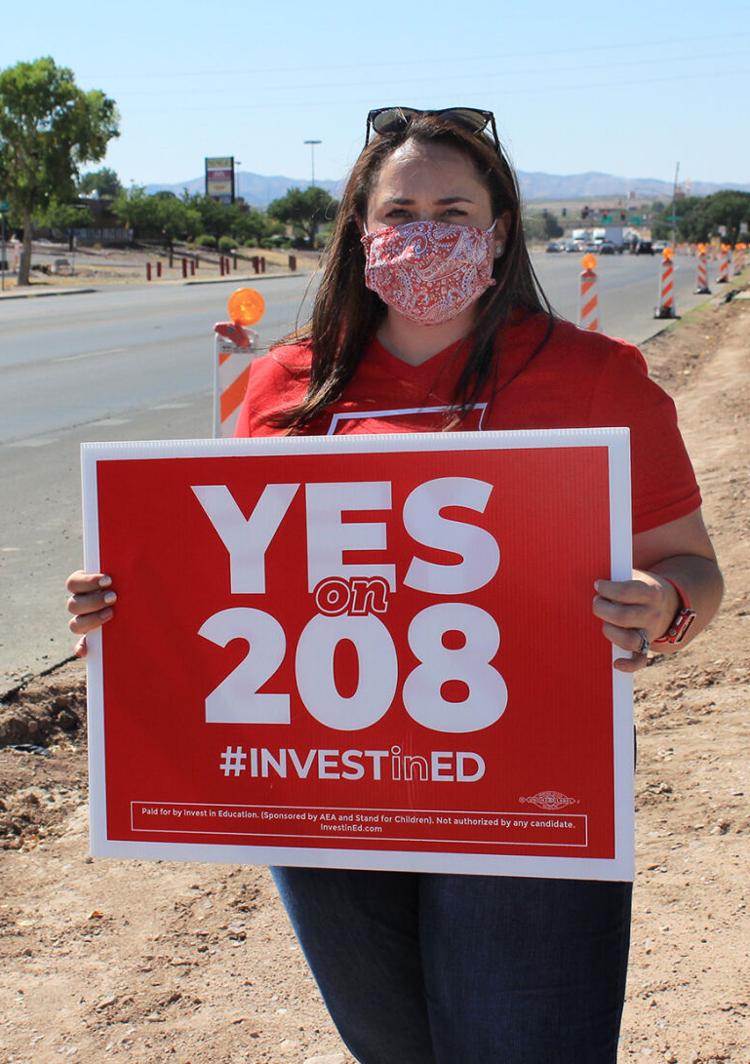 "For schools in Santa Cruz County, that's actual money in our pockets," Garcia said. "It's going to put the money straight into our classroom to help retain quality teachers… it'll go to those programs that we desperately need so it's actually going to help us directly."
For Muñoz, a world history teacher at Nogales High School of more than 10 years, this new initiative brings hope of providing better resources for her students who have been using outdated material.
"Right now, I am using textbooks that are almost 20 years old in a world history class," she said. "It's about making improvements to our schools and for our students."
Garcia, who has worked as a reading coach at Lincoln Elementary School for seven years, said the passing of the proposition would also help with retaining teachers who have been leaving the district over inadequate salaries.
After the #RedForEd movement started in 2018, Gov. Doug Ducey promised to increase teacher salaries by 20 percent by 2020, but Garcia said that NUSD staff members had only received 15 percent of that due to uncertainty caused by the pandemic.
Still, she said, it brought raises to school staff members whose salaries have been frozen for years and are earning less than new teachers.
"I think people are willing to pay it," Garcia said. "They just need to hear those stories and realize that it's really for their children."
Muñoz added: "If our legislature can come up with something better, then do it… They've had years to do something, but they haven't."