Santa Cruz County, like many communities across the nation, is experiencing a home seller's market in the wake of the COVID-19 pandemic.
The median price of a single-family home has gone up 28 percent during the first nine months of the year, according to data from the Multiple Listing Service of Southern Arizona (see sidebar). The increase is being driven by demand and a lack of housing inventory, as builders cannot construct fast enough to satisfy market demands.
"We are in a hot market. Homes are being listed, we are seeing multiple offers come in, and the homes don't last long on the market," said Marybeth Hughes of the Santa Cruz County Chapter of West & SouthEast Realtors of the Valley (WeSERV), formerly known as the Santa Cruz County Board of Realtors.
Realtor Yvette Palmer, president of the local chapter, said some of the buyers are either local or out-of-town investors who purchase the homes to flip for profit, or turn into rental properties.
"We are also noticing more and more people seeking to buy their second homes or retirement homes in our area," she said, adding that political, economic and social realities play a role as well. "We are seeing an influx of home buyers relocating into our area as a result of government lockdowns (in their communities), increases in homeless populations, defunding police, higher crime rates, and (higher) taxes."
Gabriel Gastelum, who has 40 years' experience in real estate, said he sold a home in Rio Rico to a couple who lost their jobs in San Francisco this year. They had managed to save $500,000, which they found could go much further here than in the Bay Area due to drastically lower home prices and a lower cost of living.
He said it's becoming common for buyers to make offers above list price, as was the case in a recent home sale in the Meadow Hills subdivision of Nogales.
"We had an appraisal, we researched and set what we felt was a fair market price of $488,000. The house is located in the flood zone and is about 45 years old. It sold for $515,000," Gastelum said.
"I've never seen anything like this," he said. "Not only are some people offering more than what the house is listed at, I've heard that a couple of them have added personalized letters with their offer to the owners saying, for example, that they love and will preserve traditions like the décor of crosses on the walls. I think they hope this will help endear them to the sellers and increase the chances that their offer will be accepted."
Gastelum wondered whether homes in Santa Cruz County were undervalued to begin with, which may, in part, account for such a spike in prices.
"Maybe it's not that home prices went up too high. Maybe our homes were valued too low," he said.
But while the jump in home prices may be good news for sellers, investors, people moving from more expensive markets and local Realtors, it's likely putting home ownership farther out of reach for many residents of Santa Cruz County, where the estimated median household income was $41,259 in 2015-2019, according to the most recently available U.S. Census estimates. In Nogales, the estimated median household income was even lower, at $29,339.
Also underscoring poverty in the county, about 82 percent and 94 percent of school children K-12 in Nogales and Rio Rico respectively, qualify for the free and reduced lunch program, according to local school officials. NUSD Superintendent Fernando Parra said enrollment has not been impacted yet, but he's concerned that rising home prices in the community could ultimately result in declining enrollment for his district.
"Those affected school children could end up in other districts due, for example, to transportation issues," or their families end up having to relocate, he said.
Meanwhile, some families who cannot find or afford housing are doubling up in homes, said Robert Thompson, director of the Nogales Housing Authority. He said he has observed this in his work with applicants on the long waiting list for the Housing Choice Voucher Program or Section 8. "People are moving in with relatives because they have nowhere else to go. While it is not 100 percent (of applicants), it is typical."
In regards to new construction, Tiburcio Bazua, a local longtime contractor, said: "To say demand is super-exaggerated does not adequately describe what we are experiencing."
He said he and his crew are committed to construction contracts through July 2022.
"Every day I get two to four calls from people who tell us they are already pre-qualified and ready to build. We just can't keep up – the same goes for the subcontractors – electricians, plumbers – everyone is busy."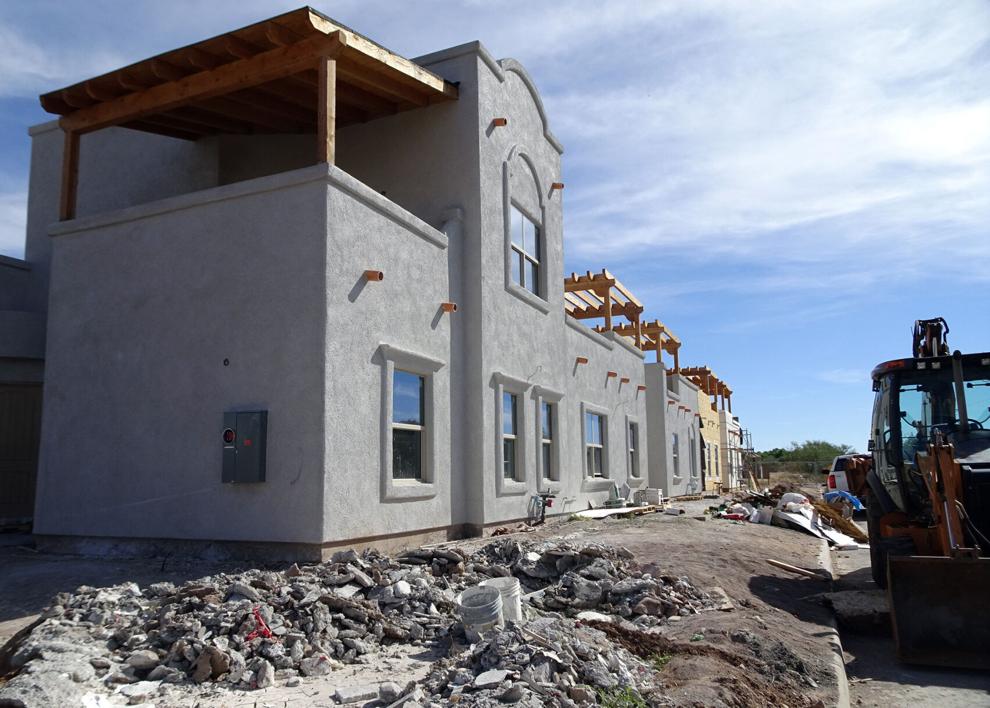 The number of building permits the Santa Cruz County Community Development Department has issued for the unincorporated areas of the county this year was 209 through September, compared to 124 during the same period last year. The valuation of homes built so far this year is $49.8 million vs. $27.5 million in the first nine months of 2021, according to county records.
The City of Nogales was unable to provide information on permits issued in city limits.
While it's boom time for builders, supply shortages, difficulty in finding subcontractors, and bureaucratic delays have pushed out the construction time frame from about seven months to up a least a year, Bazua said. Aggravating the problem is that for some time now, Santa Cruz County has made do with one person wearing three hats to conduct building reviews and inspections. This has prolonged the permitting process from about four to five weeks to about three months.
How long will the building boom and seller's market situation last? That's a tough question. Palmer said real estate agents provide a disclosure to buyers in reference to market conditions that states, in part: "It is impossible to accurately predict what the real estate or financial market conditions will be at any given time."
In short, for the time being, higher prices are here to stay due to "low interest rates and low inventory," Palmer said. But she cautioned that if inflation continues to escalate into 2022, the Federal Reserve may apply the brakes by raising interest rates, increasing the cost of borrowing.
"It will slow lending, but it is unlikely for a housing crash to become as serious as it did in 2007," she said. Instead we may see "more of a market dip" eventually thanks to various levers such as tightened lending standards, mortgage forbearance programs for homeowners, and "the cushion of equity in our homes."