A trade group for local produce importers sounded an optimistic tone about prospects for the industry, which moves billions of dollars of produce and employs thousands in Santa Cruz County, under a Joe Biden presidential administration.
After four years of chaotic relations between the United States and Mexico under President Donald Trump, a Biden administration appears likely to calm the waters with the country's southern neighbor. That could mean a shift from the Trump administration's tariffs, investigations and threats that leaders said harmed the local economy.
"They've been very aggressive about using tariffs and other elements of U.S. trade law against imported goods, including items from Mexico," said Lance Jungmeyer, president of the Nogales-based Fresh Produce Association of the Americas, which represents local produce importers. "We would hope that a Biden administration will not be as provocative on trade, or not be as adversarial."
Still, owners of local produce importing businesses were careful in describing what might happen under a new presidential administration.
"I'm optimistic, I'm hopeful. I hope that there's a strong dialogue between the U.S. and Mexico on a variety of issues," said Scott Vandervoet of Vandervoet & Associates, a Rio Rico-based produce importer.
"I don't think anyone really knows what a new administration is going to be like," said Jaime Chamberlain, owner of Nogales produce importer Chamberlain Distributing. He also cast doubt on reports that Biden had won the presidency, saying: "It's still got to be certified and ratified."
While President Trump hasn't conceded defeat in the election, there seems to be little doubt left that Biden will emerge victorious, with vote counts showing him in the lead in swing states including Michigan, Wisconsin, Pennsylvania, Georgia and Arizona. In Santa Cruz County, Biden won decisively, earning 67.1 percent of local votes, to Trump's 31.6 percent.
In addition to promising a softer stance toward Mexico, Biden's agenda includes corporate tax hikes, a higher income tax for high-earning individuals, and an "offshoring penalty tax" on businesses that move manufacturing operations out of the country – though he might face an uphill battle in raising taxes if Republicans hold onto control of the Senate.
"I think it's detrimental to not just importers, but all businesses in general terms," Chamberlain said of the proposed corporate tax hike, saying that higher rates could slow investment and job growth in the local area.
But Chamberlain did venture one hope for the next four years: "I would really like to see a better relationship between the United States and Canada and Mexico."
Since President Trump took office in 2017, trade relations between the United States and Mexico have been stormy.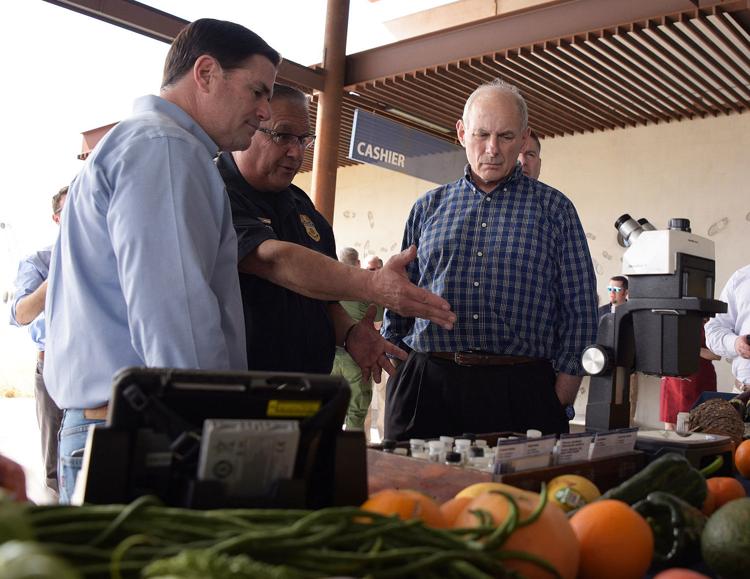 The president made good on a campaign promise to throw out the North American Free Trade Agreement (NAFTA), only to replace it with a largely similar pact named the United States-Mexico-Canada Agreement (USMCA). At the time, local business leaders said they were happy with the new deal mainly because it looked a lot like NAFTA.
Under Secretary Wilbur Ross, a Trump appointee, the Department of Commerce has opened investigations into Mexican produce imports at the behest of U.S. growers, who say the domestic industry is threatened by cheap Mexican fruits and vegetables.
The underlying politics behind the investigations might not change dramatically, with produce growers in Southeastern states like Florida and Georgia still in stiff competition with Mexican imports. But, while a federal commission conducts investigations into imported produce, it's up to the president to take action in response, like imposing tariffs or other penalties.
Speaking on Thursday, Jungmeyer said he's hoping the incoming president isn't so quick to slap penalties on imports from the country's top trading partner.
"I would anticipate that a Biden administration is going to allow the (investigation) process to move forward, but they will also look at the overall value of the relationship between the United States and Mexico, and I think they'll take that into account," he said.
"I think from the get-go, Trump kind of had an antagonistic relationship when he spoke about Mexico, and we definitely haven't seen that kind of language coming out of Biden," Vandervoet said.
The president's pen isn't a unilateral force dictating U.S. trade policy, but President Trump showed a unique penchant for conducting foreign policy by tweet and ratcheting up already-tense rhetoric with the nation's trading partners.
Guillermo Valencia, co-owner of the customs brokerage Valencia International, which works with clients in a range of cross-border industries, said he thinks that the president can have an impact by setting the tone for how diplomacy gets conducted.
"I think a president can go a long ways in creating an atmosphere where people sit down and talk and collaborate. And it can go the other way, too – the person at the top can manage things in such a way where that atmosphere is not created," he said. "I think everybody wants cooler heads to prevail."
What impact could cooler heads have on local businesses?
Jungmeyer said it's about how business gets done, even if it's not exactly clear where a new administration will come down on individual issues.
"I would say that a Biden administration is going to take a more rules-based approach to looking at trade conflicts," he said, "and will also use diplomacy, I believe, to sort out differences with trade, rather than making threats and provocations."