About a dozen stationary bikes sit facing a mirrored wall inside a pitch-black studio, with technicolor lights illuminating the room. As the class begins, loud music blasts on the speakers and the riders begin pedaling to the rhythm of the music and lights.
It's the kind of energetic atmosphere offered at the new spinning studio Speed Up, located next to the Santa Cruz Provisional Community College on North Grand Avenue in Nogales.
"It's an ambience filled with lots of energy. A lot of clients and friends that have come here say that they feel an adrenaline rush," said 30-year-old Anna Luisa Barrio, who co-founded the new studio along with fellow Nogales resident Gabriela Seldner.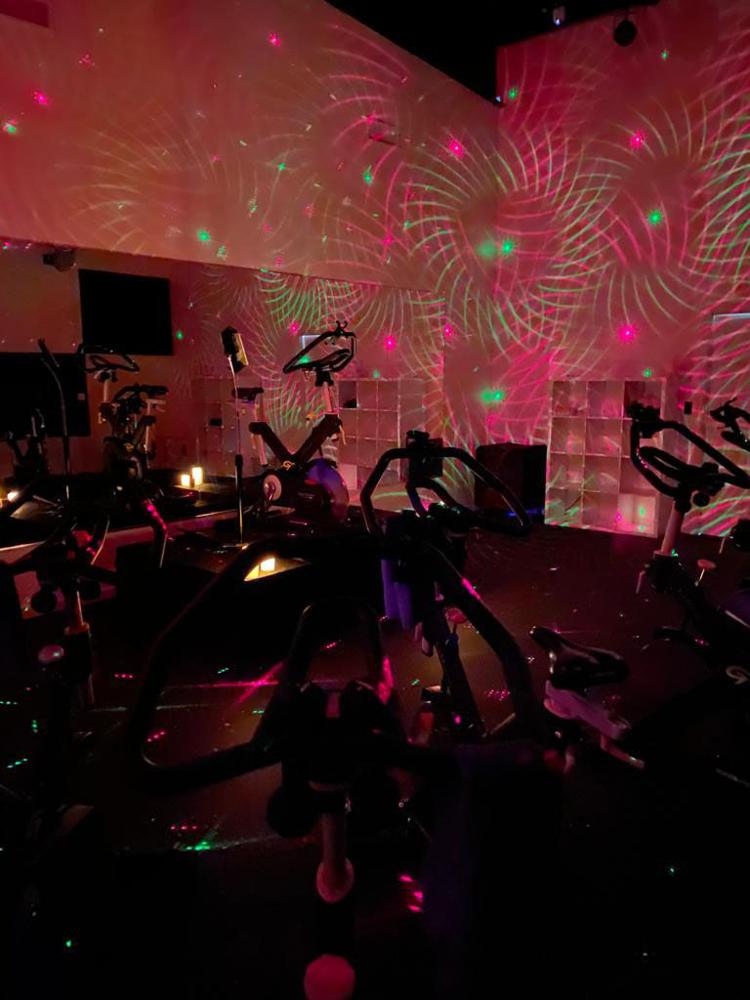 Barrio and Seldner – originally from Chihuahua and Guaymas, respectively – said they were inspired to offer cycling classes after recently moving to town and noticing that there weren't many options available for staying fit and active.
A typical class, as Seldner described it, lasts about 50 minutes and begins with a warm-up song to allow everyone to get in sync with the tempo. As the class progresses, the riders add resistance to their bikes, moving to faster-paced music and using light dumbbells as they continue to pedal.
The exercises focus on the legs, abdomen and arms, she added.
"The whole class carries a sequence… It's like a rollercoaster," Seldner said, explaining that the different resistances and paces are similar to those of mountain biking and sprinting.
The studio offers a total of four classes everyday from Monday to Saturday, taught by Barrio, Seldner and coaches Daniel Burgueño and Zarina Gonzalez. Each booking also includes the rental of special shoes to use on the stationary bikes.
So far, Seldner and Barrio said, their new business has been warmly welcomed by the community, with several classes filling up entirely.
For those beginners wanting to try out spinning classes for the first time, Seldner said, the dark lighting in the studio is especially inviting as it helps the riders feel less self-conscious.
"We're trying to create a community. For our clients to come and leave feeling comfortable and relaxed," Barrio said, as Seldner added: "We want people to come in and feel like they're in another place that isn't Nogales, that isn't their work, that isn't their home, and just leave with an explosion of positive vibes."
For more information or to book a free introductory class, see www.speedup-cycling.com or follow @speedup_cycling on Instagram.