A temporary closure of the local ports of entry, as well as continuing unease about crossing the border through the ports, could have "catastrophic" economic impacts totaling millions of dollars of losses in Ambos Nogales, government and business leaders told the region's top U.S. Customs and Border Protection official this week.
The dire warnings came during a meeting of the Greater Nogales Santa Cruz County Port Authority on Wednesday with Petra Horne, CBP's acting director of operations at the Tucson Field Office. Horne assured attendees that CBP is working closely with authorities in Ambos Nogales to protect both communities, but did not rule out possible port closures in response to a Central American migrant caravan rushing the border.
"The last thing that (CBP) wants to do is close lanes," Horne said, adding: "Rest assured that we are doing everything that we can to continue the flow."
But with the possibility of the ports closing still on the table, Nogales City Councilman Marcelino Varona stressed the importance of the city's relationship with its friends to the south.
"Our community, our government relies on sales tax and the majority of it comes from shoppers in the state of Sonora," Varona said. "We don't have additional revenue. Financially, it would bring us to our knees. We would have to look at our budget and start laying off."
County Supervisor Manuel Ruiz, whose district includes much of Nogales, said that citizens on both sides of the border already feel uneasy about crossing, which ultimately has a "domino effect" within the entire county.
"As revenues start dropping in Santa Cruz County, you would start seeing property taxes go down and there are a lot of secondary taxes in place," Ruiz said. "At the end of the day, any significant closures would really be catastrophic."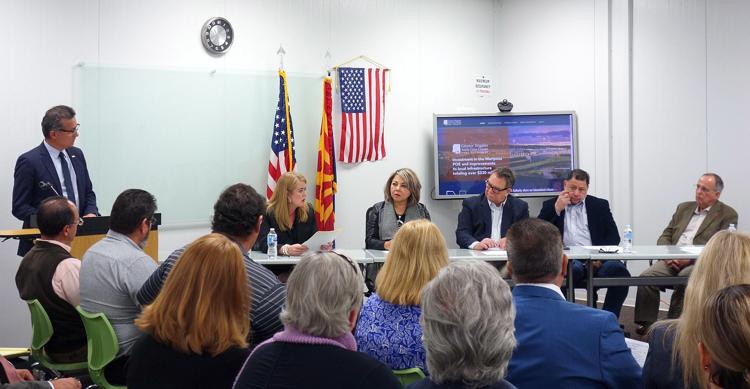 Olivia Ainza-Kramer, director of the Greater Nogales-Santa Cruz County Chamber of Commerce, said local businesses have been relieved that their sales so far reflect a busy holiday shopping season. But that doesn't ease all of their worries.
"Not only are they facing a minimum wage increase in January, but also the peso change that they have right now," Ainza said, referring to the pending minimum wage increase from $10.50 to $11 and the weak Mexican peso, which is currently selling at around 20 to the dollar in Ambos Nogales. "So it's not only affecting the sales tax, it's also affecting the workforce in town."
Nils Urman, executive director of the Nogales Community Development, echoed Ainza's concerns, pointing out that Nogales already has one of the highest unemployment rates in the state.
The local produce import industry, the largest private-sector employer in Santa Cruz County, is now reaching its peak season. But produce that has been processed in Mexico for export to the United States could end up in a "grey area" if the ports were to close, said Scott Vandervoet, president of the Fresh Produce Association of the Americas.
Last Sunday, CBP closed the busy San Ysidro port in San Diego for approximately five hours after members of the thousands-strong migrant caravan now gathered in Tijuana marched to the port in protest of the slow pace that asylum claims are being heard. Some tried to enter the United States illegally and others threw rocks, but the protesters were repelled when U.S. agents launched tear gas at them.
If a similar situation were to happen in Nogales and the ports were closed for five hours, it would result in an approximately $1.9 million loss for the export assembly plants on the Mexico side, said Wendy Molina, president of the INDEX Maquila Association
"Mexico is also affected, not just the U.S. It is affecting both countries," Molina said.
CBP's port director in Nogales, Michael Humphries, insisted that his team is considering the community's interests, as well as preparing for possible threats.
"We've received request to extend hours at the Morley (port) for the Christmas season and absolutely, we'll do it. We're members of the community and we want to see you all succeed, " Humphries said, adding that CBP also managed to open more lanes to ease the heavy traffic on Black Friday.
"We're hoping for the best, but we're preparing for the worst," he said.
President Trump deployed thousands of active-duty troops to the Southwest border at the end of October to protect against what he warned would be an "invasion" of Central American migrants. On Nov. 6, soldiers began installing concertina wire in and around the ports of entry and blocked select vehicle lanes with steel containers.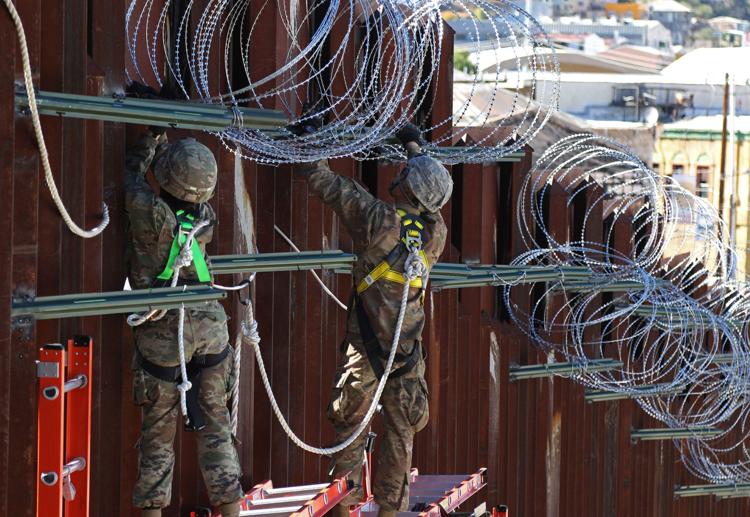 Meanwhile, CBP riot police have been regularly conducting drills at the DeConcini and Mariposa ports of entry in anticipation of a foray by unruly migrants.
In a news release issued Wednesday, the same day as Horne's meeting in Nogales, CBP said it and its military partners would continue conducting readiness exercises in Nogales over the next several weeks "in preparation for the migrant caravan, which may lead to a temporary suspension of port activities."
"The temporary suspension of port operations may occur during the exercises…," Horne was quoted as saying in the news release. "We ask the border communities to be patient and understanding while we train in order to protect travelers, caravan members, and our officers and agents from potential acts of violence."
So far, there appears to be little local presence of members of the caravan that inspired the fortifications and shows of force. A group of 47 LGBT migrants arrived in Nogales, Sonora from Tijuana on Nov. 20, but El Diario de Sonora reported this week that 30 had already departed for Agua Prieta, Sonora, across from Douglas, Ariz.
Speaking at Wednesday's meeting, Horne said that Arizona currently has the potential to be impacted by "approximately 400 individuals that are in route from Mexico City, will be stopping in Mexicali and that is about 50 miles from San Luis, Ariz."
"As we attempt to educate and inform these individuals that are coming in to seek asylum, we just ask them that they come in an orderly fashion," Horne said.
A widely published photo of a woman and her daughters being tear-gassed during the protest last Sunday at the San Ysidro port raised significant criticism. CBP said the incident is under internal review, while at the same time, Homeland Security Secretary Kirstjen Nielsen has emphatically defended the use of tear gas against the protesters as a valid self-defense measure.
Horne bristled when a reporter from the NI tried to ask her after Wednesday's meeting if tear gas could potentially be used against protesters in Nogales as it was in San Diego.
"I am only here to discuss what is being done in Nogales ports," Horne said, cutting off the question.
During the meeting, she expressed frustration with news coverage of the caravan response, saying that "what's going on in the media, quite frankly, doesn't help."