Many of the big box chain stores on Mariposa Road – Marshalls, Ross, JC Penney, Aeropostale – remained closed this week, despite Gov. Doug Ducey's order allowing them to reopen.
But other so-called "non-essential" businesses in the uptown shopping district were beginning a cautious reboot, with social distancing measures in place.
Clusters of cars were parked in front of select storefronts at the Mariposa Mall on Wednesday afternoon as consumers headed into a handful of open businesses for beauty services, and both essential and nonessential shopping.
At the Forever 21, several paper signs posted at the entrance of the national clothing chain notified shoppers that they're now required to wear a face mask while inside the building – a measure that store manager Sofia Moreno said had been received with mixed feelings.
"We were really busy before Mother's Day. We have a limit of 10 people, so some had to wait outside," Moreno said. "I think most customers feel very comfortable that it's required to have a mask on, but I have seen other customers getting upset that they need to use one."
For her part, 21-year-old shopper Vivian Zuniga said she was happy to shop with the new safety precautions. "I think it's to protect others from yourself in case you're sick."
Zuniga added that she was glad that stores in Nogales are beginning to re-open, and expressed optimism that it would get the economy back up and running.
While Moreno was not yet aware of how badly Forever 21's finances had been hit by its nearly two-month closure, she pointed out that they missed out on the normally big sales during Holy Week, when shoppers from Mexico stop in while on vacation.
Still, she said the team was surprised to see a healthy flow of traffic in the first few days since re-opening the store.
"It's less people buying more stuff. I guess people were really excited that we're finally open," Moreno said, adding that she suspected some people might also have extra money, thanks to their stimulus checks.
She wasn't sure what it would take for Forever 21 to recover from the loss of income in April, but she said the store was already back to meeting its daily expected sales compared to those of last year.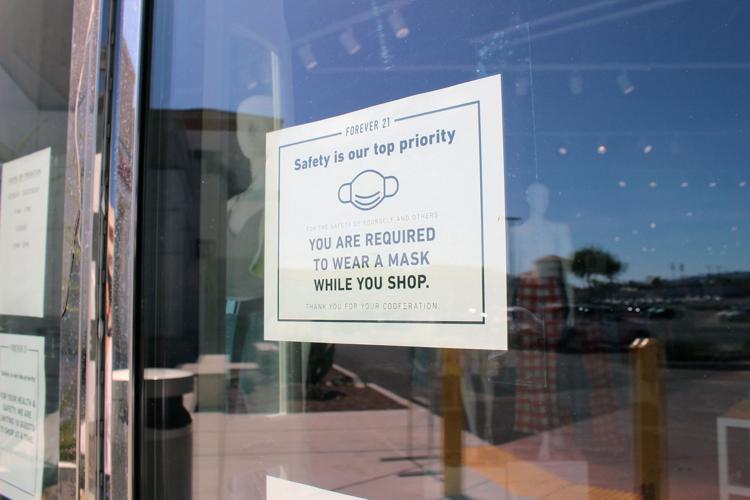 But while Forever 21 was already meeting its goals, other nearby businesses were off to a slower start.
At Nationwide Vision, manager Suzanne Maya checked her customers' temperatures near the entrance before allowing them further inside the store – as long as they were wearing a mask.
Maya said the business had only been open for medical emergency visits during the month of April, and they re-opened for regular operations on Monday. She estimated that business was down by roughly 70 percent compared to this time last year.
And while Nationwide Vision is once again offering all its normal services, they are making only two optometry appointments per hour in order to give employees enough time to clean and disinfect affected areas between exams.
"They're actually kind of upset because they're calling to make appointments and I can't get them in. We're already booked," Maya said.
A few doors down at Annie Nail and Spa, manager Loc Nguyen said the employees and customers were happy that the business was back open. But he said that the salon's social distancing measures also limited sales.
Nguyen explained that aside from requiring customers to wear masks and wash their hands, only two are allowed at a time for pedicures, and two more for manicures. That's to maintain a six-foot distance between clients – with exceptions for family members.
"When we reopened it was very busy," he said. "I think they stayed home for a while and it's boring. When we reopened, they felt so happy with their pedicures."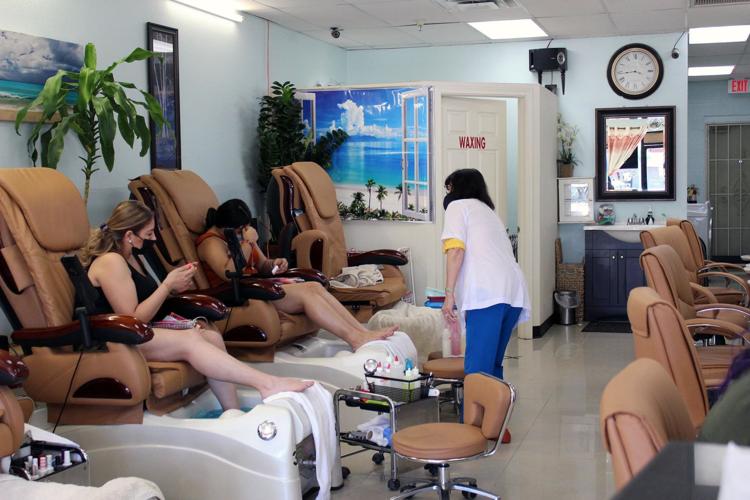 Ashley Valencia, owner of the Prep and Prime Nail Bar at the Safeway plaza, also implemented new safety measures after she re-opened last Friday.
Still, she worried that her shop, which also offers hair services, doesn't allow for the same kind of distancing as other places.
"I go back and forth literally every night – are they going to shut us down again? But then, am I being socially responsible by staying open?" Valencia said. "We're doing everything we can, but we have to eat."
For 36-year-old shopper Lizette Monge, a school counselor from Nogales, it was OK for some businesses like beauty salons to reopen and slowly get the economy going again.
"There's not going to be 50 people in a hair salon, and as long as they clean up after themselves, take certain precautions, they should be fine," Monge said.
Still, after purchasing material for her eighth-graders' transition celebration at Hobby Lobby – a national chain that seemed to follow its own rules about opening and closing while the shutdown order was in effect – she said that she and her family were sticking to essential shopping visits.
Monge pointed out that there are still consistent reports of new cases, and therefore didn't think it was appropriate to be out shopping at this time.
"I understand that the economy has to keep going, but we'll go pick up (food) and bring it home or have it delivered," Monge said. "We have to continue to support as we can, but with limits."