Santa Cruz County saw an uptick in migrant mortality for the second consecutive year in 2021 – a trend seen across the Sonoran Desert, according to an organization that tracks the problem.
Data from Humane Borders, a migrant aid group that documents border-crossing deaths in partnership with the Pima County Medical Examiner's Office, showed that the remains of 21 people were found in 2021 within Santa Cruz County limits. The Humane Borders reports indicate that 17 of the 21 had died within a week of being found. 
In 2020, 14 people were discovered dead in Santa Cruz County, according to Humane Borders. In 2019, the remains of three people were found here.
For its part, the Santa Cruz County Sheriff's Office reported 19 DOA incidents in 2021 after responding to 11 in 2020, according to Lt. Gerry Castillo.
Eight of this year's cases involved people identified as Mexican citizens, such as a man from the southern state of Oaxaca whose body was found on April 15 west of Interstate 19 in Rio Rico, or a body belonging to a man from Temascalcingo in the State of Mexico, which was discovered at the foot of the border wall, about 1.5 miles west of the Mariposa Port of Entry.
The remaining 11, Castillo said, were unidentifiable – either John Does, or human remains. 
Castillo said the discrepancy between Human Borders and Sheriff's Office datasets could be a result of differing jurisdictions – for example, a person could have been found in Nogales Police Department territory, warranting a response from a different law enforcement agency.
Concerning the deaths in Santa Cruz County, Castillo also remarked that fatalities were typically much higher in the geographically larger Pima, Cochise, and Yuma counties. 
That holds true, according to the Humane Borders data – in 2021, about three in every four migrants recovered were found in Pima County alone.
But the relatively lower numbers don't diminish the tragedy of the deaths reported here.
For example, according to data from Humane Borders, one death in the county this past year involved a 17-year-old boy, found south of Ruby Road between Nogales and Rio Rico. He'd died of probable hyperthermia. Another was identified as Odalys Vazquez Galvez – a young woman discovered north of the U.S. Customs and Border Protection checkpoint between Tubac and Amado. She was 18.
When Brad Jones gives lectures about migrant deaths in the desert, he brings a black water jug with him.
The jug, he said, was found near Marana, along with a 46-year-old man named Juan Manuel Sandoval Sandoval – one of thousands of migrants who've died after crossing the border and starting the treacherous journey into the depths of the Sonoran Desert. 
"This water jug and that body belonged to a real person. It belonged to a person that had a sister that we know of," said Jones, a volunteer driver with Humane Border. "It was a real human being."
Sandoval was recovered in the summer of 2017. He died from probable hyperthermia – exposure to the desert's intensely high temperatures – according to data from Humane Borders and the Pima County Medical Examiner's office. Since then, hundreds more have been found in the Sonoran Desert – with 2020 and 2021 marking more deaths than in previous years. 
In 2021, the remains of 215 people were recovered in the Southern Arizona desert, including those found in Santa Cruz County.
According to data from Humane Borders maps, some were teenagers; others were found as far north as Tucson and Gila Bend. Many remain unidentified, reduced to a pair of GPS coordinates.
It's the second year in a row more than 200 migrant deaths were reported statewide. According to the data, 2021 and 2020 represent relatively deadly years compared to previous reports. In 2020, the remains of 223 people were found, marking the highest count in a decade. 
However, Jones pointed out, "that's not necessarily (215) people that died this year." In that 215, he added, "there could be someone who died 20 years ago." 
Castillo made a similar point about the cases involving the Santa Cruz County Sheriff's Office.
Still, Jones contended that for 2020 and 2021, the numbers are "really high with what I call contemporaneous deaths. That is, deaths that occurred actually within the calendar year."
The Santa Cruz County Sheriff's Office also responds to and documents distress calls from migrants who find themselves lost or without resources. While Castillo did not provide a number of distress calls for 2021 specifically, 911 call logs show these calls have continued on a regular basis. 
On Dec. 24, the Pima County Sheriff's Office rerouted a call to Santa Cruz deputies after receiving reports of a Honduran man named Elbe, who was stranded and possibly injured between Tubac and Arivaca. 
On Dec. 10, a man called 911, lost near Calle Calabasas in Rio Rico. According to sheriff's reports, the man was from Puebla, lacked food and water, and had been traveling for more than two weeks. 
On Dec. 12, another man south of the Patagonia Mountains called 911 while traveling to Phoenix to visit his children. He was from Obregon, Sonora.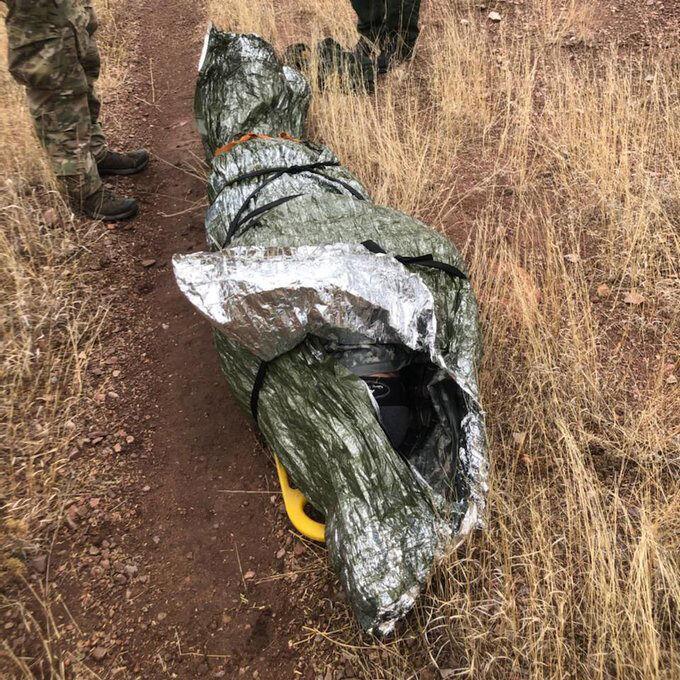 Castillo said the calls are routed through 911 to the Sheriff's Office. A search and rescue unit works to to assist the caller, and the Sheriff's Office notifies Border Patrol. Usually, he explained, migrants who call are trying to turn themselves in. 
"Because they've been out and about for hours, or days," he added.
Factors behind the numbers
The migrant mortality data comes as the COVID-19 pandemic continues to surge and as immigration policy oscillates in the United States. Meanwhile, migrant advocates, law enforcement, and policymakers cite varying factors behind the hundreds making the perilous journey north.
Jones, the volunteer driver with Humane Borders, also teaches political science at the University of California Davis, where he's a faculty affiliate of the institution's Global Migration Center. 
He listed a number of factors – including U.S. immigration policy, climate change, and militarization along the border – as contributing forces in migrant mortality. 
Deterrence in the border region, Jones contended, would not stop migration, but force migrants to take more risks – an argument echoed by humanitarian aid groups like No More Deaths and the Tucson Samaritans. 
For example, Jones said, a greater presence of Border Patrol agents "doesn't stop a climate crisis in Honduras. It doesn't stop state violence in El Salvador. It doesn't stop domestic violence in Mexico."
And, he added, "It doesn't stop employers in the United States from wanting to hire cheap labor from Mexico." 
Meanwhile, Trump-era immigration policies remain in place. Title 42, issued during the COVID-19 pandemic, is still effective, allowing federal immigration officials to expel migrants without carrying out any legal processes. Migrant Protection Protocols – known also as "Remain in Mexico" – was reinstated under a federal judge in December. MPP requires asylum seekers to wait in Mexico as their claims are processed in the United States.
Others list the change in administration as a factor in migration upticks.
Speaking to the NI last spring, Scott Brown of Arizona's Homeland Security Investigations said smugglers, or coyotes, might misconstrue the Biden administration's promise to implement humane immigration policy – to lure migrants onto the northward journey. 
"Just the perception that there could be a change in policy is something the smugglers will latch onto," Brown, a former HSI special agent, said at the time.
Also last spring, Juan Francisco Loureiro of the San Juan Bosco migrant shelter in Nogales, Sonora, told the NI that migrants were arriving – equipped with hopes that the Biden administration would welcome them into the country.
Jones, meanwhile, urged a change to current immigration systems in the United States.
"Unless we change the way we think about immigration, it's just the start of another year of record numbers of contemporaneous deaths," he said.