Jazz aficionados and musicians from as near and far as Nogales, Rio Rico, Kansas City and New York gathered in Nogales on Saturday to celebrate Charles Mingus and the music to which he contributed so much.
They came to honor the 100-year anniversary of the jazz giant's birth in Nogales, and to dedicate a memorial to Mingus that also pays tribute to other Black Americans who enriched the local community.
The Mingus Centennial Jazz Celebration kicked off with a ribbon-cutting at Mingus Memorial Park, a decade-long project at the corner of Western Avenue and Bejarano Street. The small park stands near the former entrance to Camp Little, where the all-Black "Buffalo Soldiers" of the 10th Cavalry Regiment – including Mingus' father, an Army sergeant – were stationed from 1910 to 1933.
Mingus' son Eric Mingus was on hand for the dedication, making his first visit to his father's birthplace. Speaking to the ceremony's attendees, he talked about the emotion of pulling into town and seeing, for the first time, the landscape in which his grandfather lived and his father was born.
"I'm really looking forward to spending a little bit of time here and really getting to know people," he said. "My grandfather, I've been told, was a staff sergeant in the Buffalo Soldiers, so I want to learn more about that."
Eric Mingus spoke in front of a wall at the memorial whose centerpiece is a drawing of Charles Mingus playing the bass. It was created by local artist Faith Posey and engraved onto a sheet of black granite. The portrait, along with three other panels, are framed with colorful tiles also created by Posey and inspired by African kente cloth.
On the opposite side of the wall is a tile mosaic bearing the name "Mingus Memorial" and adorned with multi-colored faces, musical instruments, and the words "love" and "jazz." It was created by Posey, fellow artist David Fernandez, and local students Alexa Landeros and Margarita Limon.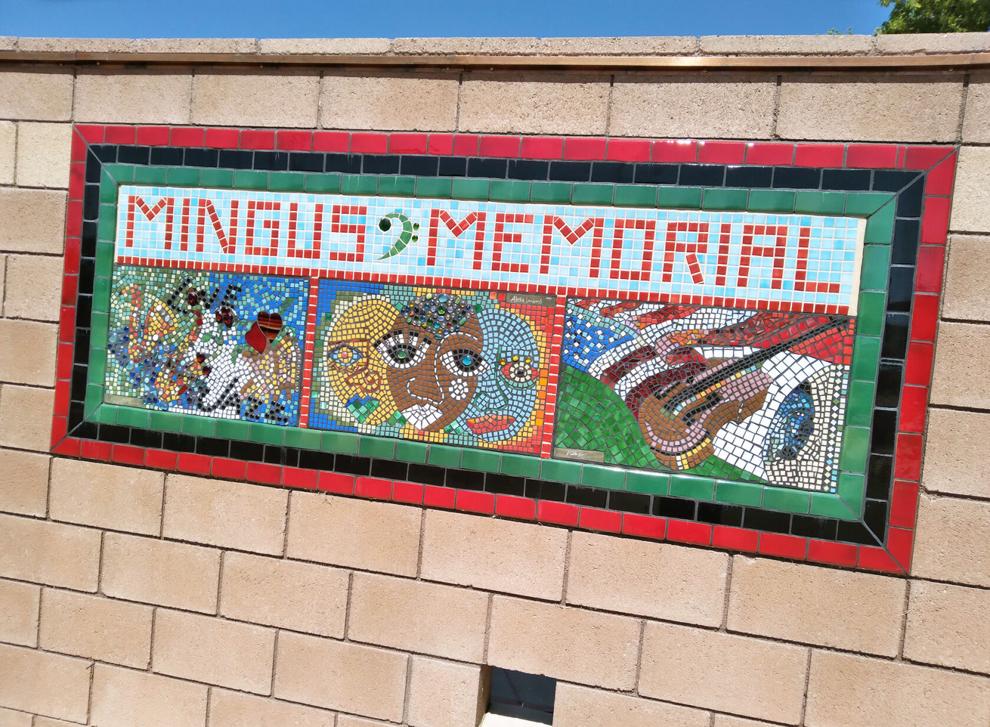 The mosaic is surrounded by plaques that honor the Buffalo Soldiers, recall the segregated Grand Avenue School that existed in Nogales from 1928 to 1952, and commemorate distinguished figures including:
• Charley H. Williams, a man born into slavery who went on to own the first all-Black mining company in Arizona. He settled in Nogales in 1890 and became a well-known member of the community.
• Henry O. Flipper, the first Black graduate of the U.S. Military Academy at West Point, and who, while working later in life as a surveyor, represented the City of Nogales in a land grant case that went to the Supreme Court in 1893. "This gave Nogalians the right to own the property they resided on," the plaque says.
• Maj. George Washington Biggs, born in Nogales on July 2, 1925, and whose father, Levi Biggs, who was a member of the 25th Infantry Buffalo Soldiers unit based at Camp Little. George Biggs joined the military himself, was a Tuskegee Airman at the end of World War II, served in the Korean and Vietnam wars, and returned to Nogales, where he was a leader in the local veterans community.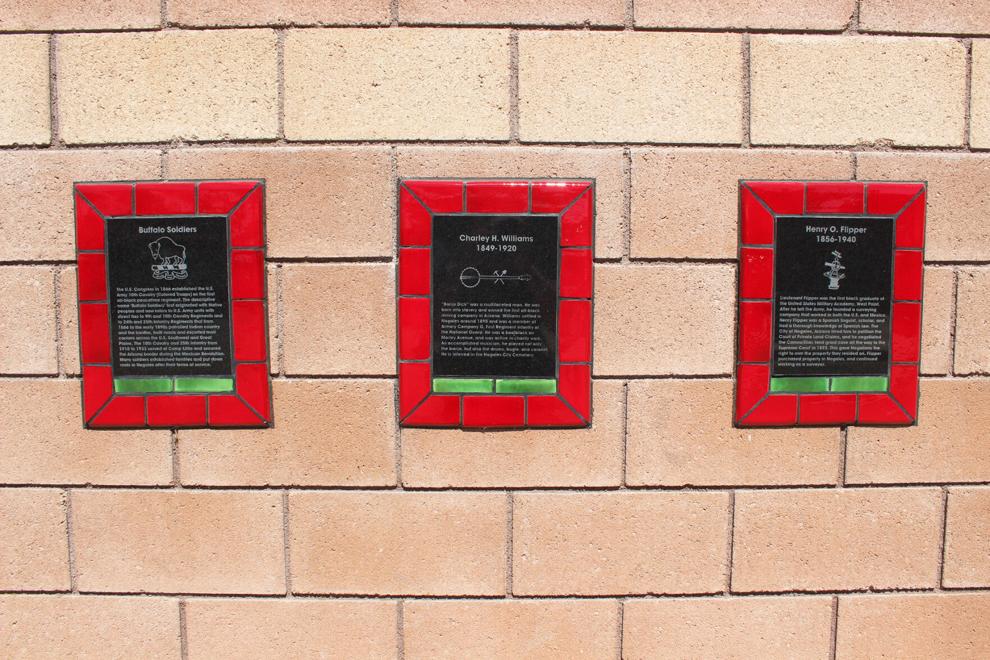 Dolores Rivas Bahti, professor in the Department of Spanish and Portuguese at the University of Arizona and daughter of George Biggs, told the audience at Saturday's ceremony: "I celebrate Nogales events this year that focus upon, or in their programs include, historic African-American contributions to Nogales and Santa Cruz County."
Other events this year have included the Historic Salute to Nogales Buffalo Soldiers at Camp Little, Ariz., a two-day celebration in late January organized by the Nogales Buffalo Soldiers Legacy Association, as well as Buffalo Soldier exhibits at the Pimeria Alta Museum in Nogales and the Tubac Presidio State Historic Park.
The City of Nogales has supported these activities with funding, facilities and resolutions, and Mayor Arturo Garino read a proclamation at Saturday's dedication that stressed the importance of recognizing and preserving the history of Nogales' Black community.
The proclamation read, in part:
"Whereas many of the Buffalo Soldiers established families and put down roots in Nogales after their terms of service. Whereas African-American businesses, civil groups and pioneer families contributed to a rich array of culture in Nogales, and members of these families and their descendants were outstanding citizens of this community."
Charles Mingus himself spent little time in Nogales following his birth on April 22, 1922; his youth was spent largely in Los Angeles. He died on Jan. 5, 1979 in Cuernavaca, Mexico, at the age of 56, from amyotrophic lateral sclerosis, also known as Lou Gehrig's Disease.
Mingus Memorial Park, as well as the jazz festival in Mingus' honor that has been held in the city on a mostly annual basis since 2008, are the creations of The Mingus Project of the Santa Cruz Advocates for the Arts.
"It took a village and 10 years to build this memorial to honor the incomparable Charles Mingus and the African-American history of our community," Sharon Urman, the organization's chair, told the audience.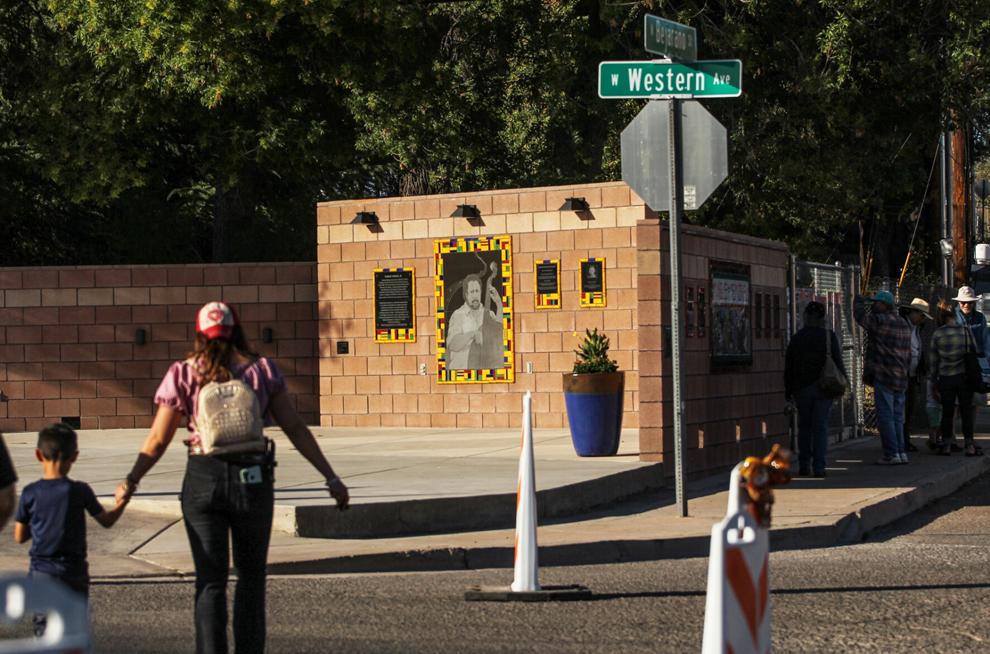 Urman recalled how residents saw the first walls go up at the memorial – and then nothing.
"We were working behind the scenes to get everything prepared," she explained. That work included the artistic creations led by Posey and Fernandez.
Then the pandemic hit, setting back the timetable.
Finally, the pieces started coming together, including the installation of the plaque commemorating the Buffalo Soldiers, which was aided by Buffalo Soldier descendants Charles Young and Doug "Woodie" Woodard.
Still, there's more work to be done. Urman said river rock for the site is on backorder, landscaping will follow, and benches and tables that were moved away for the extension of the memorial's concrete pad are set to be reinstalled.
"Keep an eye out every time you pass by – it's just going to keep getting better. There's more to come," she said.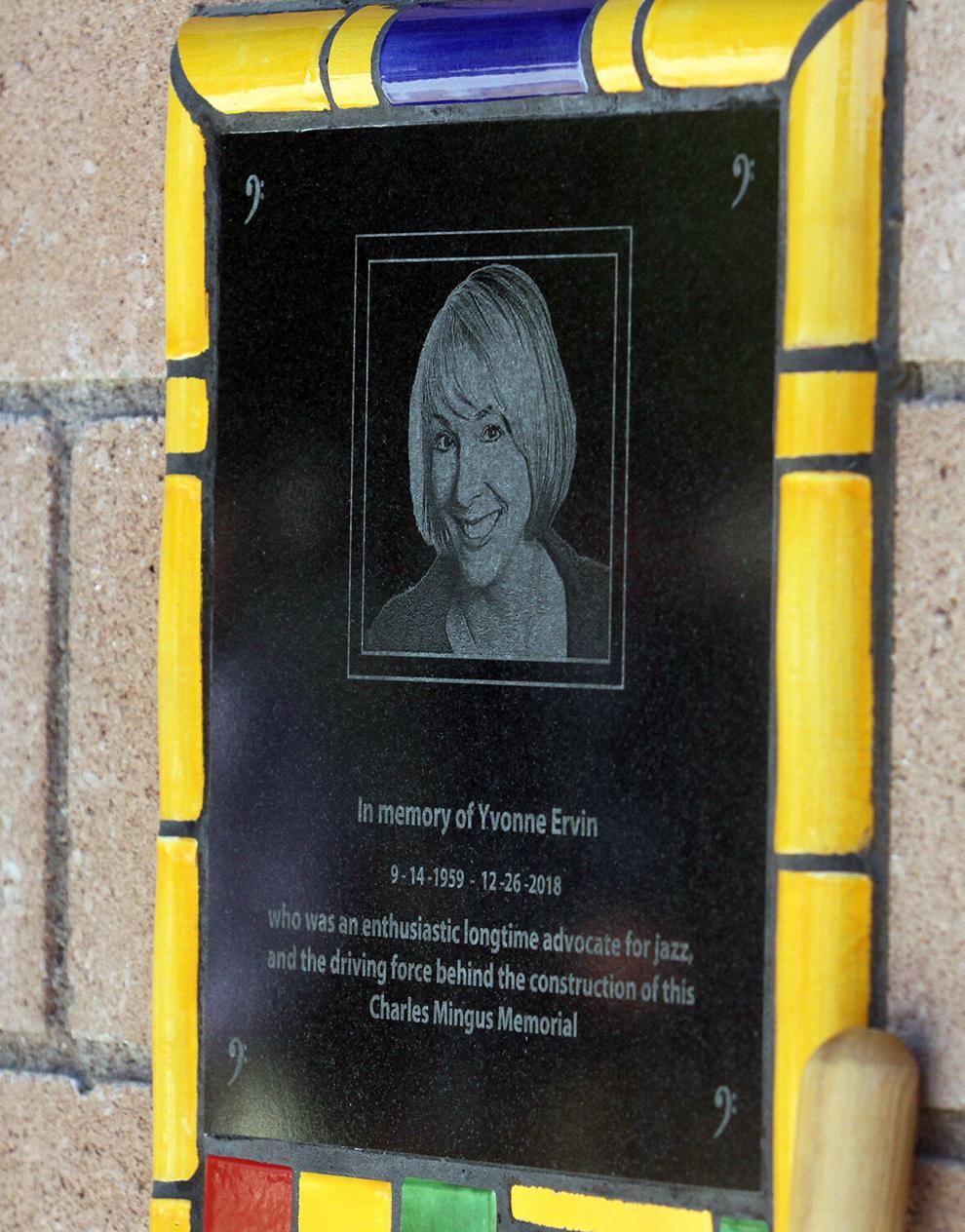 Yvonne Ervin was the founder of the Charles Mingus Hometown Jazz Festival, as the event is typically called, and the driving force behind the Mingus Memorial. She died in late 2018 before seeing the memorial completed. A plaque in her honor is mounted on the wall, a few feet away from Mingus.
Ervin's husband Alan Hershowitz spoke at the ceremony and pointed to a golden shovel propped beneath Ervin's plaque. It was the shovel that broke the ground at the memorial site.
"This was her dream and I am very happy that it's finally come to fruition," Hershowitz said.
Eric Mingus also praised Ervin's efforts on behalf of his father's legacy. "She had this dream that she saw through," he said.
Speaking of his father, Mingus said: "He was about embracing life and enjoying life – and people who really knew him know that – and pursuing a dream and making it happen and being so focused. Being passionate about your art, being passionate about what you do in life."
Rivas Bahti, daughter George Biggs, shared a poem-song she wrote for Charles Mingus. As a writer, painter, poet, activist, pianist and bass prodigy, she said: "Jazz archetype of the Black superhero is Charlie Mingus."
"In this place where he first drew breath, color radiates as prismatic, refracted border light. Mosaic monument by young and learned hands, so beautiful. Intricate and intimate like Mingus' music, like his life and mind."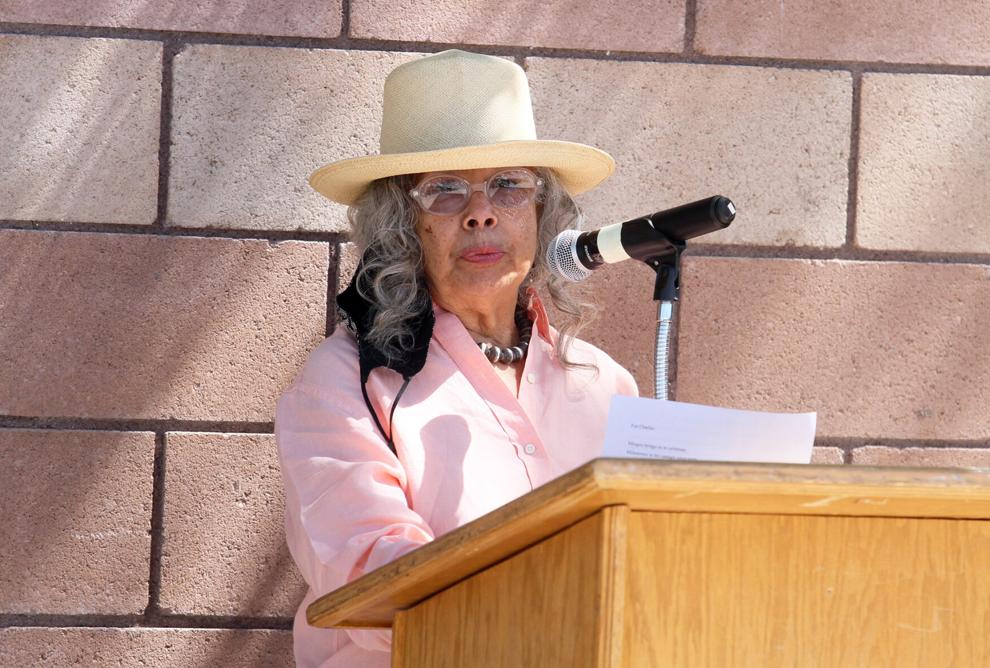 The concert that followed saw a series of six ensembles perform an array of jazz numbers, including some of Mingus' compositions.
The Rio Rico High School Jazz band opened the show with a set that included the Mingus classic "Haitian Fight Song." Next up were the Nogales High School and NHS Alumni Jazz bands, with a reading in between by Ambos Nogales artist Priscilla Nefftys, who recited an original poem in honor of Mingus.
Throughout the program, Young and Woodard, dressed in Buffalo Soldier uniforms, manned a table at which they offered information and displayed artifacts related to the history of the Buffalo Soldiers.
Following sets by the Kansas City Latin Jazz Orchestra and Alan Lewine's AZ Xtet, the headlining Mingus Dynasty Quintet stepped up to the stage. Charles McPherson – a saxophonist who'd spent years playing alongside Mingus himself – folded his hands in front of the crowd as if praying, before picking up the sax and beginning to play.
"Mingus," McPherson explained to the crowd, "was a multidimensional composer."
The artist, McPherson added, was socially active – a man who didn't shy away from social issues in his music.
Soon, the Quintet launched into "Fables of Faubus," a piece Mingus had written in protest of Orval Faubus, the former governor of Arkansas. As Black students braved the task of school integration in the 1950s and '60s, Faubus had remained a staunch segregationist, even blocking the Little Rock Nine from entering a predominantly white school – something McPherson described as the governor's "15 minutes of fame."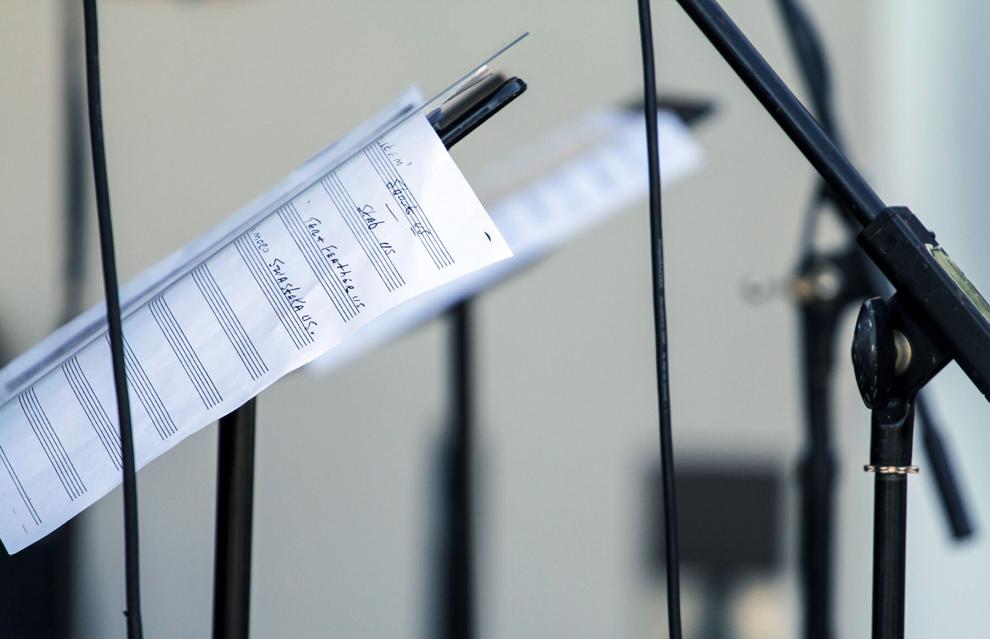 Drummer Brandon Cooper – who'd performed with the Kansas City Latin Jazz Orchestra earlier in the day – noted that while Mingus had spent little time in Nogales, the influence of Mexican culture and the southwest was prevalent in his music.
"Being here in Nogales, definitely is an important part," he said.
(Additional reporting by Angela Gervasi.)