Liza Montiel, Jorge Maldonado and Saulo Bonilla, Jr. were running 1-2-3 in the race for three open seats on the Nogales City Council when updated results were released on Thursday evening.
Montiel, a former school district employee and assistant to Mayor Arturo Garino, had 1,712 votes.
She was followed by current councilman Maldonado with 1,626. Maldonado works in the local produce industry and is well-known in the community as the face of Nogales National Little League.
Bonilla, a professional D.J., was in third place with 1,273 votes.
But veteran councilman and property manager Nubar Hanessian was just a hair behind Bonilla with 1,260 votes.
Initial results released at 8 p.m. on Tuesday had given Hanessian a slight lead over Bonilla for third place, but Bonilla gained ground as election day votes were added to early ballot totals.
Another 163 write-in votes had been counted as well. The only official write-in candidate in the election is Mary Darling.
While Maldonado and Hanessian are defending their seats, Councilman Marcelino Varona, Jr. is not running for re-election, meaning at least one council seat will be occupied by a new face in 2021.
A top-three finish in the primary does not guarantee a candidate one of the three open spots. He or she must also win votes on a majority of ballots cast in order to be elected outright.
The total number of ballots cast in the city council election – as well as the number of votes needed to earn the support of a majority of voters – was still unknown as of press time on Thursday.
Any council seat that is not filled during the primary election will then be back on the ballot during the general election, which means that as many as five names – including Darling's – could be on the ballot in November.
Frontrunner Montiel would be a newcomer to the council dais, but not to City Hall. She served as Garino's assistant for 11 months in 2019, but left that post November 2019, citing personal reasons.
In a pre-election interview with the NI, Montiel said one of her priorities would be economic development – "attracting, retaining and helping local businesses and entrepreneurs."
Maldonado was elected to his first term on the council in 2016, but has been a quiet presence in recent years, often letting the mayor, Varona and Hanessian do the talking when the seven-member council disagrees on an issue.
He told the NI in July that, if elected to a second term, he'll work on building more football and soccer fields in the city.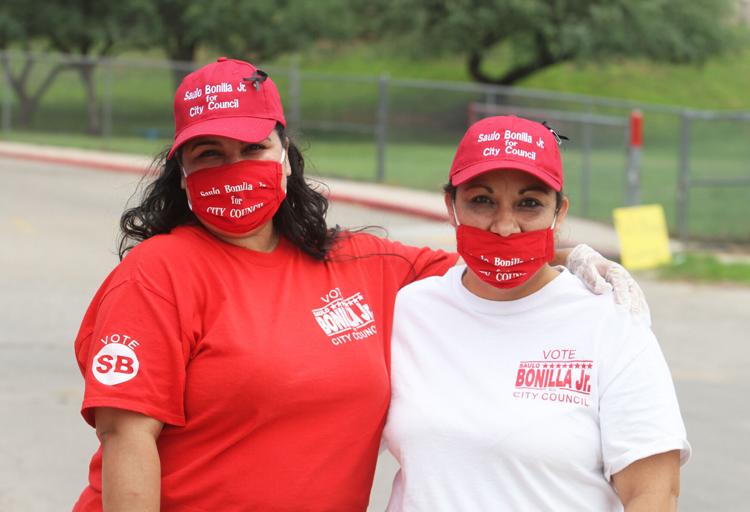 Bonilla's standing in the primary was an improvement over his last bid for a council seat two years ago, when he finished fifth of six candidates.
He told the NI this year that he was spending more time campaigning. He was also the biggest spender among the council candidates as of June 30, putting about $3,000 of his own cash into the campaign. Most of that went to signs, banners, bumper stickers and mailing materials.
Montiel reported campaign contributions totaling more than $1,500 from herself and Nogales attorney Roberto Montiel. Hanessian reported a campaign balance of $1,000 on June 30 and Maldonado didn't file a campaign finance report this year.
In a pre-election interview, Bonilla said he thought the mayor and council had done an "excellent job" in the past two years and said he wanted to contribute to the community.
While Hanessian wasn't among the top three candidates as of Thursday's final count, the 13-vote gap between him and Bonilla suggests that he still has a shot at hanging on to his position in November.
He told the NI before the election that the mayor and council had done a good job handling the COVID-19 pandemic and that, if elected, he had a few projects that he'd like to finish, including the city's bid to annex land north of city limits and the redesign the former Chase Bank building, now known as the City Hall Annex.
Hanessian, who's previously served several four-year terms on the council, said 2020 would be his last council campaign.