Dozens of students in the Santa Cruz Valley Unified School District have recently begun turning to a YouTube channel for additional help in one of their classes, scrolling through the wide selection of nearly 100 videos guiding them on how to play various songs on different musical instruments.
The videos, each created and uploaded by music teacher Kelsey Leaf, were her way of reaching out and lending a hand to her students beyond their classroom hours, which can sometimes be limited.
"I wanted to make sure that all of my students would be at the same spot," said Leaf, who also serves as the district's music coordinator. "This is a way that I'm able to still help the students even if I don't see them in person."
Throughout the week, she said, she travels around the school district to teach music classes to fifth- and sixth-graders at Calabasas School, Coatimundi Middle School, and San Cayetano and Mountain View elementary schools.
Leaf explained that the idea for her YouTube channel arose after realizing that, due to special school events or vacation days that conflicted with her class schedule, she wasn't able to give students at all four schools the same amount of attention.
She introduced the YouTube channel to her students in October, offering them guided videos on how to play songs on the trumpet, clarinet, flute and trombone.
"They were super excited. They didn't expect me to have a YouTube channel or anything," Leaf said, adding that she also surprised herself by introducing the innovative approach.
Within just two months since she uploaded her first video, her channel had reached more than 3,300 views – showing her that people were finding her videos useful.
In the past two months, Leaf said, she also noticed a big improvement in her San Cayetano students, who used to have their music class interrupted the most often by early releases, special assemblies and parent-teacher conferences.
For 10-year-old Leylani Collelmo, a fifth-grader at San Cayetano, the videos have helped her practice two songs that she previously had difficulty with.
"When I didn't have my book yet, I didn't have a song so I went on her channel and she said all the notes and everything," Collelmo said. "It helped me because I knew the notes but I couldn't play them all."
Overall, Leaf said, it was evident that several San Cayetano students were practicing from home because everyone seemed to be on the same page, allowing the classes to flow more smoothly than before.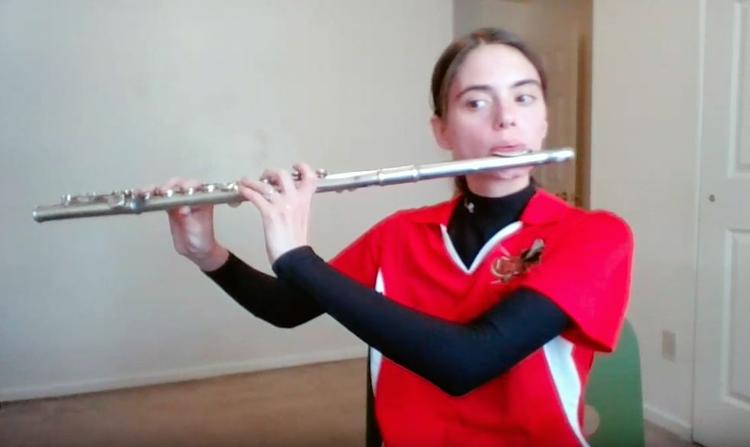 But the improvements didn't stop there, she clarified, adding that the middle schoolers also showed a big improvement just in time for the Veteran's Day parade last month in Nogales.
During her first year teaching in the sixth-grade level, she said that not many students passed the memorization test for the parade, so they were allowed to march with the group without playing their instruments. This year, the majority of her students passed the test, allowing them to fully show off their skills for the community.
"For sixth grade, that's pretty rare, so I think the videos made a big difference for them," Leaf said, adding that she's also enjoyed the new approach in her class. "It's fun. It's a big step forward, stepping into technology in band land."