Some residents living in western Rio Rico say their peaceful neighborhood has been disrupted by noise and air pollution coming from a newly established asphalt plant that's being operated by contractor Fisher Sand and Gravel at the CalPortland property off Camino Ramanote.
Fisher Sand and Gravel representatives did not return a request for comment by press time, but CalPortland spokeswoman Tina McIntyre told the NI last Thursday that the company had granted permission for Fisher to establish its own asphalt plant on CalPortland property for activity related to the road improvements currently underway on Interstate 19.
"We have nothing to do with it. We are the landowners there and they are operating their asphalt plant there," she said. "I do know that they are providing material to the I-19 paving project that's going on locally."
McIntyre wasn't able to confirm when the asphalt plant began its full operation on the south side of the property near Camino Agua Fria, but residents living just south of the CalPortland facility said the problems started two to three months ago.
Randall Langham, who lives with his wife just a few yards from the asphalt plant, said the problems are exacerbated by his proximity to the plant compared to other residents who live some streets away.
He said the neighborhood's homeowners association, for which he serves as treasurer, had identified three main problems in relation to the asphalt plant: the dirt filling the air around them, the chemicals that they breathe in and the loud noise going on at all hours of the day.
"The dirt is so thick that it falls out into the swimming pool and into our patio. There are fumes and odors that are coming out of the asphalt plant. Those things are full of all kinds of horrid chemicals," he said, adding: "And you have no idea how loud this operation is."
A few streets further south, 82-year-old resident Aline Payne, like several of her neighbors, has been kept awake while the workers crunch stones as part of the asphalt-making process.
"They're running 24-hour operations," she said. "It's in the air. You can smell it. It's burning our eyes and throats."
Langham, along with other members of the HOA, reached out to local and state authorities in charge of enforcing regulations with the contractor, including the Arizona Department of Environmental Quality, which granted Fisher Sand and Gravel a general permit for a hot mix asphalt plant.
ADEQ spokeswoman Caroline Oppleman said officials visited the plant to conduct studies on multiple occasions, the first time being an unannounced on-site inspection done on Feb. 22 in response to complaints the agency had received from community members.
At the time, the inspector observed levels of particulate matter emissions, known as opacity, of 12.29 percent, slightly above the permit requirements of 10 percent for the screening equipment being used.
ADEQ issued Fisher Sand and Gravel a Notice of Opportunity to Correct, dated March 1, asking that they quickly address the issue.
But in another off-site inspection on March 4, following additional community complaints about the plant, the inspector found that the opacity levels were at an even higher level of 44.58 percent.
On March 9, Fisher Sand and Gravel was issued a Notice of Violation for the high opacity levels, which was then closed on March 16 after ADEQ inspectors found that the company had properly addressed the issue.
"(Fisher) has fulfilled all compliance conditions required by both the NOC and NOV, which includes implementing a dust mitigation measure," Oppleman told the NI in an email, in reference to an enclosure made from burlap-like material that was implemented around dust-producing equipment.
ADEQ conducted a follow-up inspection on March 24, but the results weren't yet available.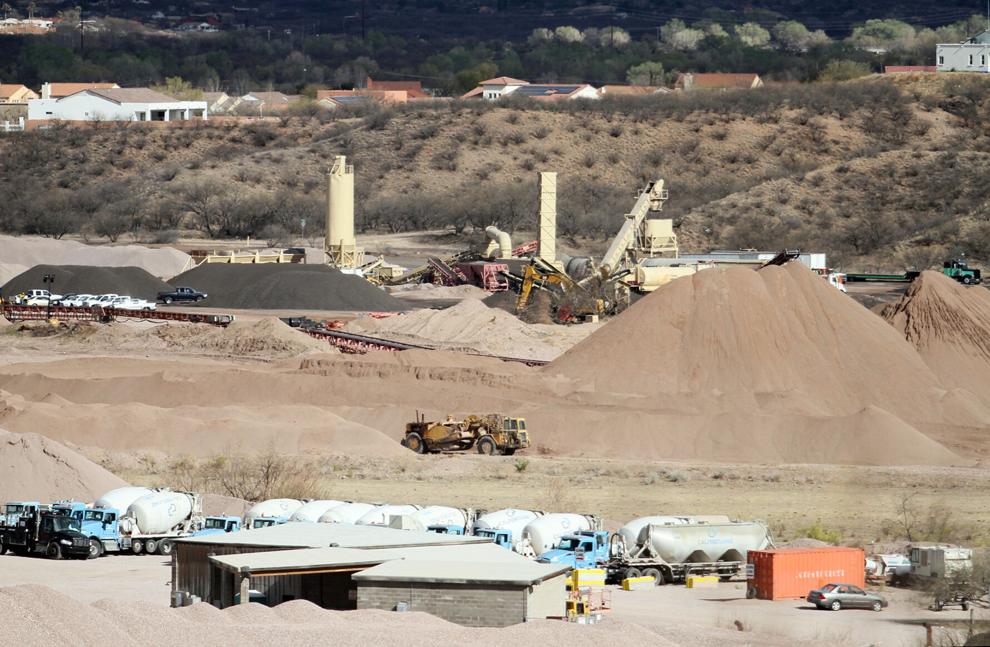 This wasn't the first time Fisher Sand and Gravel has run afoul of state regulators as the result of creating air pollution during a project in the local area. An inspection in March 2007 involving the company's equipment use at the Collins Pit near the Rio Rico landfill, along with air quality violations in Maricopa and Cochise counties and a water quality violation in Coconino County, led to the company paying a $312,000 combined settlement in 2011.
More recently, the South Dakota-based company had begun a $1.3 billion border wall-building project in the local area, before the work was put on pause in January by new President Joe Biden. Then on Feb. 9, the Arizona Department of Transportation (ADOT) announced that it had awarded Fisher Sand and Gravel a $17.3-million contract to repave 10.7 miles of interstate at the north end of the county. The project is scheduled to be completed in winter 2022.
Oppleman added that ADEQ had been in contact with Santa Cruz County officials regarding the complaints about noise and light pollution, as well as hours of operation at the company's temporary asphalt plant in Rio Rico, and said that ADEQ did not have jurisdiction over those matters.
County Supervisor Rudy Molera, whose district includes the neighborhoods northwest of Exit 17 in Rio Rico, said the county is aware of and working to address the issue.
"We are on top of it. We're making them take care of those issues because it is a major issue. There's a lot of noise, a lot of pollution and we're working on it right now," he said, adding that the county is working alongside ADEQ and ADOT on the matter.
County Manager Jennifer St. John said that ADOT's contract with Fisher Sand and Gravel did not specify any hours of operation, so county officials were looking into ordinances to see if they could make the company follow stricter regulations on its operations and noise.
"The county, in working with ADEQ and ADOT, has already mitigated to a large extent the original dust concerns, as well as traffic issues," she said. "Currently, we are focused on solutions to the loud noises, hours of operation and lighting issues that many times occur well into the night."
As of last Wednesday, March 24, Rio Ricans Payne and Langham said the issues were still very present in their neighborhood and weren't confident that they would be addressed any time soon.
"We're just not convinced that they're taking any action on the noise at all and it's very, very slow on the dirt," Langham said.