Crews have begun installing a border wall in the wilderness west of Nogales after spending several months improving access roads, shearing off a mountainside to create a staging area, and cutting a path for the barrier through the rugged terrain.
Working day and night, and even on Thanksgiving Day, the wall-builders appear motivated to complete as much of one of President Donald Trump's pet projects as they can before the new administration of President-elect Joe Biden takes over in January.
Prep work in the Coronado National Forest south of Peña Blanca Lake began around August. It wasn't clear exactly when workers began putting the fence panels in place, but as of Thursday, they had constructed approximately two-thirds of a mile of fencing, moving eastward from the staging area near Border Monument 127 – the point at which the U.S.-Mexico border changes trajectory, approximately seven miles west of Nogales.
The fencing is similar to the barrier previously constructed through Nogales – interconnected 20-foot-high steel bollards filled with concrete and topped with an anti-climbing plate. As of yet, it hasn't been strung with razor wire like the wall through Nogales.

The U.S.-Mexico border in this area had previously been marked by an intermittent series of monuments and barbed-wire fencing running through otherwise unspoiled wilderness.
It wasn't clear what kind of prep work or fence construction is happening to the immediate west of the staging area. But workers have been clearing path along the border closer to Nogales and west of the Mariposa Port of Entry, where a smaller border barrier is already in place and is slated to be replaced.
The construction comes in the final weeks of Trump's four years in the White House, as the lame-duck president scrambles to make good on one of his most memorable and controversial campaign promises: building a "big, beautiful" wall along the U.S.-Mexico border as part of a crackdown on unauthorized immigration into the country.
Critics of wall construction in Santa Cruz County say the work will disrupt Sonoran Desert ecosystems and new fencing will block important wildlife corridors. U.S. Rep. Raul Grijalva, a Democrat from Tucson who represents Santa Cruz County in Congress, has also condemned the project's funding source – it's being paid for by money from the military's budget after Trump was unable to make good on his promise to force Mexico to pay for the wall, and the U.S. Congress also declined to fund the project.
President-elect Biden has called the construction of new physical barriers an ineffective approach to border security and promised to put a halt to wall construction once he takes office.
"There will not be another foot of wall constructed on my administration," Biden told a reporter from National Public Radio during an interview in August.
In Santa Cruz County, that means a pair of questions hang over the ongoing construction.
How many more miles of fence will go up before Biden's scheduled inauguration on Jan. 20, 2021? And what will happen to the fencing and access roads that construction crews have blasted into remote mountain ranges in recent months?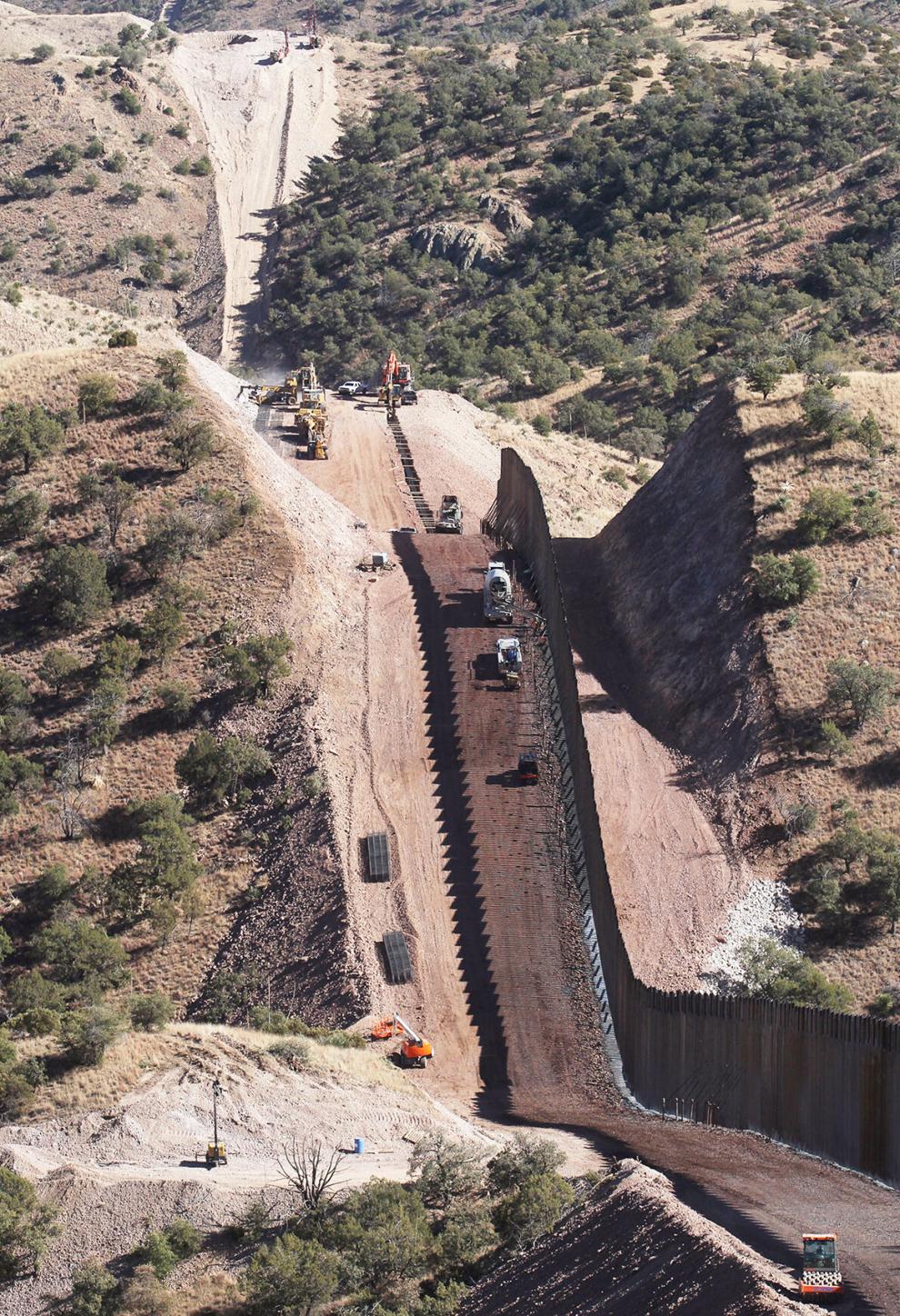 A spokesman for the U.S. Army Corps of Engineers, which awarded the wall-building contract, did not immediately respond to a request for an update on the project.
As crews a few miles west of Nogales work to install new fence segments, other contractors continued work that began in Pima County, heading east towards Santa Cruz. It wasn't immediately clear whether those contractors had begun installing fencing in the National Forest land of far western Santa Cruz County, though access roads along the border there had been built by September, according a rancher who lives in the area.
The multiple border wall worksites are part of what Grijalva called a "mad rush… to get as much done as possible before Jan. 20," in a recent interview with Courthouse News Service.
In the August interview with NPR, Biden indicated that, while new wall won't go up on his watch, he's not planning to tear existing fencing down, either.
The steel bollard fencing that's rapidly advancing in Santa Cruz County corresponds to plans announced this March.
In a news release issued by U.S. Customs and Border Protection that month, the federal government announced its intention to build approximately 27 miles of border fence in the county.
The plans included about 23 miles of fencing that would run from just west of the Mariposa Port of Entry to the western edge of the county. That would create a continuous barrier from the City of Nogales to Pima County. Another roughly 4 miles were planned east of the city, between the Kino Springs neighborhood and Lochiel.
The local fence construction is part of the larger Tucson 10/28 project, a $1.28-billion contract awarded to North Dakota-based Fisher Sand and Gravel to build about 43 miles of new border wall in Pima and Santa Cruz counties.
(Reporting by Jonathan Clark and Nick Phillips.)