Paint and brush in hand, feet planted firmly on the scaffolding, Gabriel Fortoul didn't look down as he worked on a sharp black-and-white mural on the second floor of a Morley Avenue store.
"Every project that we do as far as murals or public works, we look for a source of inspiration from the place that we're in," said Fortoul, who's making the piece with his brother Isaac and fellow Phoenix-based artist Ken Situ.
The inspiration behind this project?
"The community," Fortoul said. "The idea of there being two cities, but one."
The new piece, titled "Las Dos Hermanas," graces the second-floor wall of La Cinderella, one of several downtown stores owned by the Kory family.
"I was trying to imagine it, because they gave us a sketch a few months ago," Evan Kory said on Tuesday afternoon. "But nothing compares to seeing the giant image on the wall, covering the whole surface. It's very bold and I hope that people enjoy it."
Kory said he'd been following the brothers' work on Instagram and invited them down to see the site in September. They explored downtown Nogales, scouted the location, and eventually settled on December for the project. Fortoul said they started work last Saturday and were expecting to finish by Thursday.
The design is meant to embody the relationship between the cities of Nogales, Ariz. and Nogales, Sonora, and the curved shape of the heads symbolizes the hills across Ambos Nogales, Fortoul said.
He added that they'd enjoyed working on Morley Avenue, where pedestrians stopped to look at the mural, take pictures and ask questions.
"It's nice to work somewhere where there are many people, which you don't really get in Arizona, in Phoenix or Tucson," he said.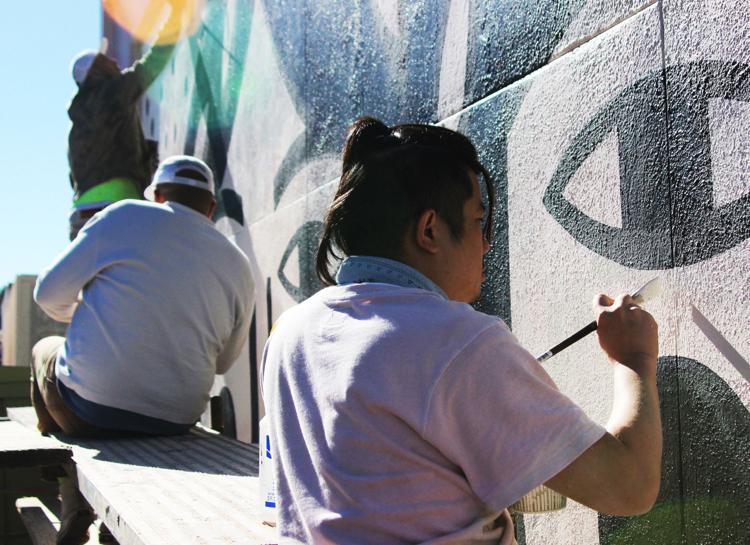 "Las Dos Hermanas" is just the first piece of a plan to bring more art to downtown Nogales.
Kory said he has his eye on seven or eight other locations for future murals. They include sites on both blocks of Morley Avenue and the Nogales Community Development building on Grand Avenue.
"Focusing on retail is one thing, but we also need to focus on the atmosphere and people's experience when they come down to Morley," he said.
The NCD site is up next, and Kory said he's already spoken with artists from Nogales, Ariz. and Nogales, Sonora about participating in the project. He's planning to put out an official call for artists soon.
And while the Fortoul brothers donated their work and a local company pitched in with free scaffolding, Kory is hoping to raise enough money to cover materials and a stipend for other artists.
"I think the big advantage on Morley is that it's pedestrian friendly," he said. "So if we were to do murals on Mariposa, you'd experience them in your car and they're done in two seconds. Here you can stand in front of a mural and just take it in."