The Nogales Fire Department has 10 new firefighters after a new trainee class was welcomed to the ranks last Friday.
The department celebrated the end of more than six months of training with a ceremony at the Nogales High School auditorium that was attended by more than 100 friends and family members of the new recruits, as well as local elected officials.
At the conclusion of the ceremony, the new firefighters traded in their red trainee shirts for the navy blue shirts worn by NFD firefighters.
"Welcome to the blue side," NFD Battalion Chief Christian Renteria told the newbies.
The recruit class included nine men and one woman, ages 21 to 38.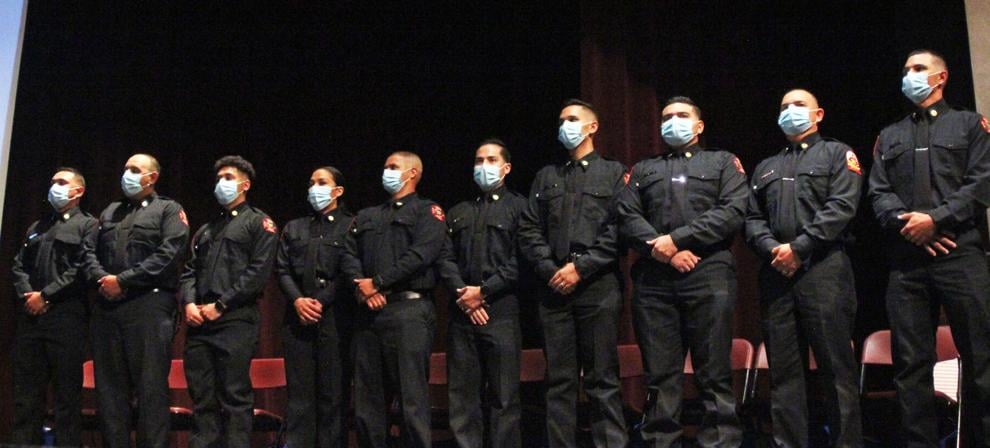 The ceremony marked a tangible accomplishment for Chief Jeff Sargent, who's helmed the fire department since August 2019. Sargent told the NI that it's difficult to attract firefighters to NFD who want to stay in the local area long term. The "green academy" was aimed at bringing on new firefighters with local roots.
"You're the future of our fire department," Sargent told the recruits.
The class instructors were Angel Taddei, Jorge Lopez and Jesus Martinez. Speaking for the recruit class, Stephanie Lopez told them that their dedication to the program was appreciated: "For that, we are all really thankful."
Though they were officially in training prior to Friday's graduation, the trainee class had already served at some high-profile scenes in the local area, Renteria said.
They helped out with patient care following the vehicle pursuit on May 24 that led to a law enforcement shooting in the Walmart parking lot and on Grand Avenue that left a trucker dead. And they were also on hand to assist during the response to a wildfire that burned more than 80 acres in the Meadow Hills neighborhood in mid-June.
In April, the trainees were among 16 to graduate from an EMT course, the first part of the full training. Other EMT graduates were set to go on to work for the Rio Rico Fire Department, NFD said at the time.