A driver was airlifted to Tucson last week after crashing into a handrail on the west side of Grand Avenue, near the intersection with Bankard Avenue, the Nogales Fire Department said in a news release.
The incident happened at 6:40 p.m. on April 14, and NFD personnel witnessed the crash, according to the release. Before crashing, the vehicle was seen swerving in and out of lanes, traveling at approximately 40-50 mph, NFD said.
The driver was the sole occupant of the car, a sedan, and no other vehicles were involved.
As the car crashed into the handrail, the rail broke through the windshield and eventually pushed about five feet into the inside of the car. NFD also notified the Union Pacific railroad, since the vehicle was 2-3 feet away from the tracks.
The driver, who had an injury, apparently tried to get out of the car through the windows. They were transported by NFD to Holy Cross Hospital and then by helicopter to Banner University Medical Center in Tucson.
Nogales firefighters put out a Dumpster fire on Monday evening, the department said in a news release.
Officers responded to a call at 6:49 p.m. on April 19 after someone said smoke was coming from the rear of the Marshall's building on Mariposa Road and the fire was found about 10 feet away from the building.
NFD said officers used a new engine feature to douse the fire: a turret mounted on the front of the vehicle that can spray a fire extinguishing liquid without firefighters leaving the vehicle.
The building was not damaged.
NFD, RRFD conduct joint training
Firefighters from NFD and the Rio Rico Fire District teamed up for a training session on April 15 at Roper Road to simulate a structure fire response.
The drill consisted of two four-person engine companies performing typical functions of the first and second engine companies to arrive at a structure fire.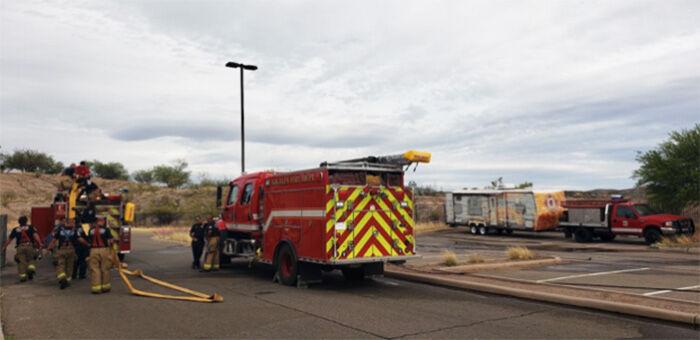 "Initial company received dispatch, assigned units and responded, arrived on scene, sized-up building, established command, established accountability, performed a 360 of the structure, secured utilities, directed a rescue search, directed a fire attack, assigned incoming company to secure water supply, assigned Rapid Intervention Crew, assigned Safety Officer and then proceeded with terminating operations and Command," the news release said.
NFD employees Sergio Orozco and Guillermo Velasco planned the drill.