The Nogales International won first place in General Excellence among papers its size in the Arizona Newspapers Association's annual Better Newspapers Contest. It was the second-consecutive year the NI earned the award.
Contest winners were announced on Saturday during at the ANA's annual convention in Chandler. In all, the NI and its staffers took home 18 prizes.
In the collective categories, the Nogales International won first place in Community Service/Journalistic Achievement for its ongoing coverage of the border travel restrictions and their impact on the community. (See stories: 1 | 2 | 3 | 4 | 5 | 6 )
First place prizes also came in the category of Page Design Excellence – thanks to the work of graphic designer Priscilla Bolaños – as well as in Best Use of Photography and Newspaper Website.
The NI newsroom took second place in Reporting and Newswriting Excellence, and third in Departmental News and Copywriting Excellence. The paper's annual "Shining Stars of Santa Cruz County" won third place in the Special Section or Magazine category.
In the contest's individual categories, reporters Genesis Lara and Nick Phillips, along with managing editor Jonathan Clark, won first place in Best Sustained Coverage or Series for a collection of stories on border wall construction in Santa Cruz County. (See stories: 1 | 2 | 3 | 4 | 5 )
Reporter Lidia Terrazas was the first-place winner in Enterprise Reporting for "At City of Nogales, call to the public is a casualty of the pandemic," a story about how the city effectively eliminated grassroots citizen input from its meetings once COVID-19 arrived. (A week after the story ran last spring, Mayor Arturo Garino announced that he wanted call to the public back at city meetings.)
Phillips won third place in the same category with "Body searches test limits of CBP's already expansive limits at ports," a story based on a woman's complaint that she had been the victim of an unnecessary invasive search at the DeConini port. The article examined the potential problems created by CBP's authority to skirt people's Fourth Amendment protections, especially when combined with the agency's interest in cracking down on so-called "body-carriers."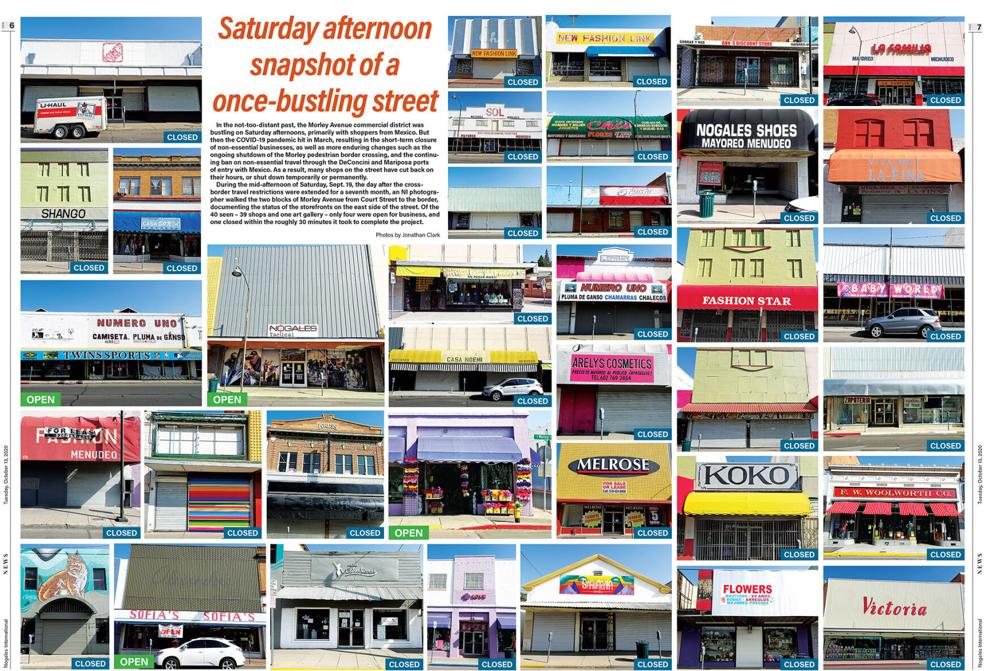 Clark also won first place in Best Feature Photograph for a shot of a little girl wearing a face mask and playing with a hula-hoop during a Boys & Girls Club event. And he was first in Best Feature Photo Layout or Photo Story for "Saturday afternoon snapshot of a once-bustling street," a center spread of photos showing closed or abandoned shopfronts on Morley Avenue.
Two of Publisher Manuel C. Coppola's "Publisher's Note" columns won prizes in the Best Column, Feature or Commentary category. "We are all stakeholders," which took local leaders to task for their lack of transparency and public outreach, won first place, and "Nogales is my kind of town," describing a walk though the city and the memories it evoked, earned the third-place award.
The NI competed in the contest division for non-dailies with a circulation under 3,500. The competition included work produced from May 2020 though April 2021, with judging by members of the Oregon Newspapers Association.