In June of 2020, the Nogales International reported that the Santa Cruz Humane Society faced an uncertain future due to financial dire straits aggravated by the COVID-19 outbreak. Last Friday, SCHS board president Sue Rogers said, "We're fantastic."
Fundraisers, donations and adoption fees have put the Humane Society on solid fiscal ground, she said.
Among recent highlights, the Border Patrol donated fencing for the dog trail park. Work was scheduled to begin Tuesday.
The shelter was also selected as the 2021 Southwest Wunderdog Winner by Freshpet Food Company. As part of the honors, they received a $3,000 grant from the Fresh Start Program intended to support animals sometimes deemed unadoptable. It helps offset medical, adoption and operating expenses.
One dog that was looking more and more unadoptable was 13-year-old Nima, who had been in and out of the shelter for 12 years.
"She was adopted out four times," Rogers said. "Two times she ran away and we found her in our park. The third time, she was locked in a bedroom and she ate the furniture. The man brought her back."
On the fourth try, Robert Scherf of Rio Rico adopted Nima along with her kennel mate Hyde, who is 2 years old, in August.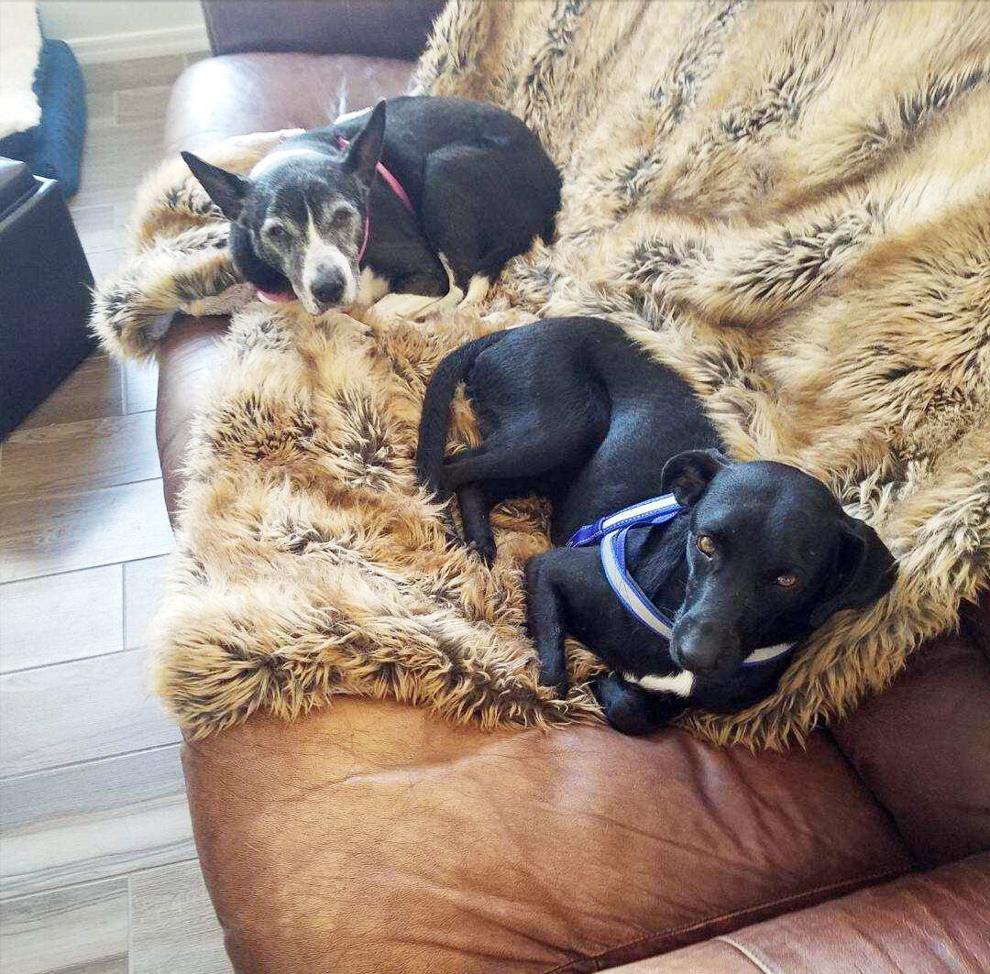 Asked if Nima had resorted to old habits, Scherf said: "Well, there was that one incident when she chewed a hole in my couch. She got into a little trouble for that, but we've moved on and we haven't had issues again. I'm keeping my fingers crossed and watching a little closer."
It must help that Scherf takes the canine mates for walks around his home near the foot of the San Cayetano Mountains. Afterwards, "They lay around in bed and on the couch for as long as they want."
Other dogs and cats are being processed quicker than the 12 shelter workers can take new pets in, Rogers said.
She has been at the helm of the facility nearly as long as Nima was there. When Rogers started 12 years ago, the shelter was in disarray. There were 84 dogs and 54 cats. Many were malnourished. She eventually got things down to a more manageable level, improving and expanding kennels to house up to 40 dogs and 45 cats.
The Wunderdog award, along with other fundraisers, including the recent "Barktober Fest," have helped keep the coffers full, Rogers said. But maintaining a no-kill shelter is a constant struggle and SCHS will take all the help it can get. Currently, they are planning a fundraiser golf tournament for February 2022.
Her common refrain is: "If you're looking for a puppy or a kitten or one of our beautiful adult dogs, come down and see us. They're all very special."
Call (520) 287-5654 for more information, or see santacruzhumanesociety.org to find out how you can support the shelter or to browse through a gallery of pets available for adoption.